15 surprising truths about Hollywood Walk of Fame! Know its history and high points!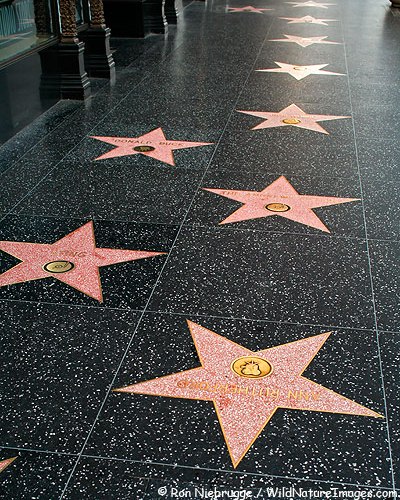 Hollywood Walk of Fame is a historic and cultural landmark in Hollywood.
It includes several stars which are laid down on the sidewalks along 15 blocks of Hollywood Boulevard and three blocks of Vine Street in Hollywood, CA.
---
These stars are permanent public monuments that stand for the achievements of the people in the entertainment industry. It implies glamor and excitement.
But do you know that there are some surprising truths regarding this Walk of Fame that will boggle you and make you wonder!
Let us go through them one by one!
It started as a Chamber of Commerce marketing tactic and was proposed in 1953 by the then President E.M.Stuart. An official proposal was submitted to the LA City Council only in January 1956. The construction commenced only in 1960.

Source: Pinterest (Hollywood Walk of Fame)

The original concept was to include a caricature of the celebrities honored in the star. But the difficulty of making one led to the abolition of this concept and the inclusion of only the star name and category of the star.
The first star was that of filmmaker Stanley Kramer which was unveiled on 8 February 1960.
Famous boxer Muhammad Ali was given a star in 2002 under the live performance category. But he did not want people to walk over his name and star. Hence it was instead installed on the wall of the Dolby Theater (then Kodak Theater).

Source: Wikipedia (Mickey Mouse star)

Talent is not everything. People can nominate their celebrity but there must also be an agreement from the star for it.
The star is not free. The star is made of terrazzo and brass and the celebrity whose star is to be installed has to name a sponsor who will pay $ 40000 as a sponsorship fee; half of this goes to the Hollywood Historic Fund.
One celebrity can have stars in each category. Gene Autry is the only famous person to have a star in each of the five categories and hence has five stars dedicated to him on the Hollywood Walk of Fame.
Fictional characters such as Mickey Mouse, and Snow White also have stars on this Walk of Fame.
Over the years, 4 stars have been stolen but another new one was replaced immediately. One construction worker was caught who had removed the stars at the behest of someone.
The three members of a Hollywood family-Bruce Dern, Laura Dern, and Diane Ladd received stars at the same time during the 50th anniversary of this Walk of Fame.

Source: Bigstock photo (Julio Iglesias star at the Hollywood Walk of Fame)

The names of 2018 inductees were announced in June 2017 and include big names Mark Hamill, Jeff Goldblum, Jennifer Lawrence, Gillian Anderson, Lynda Carter, Taraji P. Henson, Shonda Rhimes, Carrie Underwood, Mary J. Blige, Lin-Manuel Miranda, Bernie Mac, Snoop Dogg, Weird Al, and Minnie Mouse.
It has been reported that around 10 million visitors go especially per year to view these stars.
Some stars have turned down offers to have their names inducted into the Walk of Fame. These include George Clooney, Julia Roberts, and the like.
Some stars have turned into shrines. The star of Julio Iglesias is a glaring example of it. Every month, a group of elderly women visit the star and polish it in order to be certain that it is shining and in a pristine condition.
Mary-Kate and Ashley Olsen are the only twins to get the stars. They also are the youngest to receive them.