22-year old Zoey Deutch is making her own way to touch the height of success! Mommy Lea Thompson celebrates Daughter's win as she gets announced the Face of the Future by Max Mara!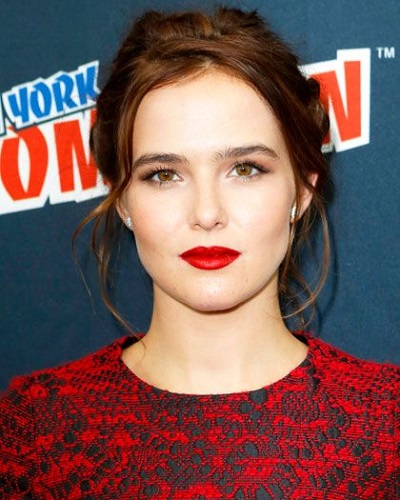 Zoey Deutch is rushing to be one of the successful young people at her age. Very few of them get to reach that place at the early age of 22.
After being one of the Fresh Faces 2017 referred by Marie Claire, she is now headed to be the Future Face named by Max Mara's Women in Film.
Up there with the fam!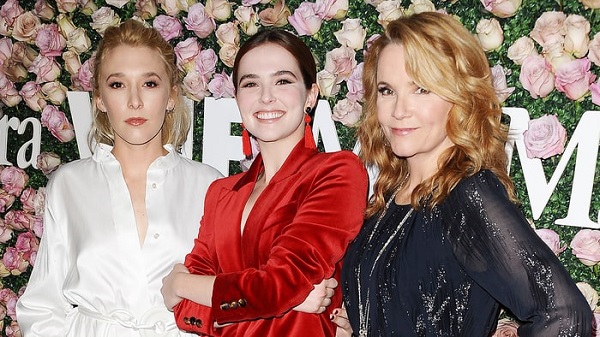 Zoey was seen flaunting herself with that all-bright-velvety-red dress-up of hers in the celebration in Los Angeles. She was accompanied by her celebrity mother and sister, Lea Thompson and Madelyn Deutch, supporting and cheering their daughter and sister for winning the title.
Mommy and sissy wouldn't want to have been less stunning of course. They looking their best as well. Zoey had mentioned how her dress-up would increase her confidence and feel powerful.
And, this dress surely seemed to be lifting not only her confidence but also of everyone around her who came to congratulate the Future Face.
The Celebration with popular attendees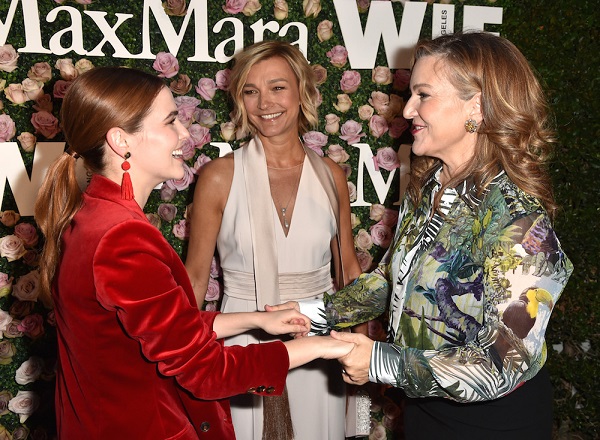 Source: LA Guestlist (Zoey Deutch, Nicola Maramotti, SteinfieldKrista Smith)
The party was quite special with special people to celebrate with. The honoree, Deutch was joined by various celebrities including Angela Sarafyan, Jon Hamm, Jaime King, Bellamy Young, Olivia Culpo, Natalie Dormer, Rose ByrneSteinfeld, and Chloe Grace Moretz, Katie Holmes, Zoe Saldana, and many more VIPs as well as local influencers.
The exclusive cocktail event was hosted by Nicola Maramotti, Max Mara Ambassador and Ownership, and Krista Smith, Vanity Fair Executive West Coast Editor. Custom Max Mara photo booth and sound given by DJ Nikki Pennie were remarkable ones for the guests.
Zoey's mother seemed happy and satisfied as posted about the party on her Instagram thanking Max Mara and Vanity Fair with the caption:
Thanks @maxmara @partyfrockjewels @vanityfair just on a side note I took the roses from the background home. #nowaste 
Zoey's mother, Lea Thompson was proud of her daughter as well. Wearing Max Mara's dress, Lea Thompson was looking stunning as always and shared her feelings about how her two daughters had suffered before coming to fame.
Zoey didn't forget to mention her mother being an actor and director and sister as she was being a writer as she said:
To be honored by Women in Film is really special, because I come from a family of women in film.
After all, one should remember her mother not only on the sad days but on happy days as well. And Zoey also didn't forget to post on her Instagram thanking Max Mara for the honor and the ceremony.
????it's an honor to be named the [email protected] @maxmara "face of the future". thanks for last night #nicolamaramotti @kristasmith!!
Zoey's upcoming movie is simply a family project
Lea also talked about the way they enjoyed each other's relationship during times like these. She also spoke about the upcoming movie premiere of The Year of Despicable Men — the film written and directed by Thompson herself, her other daughter Madelyn Deutch and starring Zoey — on Friday at the L.A. film festival. She said:
This is my first feature that I made from the ground up. I inspired Maddie to write the script and, you know, independent features are so difficult to make, so we all rolled up our sleeves. There was no glamour involved at all and we made this movie, so it's a really fun project.
Also, Zoey's sister spoke about the story of the film:
The movie is about a girl name Izzy, she gets out of college and she doesn't know what she wants to do with her life. She dates five guys over the course of a year. It's a total disaster and it couldn't go worse.
Working with the daughters too for the first time must be more than fun. Let's wait for the release of the movie and hope for the best. All the best to the family project, we can say.
Not to forget, Zoey also won the Women in Film LA. Look at the smile and shine on her face in her posts of the night on her Instagram with a long-long caption:
Short Bio on Zoey Deutch
Zoey Francis Thompson Deutch is an American actress and model, one of the two daughters of director Howard Deutch and actress Lea Thompson. She is known for her role in Vampire Academy as Rosemarie "Rose" Hathaway, in Before I Fall as Samantha Kingston, and as Oona O'Neill in Rebel in the Rye. She is currently shooting the movie Set It Up which will be released in 2018. More Bio…