5 Interesting Facts About Oscar Winning Actor Ke Huy Quan's Wife Echo Quan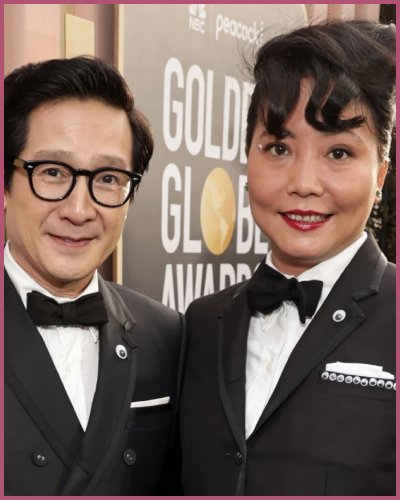 Ke Huy Quan and Echo Quan have been together for 22 years.
The Oscar winner has described his wife as "the most important person" in his life.
---
Ke Huy Quan and his wife Echo Quan have been together for 22 years
Echo Quan crossed paths with Ke Huy Quan while they were both working on the set of 2046 in Hong Kong. At the time, Echo was employed by Hong Kong film director Wong Kar-Wai, while Ke Huy was working under stunt choreographer Corey Yeun.
During the production of 2046, Ke was working as an assistant director.
According to a profile of Ke in The Guardian, he went on to work with Corey Yuen on action movies like X-Men, where he showcased his martial arts skills, and as an assistant director on 2046. Ke's boss, Wong Kar-wai, played matchmaker for Ke and his wife, who currently reside in Los Angeles.
The couple has been together for over two decades since Wong suggested that they date.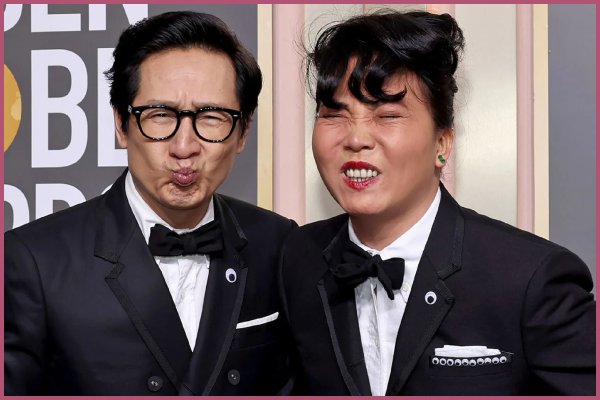 Echo Quan worked as an on-set translator in 'Everything Everywhere All At Once'
Quan worked as an on-set translator in 'Everything Everywhere All At Once'. 
Directors Daniel Kwan and Daniel Scheinert revealed on Twitter and thanked her for her role behind the scenes in the movie:
"Echo Quan (On Set Translator) was the secret soul of our film set. So many people have told us how much it meant to them to hear the family speaking in multiple languages (Cantonese, Mandarin, Chinglish, and English), and we couldn't have pulled it off without her."
They added: 
"Echo used to work for Wong Kar Wai when she was in Hong Kong. But when she moved to LA she didn't find any work in our industry (for several years!) This is her first job in the industry since she has moved here. She teared up when we hired her. But we're the lucky ones!"
Also, read: 'A History Maker!' Michelle Yeoh Becomes the First Asian Actress to Win Best Actress at the Oscars!
Ke Huy Quan thanked Echo in both of his speeches after winning the Golden Globes and the Oscars
Ke Huy Quan gave an amazing performance as Waymond Wang in 'Everything Everywhere All At Once'. For his performance, he won his first ever Golden Globe at the 80th Annual Golden Globe Awards in the Best Supporting Actor category. He specially thanked his wife during the speech:
"Last but not least, I want to thank the most important person in my life, the one person that has never stopped believing in me, my wife. I love you with all my heart."
A few months later, he won his first-ever Oscar at the 95th Academy Awards and once again thanked his wife:
"I owe everything to the love of my life. My wife Echo, who month after month, year after year, for 20 years, told me that one day my time will come."

Ke Huy Quan thanked his wife after winning the Oscar (Source: CNN)
She is not active on social media
Echo is not active on social media. She probably prefers to stay away from the limelight. In fact, she has not even appeared on her social media handles. However, this has not stopped Ke from mentioning her in interviews.
While speaking to Entertainment Weekly, he said,
"I practiced for a long time. The fanny pack is six- or seven-feet-long, and I was constantly throwing this around, wrapping it around my neck and stuff. I ended up breaking a lot of things in the house, and my wife wasn't too happy about that. Can you imagine? It was just me swinging this fanny pack wherever I go, to the living room or the bedroom or the kitchen. I was doing it for months."
Ke credits Echo Quan for getting him back into acting
Ke gives credit to his wife Echo for getting him back into acting. He told Vanity Fair that they spent a year discussing it before he took her advice:
"I was going to be 50 years old. I didn't know what it would be like to go and audition and get rejected again and again. I didn't know whether Hollywood wanted me again. I was famished for a role like this."
You may also like to read: All You Need To Know About Ke Huy Quan Including His Net Worth, Wife, Movies, Awards, Height, And More!