6 surprising facts about the World's oldest person, Sister Andre aka Lucile Randon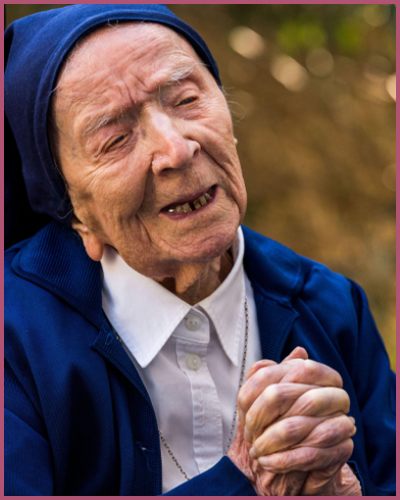 Sister Andre confirmed as the world's oldest person in the word
Her real name is Lucile Randon
She is presently 118 years old
Randon received  a handwritten New Year's greeting from President Emmanuel Macron
---
Sister Andre aka Lucile Randon of France has been confirmed as the oldest person alive in the world, following the death of the Japanese, Kane Tanaka.
The world's oldest person, Kane Tanaka died in Japan aged 119 on April 19. On Monday (April 25), Guinness World Records confirmed that Sister Andre is now officially the oldest person alive in the world.
Here are 5 facts about Sister Andre.
1) What is the age of Sister Andre?
Sister Andre is at 118 years 73 days old which makes her one of the oldest living persons in the world. Sister Andre born as Lucile Randon to Paul Randon (father) and Alphonsine Delphine Yeta Soutoul (mother).
She knew the world before the world wars. As she was born on February 11, 1904, in Ales, France. Andre grew up in a Protestant family as her grandfather was a pastor. She had also a twin sister named Lydie who died aged one.
Further, Sister grew up with two older brothers.
Also read "Who is Amazing Kid Eche aka Eche Chinonso? Guinness World Record of Eche!"
2) A French nun
In 1916, Randon became a governess to three children in Marseille when she was twelve years old. After six years, her position was upgraded when she was hired as both a governess and teacher to a prominent family at Versailles.
Nevertheless, her work as a governess and teacher at Versailles lasted until 1936, and she joined the Catholic order Daughters of Charity eight years later. During that time, she took the name Sister Andre in honor of her deceased brother.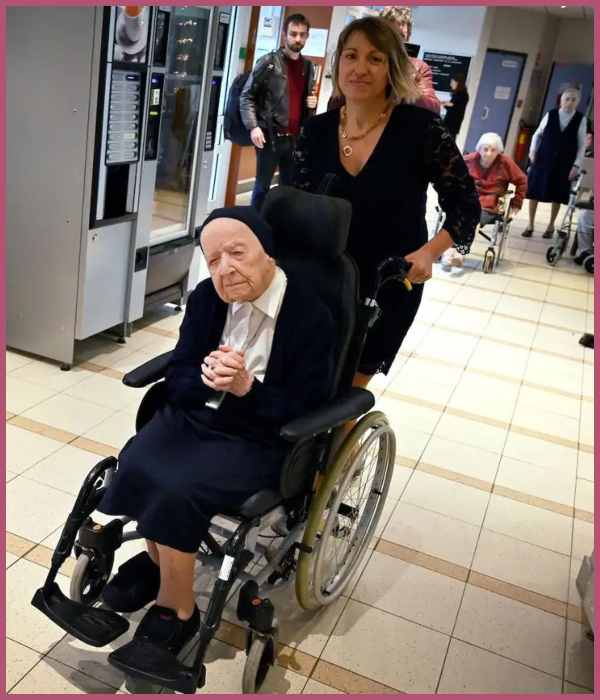 In 1944, she became a nun during World War II, and post-war, she looked after orphans at a hospital in Vichy, Auvergne-Rhône-Alpes for 28 years. After that, she was sent to another hospital at La Baume-d'Hostun from where she retired in 1979 at the age of 75.
3) Covid-19 survivor
Sister Andre survived the Spanish flu pandemic in 1918. Besides, she contracted the Covid-19 virus in January 2021 in an outbreak. Although she told The Guardian,
"she didn't even realise that she had it."
Then after she stayed in her room at the height of the pandemic where she has been for the past 12 years in a nursing home in Toulon. She told that she found solitude difficult during the time.
Also read "The Second Death in Mount Everest of the Season, The Former Record Holder and an Ex-British Gurkha Octogenarian Falls the Victim to the Highest Land on the Earth"
4) What gift did she receive from President in New Year 2022?
According to reports, Sister Andre got a handwritten New Year's greeting from the newly re-elected President Emmanuel Macron. Similarly, she received many letters and boxes of chocolate sent by well-wishers.
Randon also received a birthday note from the French President on her 118th birthday.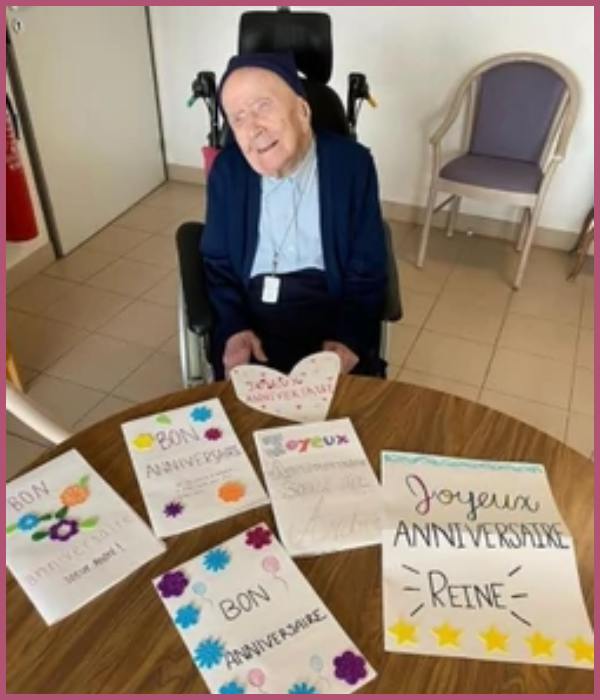 5)  Secret to longevity
Once when she questioned her about the secret to longevity, she told reporters that chocolate and wine played a large role in longevity.
She has a glass of wine every day and that chocolate is her "guilty secret". Randon enjoys chocolate and wine a lot. According CNN reported that Sister Andre called the title a "sad honor", saying
"I feel I would be better off in heaven, but the good Lord doesn't want me yet."
While speaking to reporters, the Catholic nun told,
"People say that work kills, for me work kept me alive, I kept working until I was 108,"
6) Blind
Randon went blind in the 2010s. Now, she gets around in a wheelchair, she used to care for other elderly people much younger than herself. She said,
"People should help each other and love each other instead of hating. If we shared all that, things would be a lot better,"
Also read "The world's oldest and longest-married couple: Julio Cesar Mora and Waldramina Maclovia Quinteros make it to the Guinness Book of World Records!"