7 comfortable airport looks for Men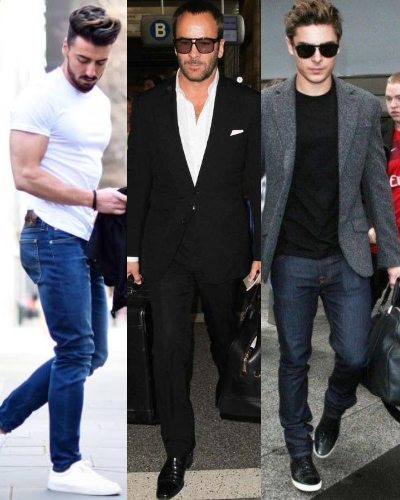 People love to wear comfy and fashionable clothes at the airport. Because comfy, soft, and easy outfit can add some extra energy and confidence to your traveling journey. Different celebrities also choose an airport to show their own fashion and other Trendy fashion. Because They look different in airport outfits besides then TV, Movie, and other social media.
If you are men and looking for a comfortable outfit to wear in the airport. Then you are at the correct place. Here are 7 comfortable airport looks for men.
1. T-shirt and denim Jeans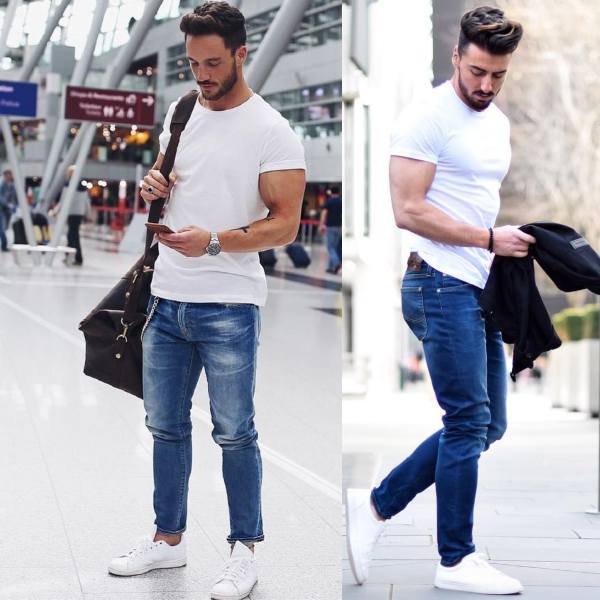 The fitting t-shirt and denim Jeans are one of the comfy and easy airport looks. It is one of the best recommended while traveling in summer. If you have a pair of white sneakers then it goes really well with this outfit.
2. Hawaiian Shirt and a Pants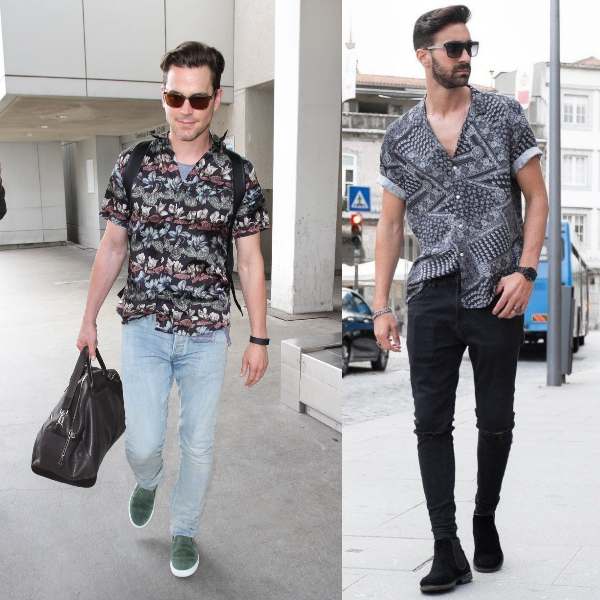 These Hawaiian Shirts are most made with made from printed fabric. Which is very lightweight and gives you a fresh look. It is easy to pair with your slim-fit jeans and other sneakers as well as boots. Don't forget your duffle while traveling.
3. Black jeans and Denim Shirt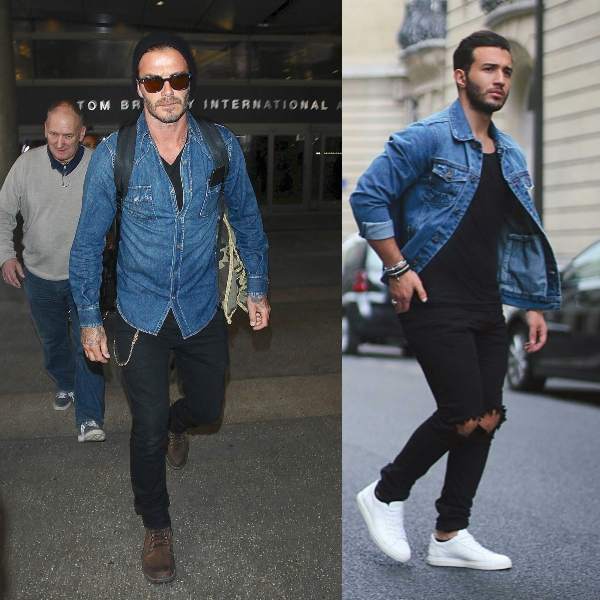 Men in Black Jeans and Denim Shirt is looked very tough and hot. It gives you an extra cool attitude and a different feeling while wearing them. You can easily pair it with your ragged jeans or a simple black ones. Moreover, you can wear cowboy shoes or any sneaker.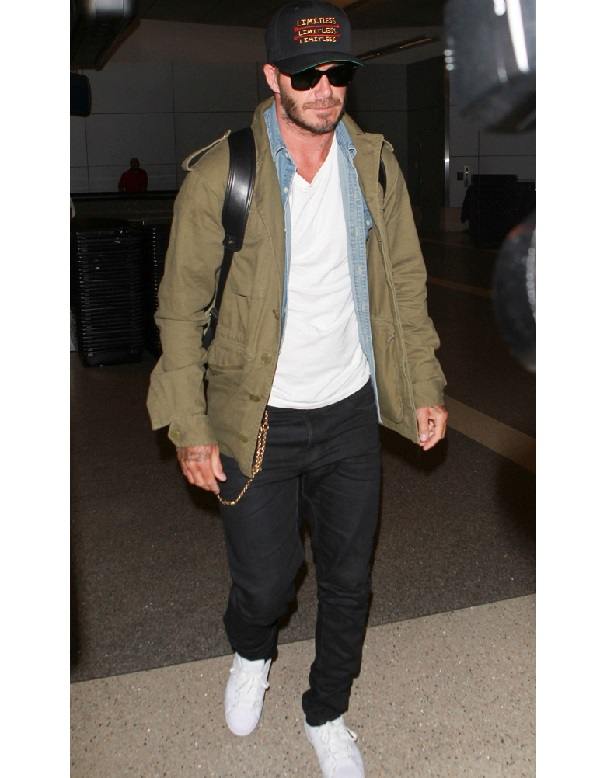 This M-65-inspired holdall jacket and black Jeans are worn by our former one of the best football players David Beckham. He looks very cool in this winter wear. His cap and black sunglasses add extra attention to his outfit. 
Also read: Zara's New Collection 2021 For Men and Women
5. Blazer look in an airport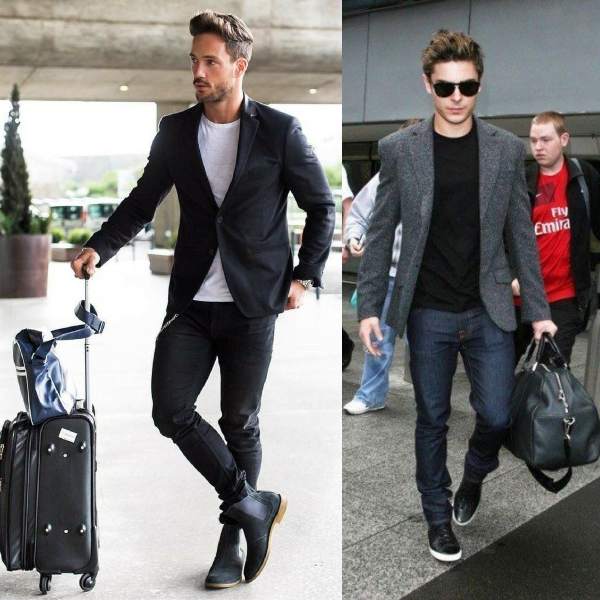 If you like a Blazer look and want to wear it at the airport. Then you should try wearing this cool round neck t-shirt. You can comfortably pair with your fit jeans and your boot-type shoes.
6.  A Red Sweater, Scarf, Black Coat, and Brown Boots by Lee Pace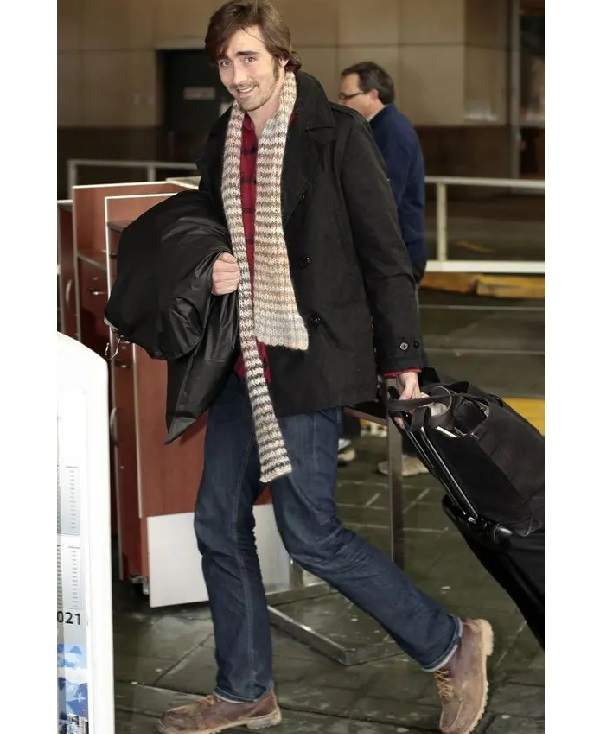 This winter wear outfit should be in your wardrobe for your traveling. It is worth trying this red sweater, scarf, and black coat. These Brown Boots by Lee Pace and navy jeans can add extra style to your look. It gives you a warm and comfortable feeling while walking in a cold.
7. Black Suit in Airport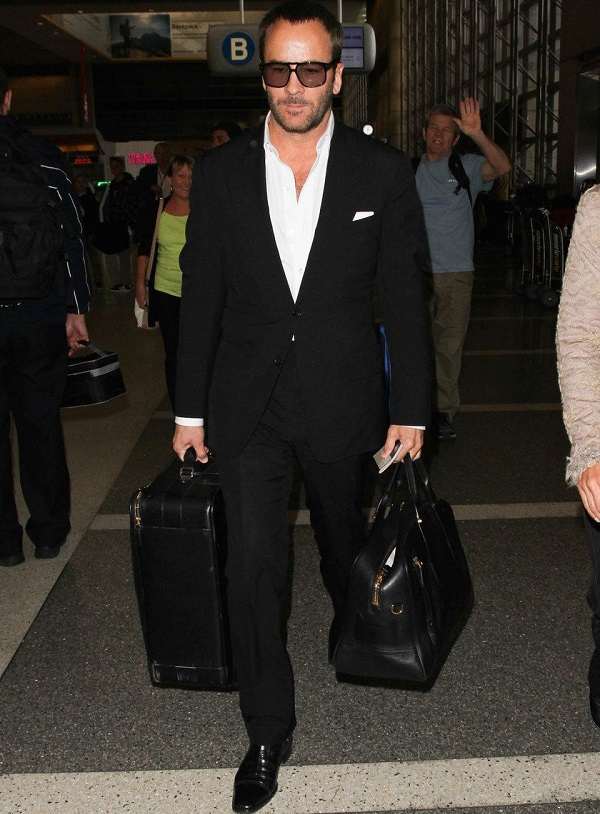 You look real businessman, in this Black Suit Dress. It is formal and fits perfectly in your body. It is one of the comfiest looks to start your journey. You can also wear these black glasses that match your personality.
You may also read: 7 Trending Fashion Of 2020 For Men