7 comfortable airport looks for women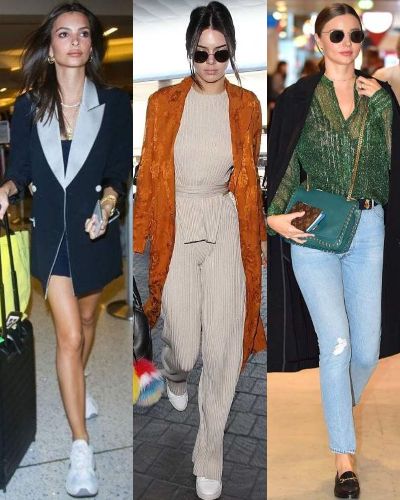 Not only at a party, dates, and big events.
In fact, you can wear your favorite clothes at the airport too.
Many models and celebrities choose an airport to show their own fashion and Trendy fashion.
---
Because many fans and followers like to see them in a different outfits besides on TV or social media. A comfy and right outfit can add some extra energy and confidence to your traveling journey.
If you are a lady traveler and looking for a comfortable airport outfit. Then, please scroll more to know 7 comfortable airport looks for women.
1. Kendall Jenner – Jumpsuit Topped and burnt-orange duster coat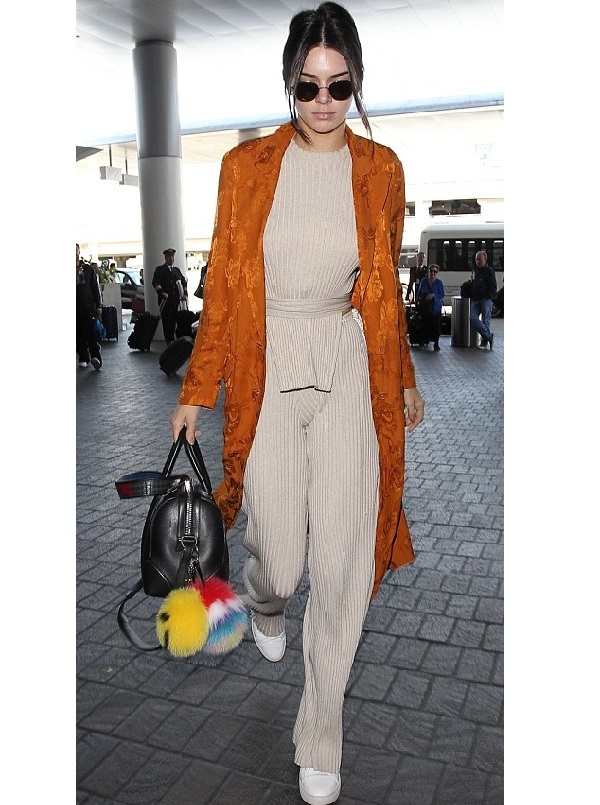 Just like our supermodel Kendall Jenner, you can also wear this comfy two-piece Jumpsuit Topped and burnt Orange duster coat combo. It is easy to pair with a white sneakers and your favorite leather bag. You can also wear these cool-looking black glasses. This outfit's total cost is around $5k-10k.
2. Bella Hadid – Red high-neck Tshirt, ripped denim, and waist-cinching belt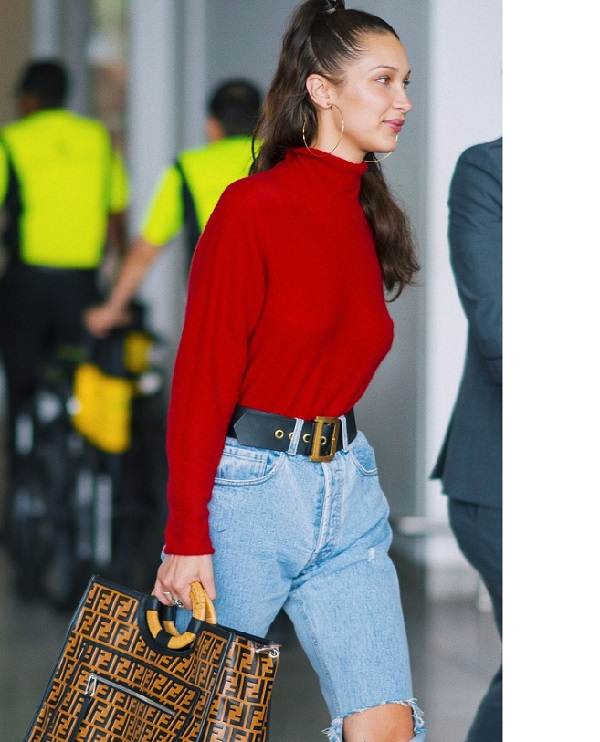 If you like street fashion then you can add this Bella Hadid's airport outfit to your list.  This Red high-neck T-shirt and ripped denim really go well. You can wear this stylish waist-cinching belt at your waist. Altogether, it is worth around $3k – 7k.
3. Emily Ratajkowski –  Blazer dress and delicate Gold jewelry and Earring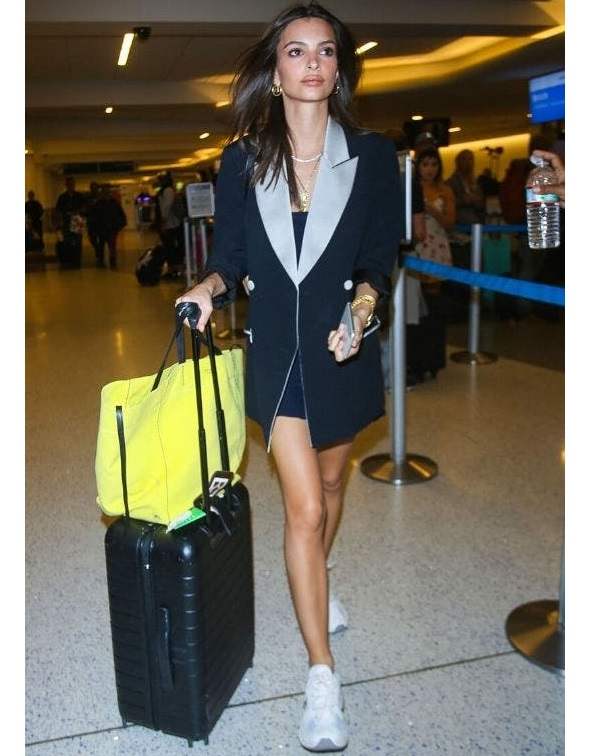 The blazer dress is actually one of the comfiest dresses while traveling. You can also wear a similar outfit which is worn by our American modal Emily Ratajkowski. You can put on your favorite jewelry and earring to enhance your airport look. This outfit is cost around $5k – $15k.
4. Miranda Kerr – Green long-sleeve blouse and slim fit Jeans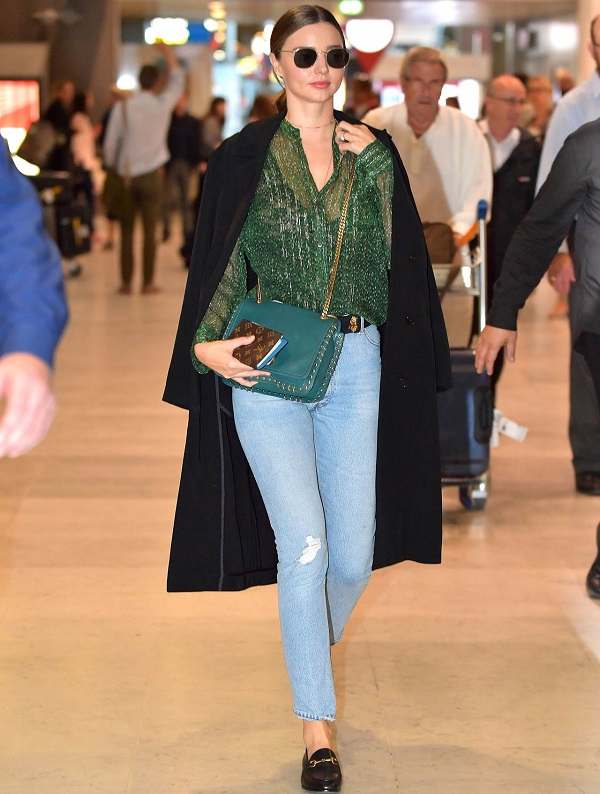 You will not regret it if you add this outfit to your closet for your airport look. This great-designed green long-sleeve blouse is made with a breathable fabric and easily matches slim-fit Jeans. Moreover, you can add your special bags and shoe to add extra to your outfit. This is worn by the Australian model Miranda Kerr.
Also read: 7 Latest Fashion Trends Of 'Who What Wear' Collection For Ladies
5. Camel Coat and black color dress combo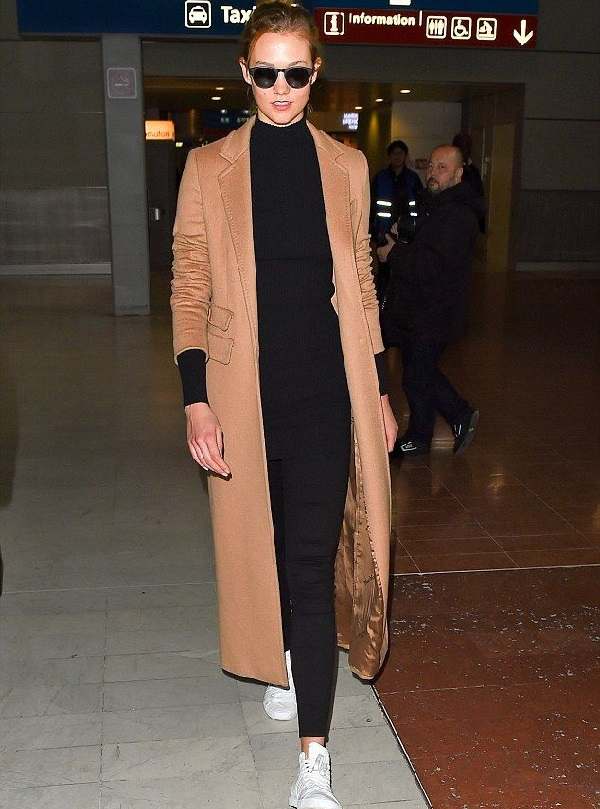 If a black dress is your favorite one and wants to wear it at the airport. Then it is worth trying black color dress with Camel Coat. You can put on your black glasses and look great with any other sneakers. This warm airport outfit costs around $3k – $10k.
6. Selena Gomez – Black Baring Top, Leather Jacket, Trousers pants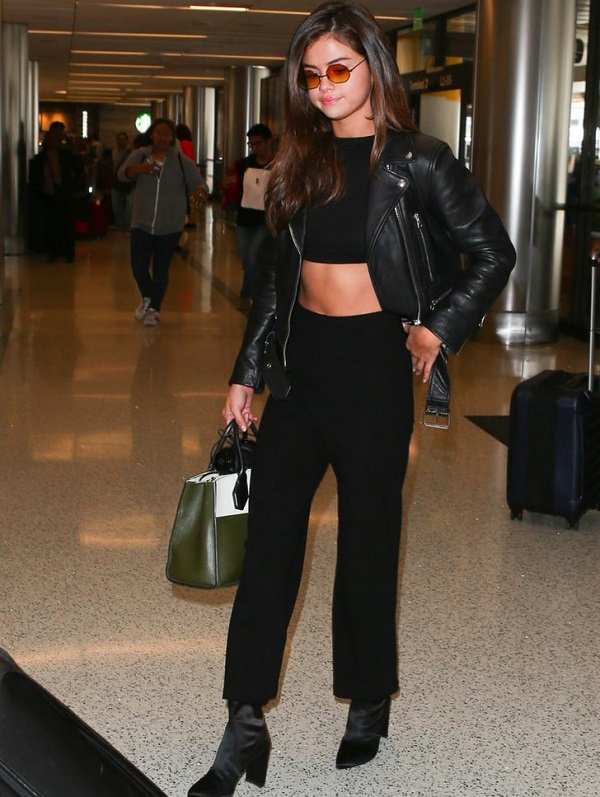 Another special all-black airport outfit from a famous American singer Selena Gomez. This outfit will help you to stand out in the crowd. Black Baring Top, Leather Jacket, Touser pants, and heels are matching with each other. Besides, good tinted sunnies can add extra shine to your outfit.
7. Gray knit sweater and Jeans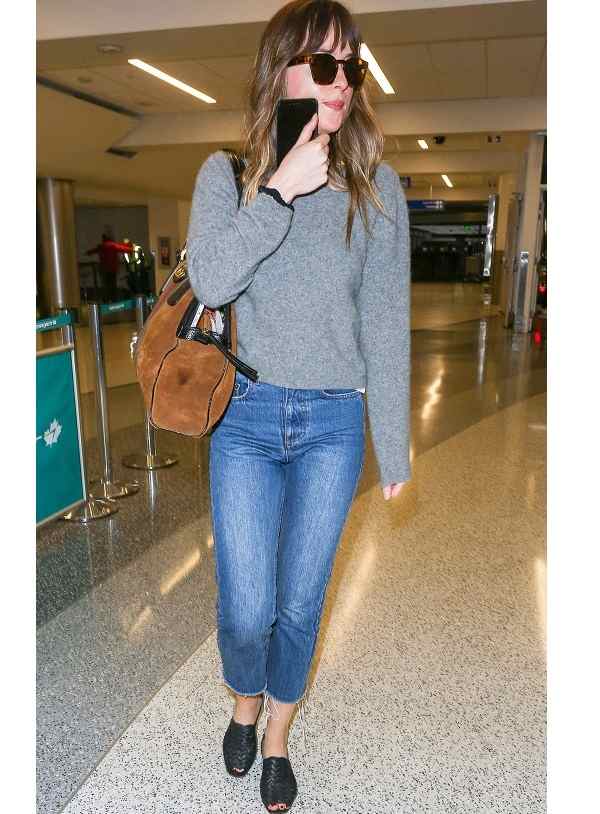 You can try this great-looking classic outfit look at the airport. Because they are simple and very trendy too. Wear your special Knit Sweater and fit Jeans with woven flats. You should never forget your cool black sunglasses and handbags. This outfit is worth around $3k – $10k.
Also read: Zara's New Collection 2021 For Men and Women