Aaron Carter debuts a new face tattoo: Tattoo artist tried to stop him!!
.Amidst the ongoing family feud of Aaron Carter, he has debuted a new face tattoo and that too and big one. The 31-year-old singer took it to his Instagram to show off his huge new face tattoo over the weekend.
Aaron Carter's new Medusa themed face tattoo
Carter shared multiple pictures to his Instagram account over the weekend giving fans a peek of his new Medusa themed tattoo. Aaron's new artwork consists of various other tattoos over his body stretching all the way down to the side of his face and connects with his existing neck tattoo including a portion that extends underneath his eye.
He posted a shirtless mirror selfie showcasing his new tattoos. He captioned the picture with,
"IM THE BIGGEST THING IN MUSIC RIGHT NOW. I CANT BE DENIED. FACT CHECK ME,"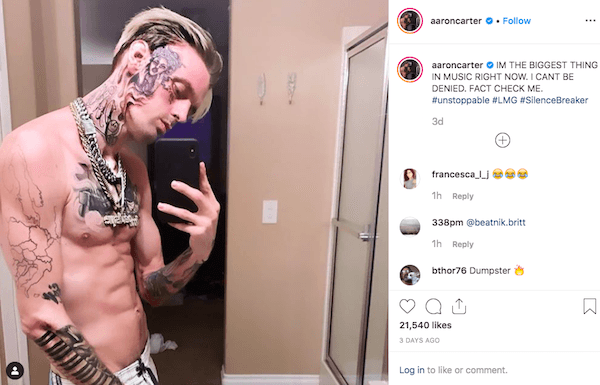 The images come simultaneously with a Saturday tweet where the singer posted a personal message to his fans regarding his wellness and privacy,
"I already have to move and I don't need to be under scrutiny with every decision I make," Aaron continued. "I will take the necessary precautions to protect myself, and when I move no one will know where I live! #MissingMyMom right now."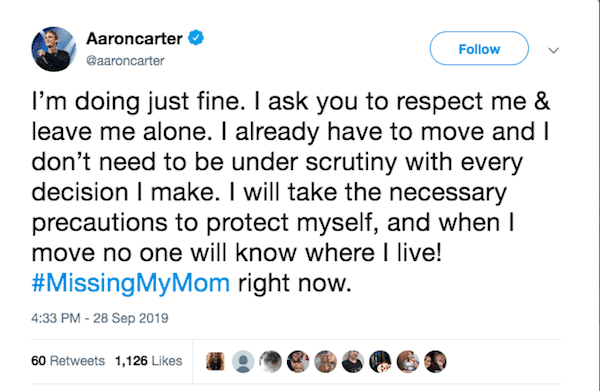 Although Aaron Carter seems quite happy about his new face tattoo, the tattoo artist who was responsible for inking the Medusa tattoo claims he tried to talk him out of it. However, the singer kept insisting on him and in fact, he wanted even more than he has now.
Also, read about Aaron Carter confesses he was raped by sister Leslie through a twitter post- shocking tweets!!
Aaron Carter face tattoo artist says he tried to stop Carter from getting a bigger tattoo
Herschell Carrasco who inked Carter's face told TMZ he had booked a tattoo session with the singer at his home on Friday for about $3K, but things didn't go according to the plans.  He originally thought he was going to add more art to Aaron's torso. Herchell revealed that there was no talk of the face tattoo. However, once the singer thought of the idea for Medusa, everything snowballed.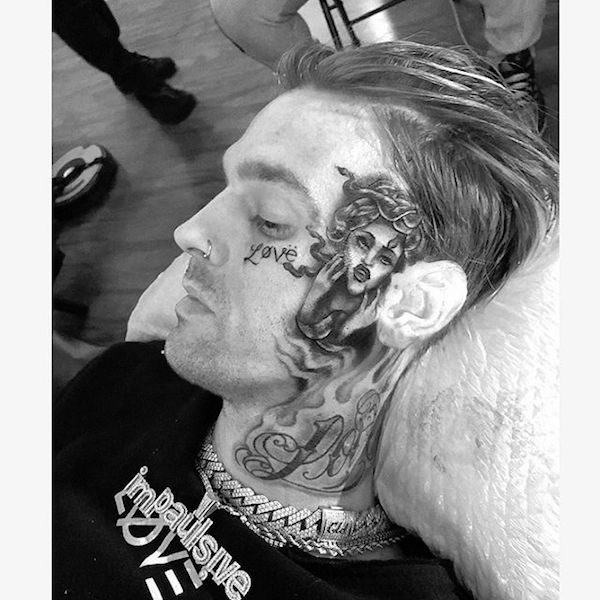 Herchell revealed that he and Carter had settled for the side of the face but he initially talk him out of his massive decision. He stated that Aaron had made up his decision and knew what he wanted ultimately. Herchell stated that Carter knew he had experience with doing face tattoos and trusted him with it.
Carrasco adds, "Before I tattoo anyone, I take into consideration their mental state … in Aaron's case, I assessed the situation and I genuinely felt he was in a good place mentally to get tattooed."
However, Aaron Carter wasn't just satisfied with the large tattoo. He decided to further add a 'Love' and inked it under his eye. He told Carrasco that's his brand right now. Herchell added another crescent moon tattoo on the other side of his face but it was just not enough for the singer. Apparently, Carter wanted to keep going and the artist had to stop him. He says,
"[Carter] wanted to keep going and I had to stop him. I couldn't cover his whole face in a tattoo. I just couldn't."
Aaron ended up paying Herschell Carrasco $5K which is 2 grand more than they had actually agreed upon, so no loss for the artist. He also clarified to people that Carter was only smoking cigarettes and weed throughout the day and wasn't on any other drugs. He confirms Carter was in a good state of mind the whole time. Aaron seems to be loving his new fresh tattoos.
Also, read about DJ Fatboy Slim is happy and thanks tattoo artist Mesi Art Evans who inked Fatboy's face on the keg of a delighted customer Stuart Brown!
A short bio on Aaron Carter
Handsome Aaron Carter is a pop and hip hop singer who hails from America. He gained a lot of fame and popularity at a very tender age. He became prominence after his studio albums including hit singles such as I Want Candy' 'Aaron's Party (Come Get it)' . More bio…
source: TMZ