Aaron Carter gets new hair color and a face tattoo of his girlfriend Melanie's name!
Aaron Carter is very fond of face tattoos and the tattoo artist recently tattooed his girlfriend Melanie's name on his face just above his eyebrows. Additionally, Aaron has a new hair color. His hairstylist Brandon Peach shared the new look of Aaron on his social media on Saturday 7 March 2020.
Aaron Carter and his new hair color
The celebrity Aaron Carter is a great fan of face tattoos. He recently got a fresh ink and also changed his hair color. Aaron's hairstylist Brandon Peach posted a photo of himself with Aaron, 32. The latter sported a new hair color which was of the blond type. And the name Melanie of Aaron's current girlfriend is inked on his face above his eyebrow in a cursive manner.
Brandon captioned the snap:
"Aaron Carter
Had so much fun hanging out with this guy and bringing him back his signature bright blonde
Color @bdonnn
Cut @josephinadianne .
#aaroncarter #alenmfemmecoiffure #haircolor #beverlyhills #westhollywood #beverlyhillscolorist #westhollywoodcolorist #lahairstylist #losangeleshairstylist"
Aaron Carter's relationship with Melanie Martin
Aaron and Melanie Martin have been dating for the past many months. But they went public about their affair earlier this year. Later, the couple was out shopping for diamond rings after Aaron had the hair-cut. The two were eyeing rings worth around $ 80k.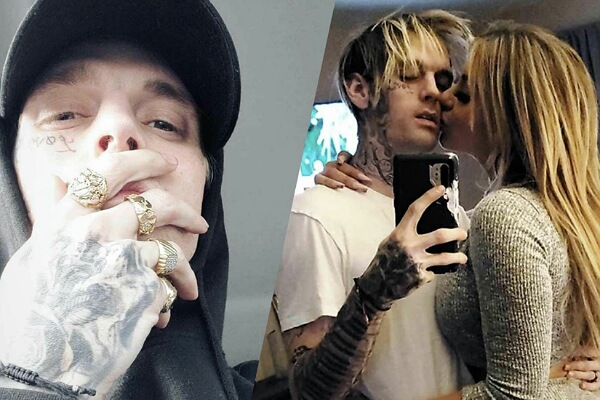 As regards his past relationships, initially on 15 August 2017, Aaron had tweeted that he is bisexual. But in 2018, he retracted his earlier coming out statement and said:
"I see myself being with a woman and having kids. I want to have a family"
And in September 2018, he revealed that he is in a relationship with artist Lina Valentina. But by June 2019, they split. Later, in August 2019, he said that he has relationships with women but he also has attraction for men.
Aaron Carter's Medusa face tattoo
Prior to this tattoo, around five months back, Aaron had got a massive Medusa-themed tattoo inked on his face. Tattoo artist Herchell Carrasco had inked this tattoo for him though initially he had tried talking Aaron out of doing it.
Herchell Carrasco told TMZ earlier that at first Aaron had called him to his house for adding art to his chest tattoo. He had heard about his skill with face tattoos from rapper Tekashi 6ix9ine.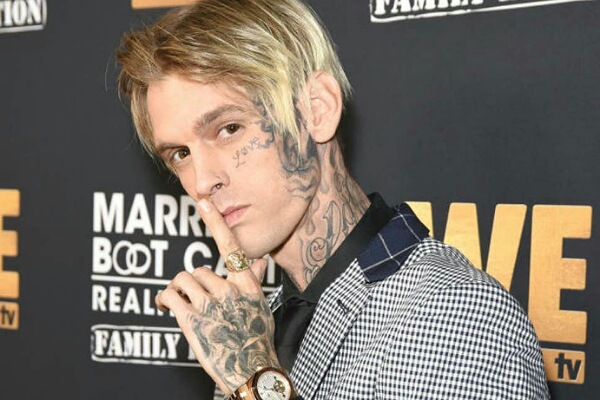 Hence he asked for the Medusa tattoo on the center of his face. But Herchell was reluctant and Aaron was adamant. Therefore, Herchell ultimately agreed to do it at the side of Aaron's face.
Talking about the controversial Medusa-inspired face tattoo, Aaron had explained the reason behind it:
"If you want to come at me with some negativity, my Medusa will stare you in the eye and turn you into stone," 
Short bio on Aaron Carter
Handsome Aaron Carter is a pop and hip hop singer who hails from America. He garnered a lot of fame and popularity at a very tender age for his studio albums including hit singles such as I Want Candy' 'Aaron's Party (Come Get it)', and 'That's How I Beat Shaq.' More bio…
Source: Fox News