Aaron Carter confesses he was raped by sister Leslie through a twitter post- shocking tweets!!
Aaron Charles Carter, pop and hip hop singer dropped some shocking tweets regarding his family and one, in particular, stunned the whole internet. Among the various bombshell tweets that Carter appalled us with, the one with the sexual accusation by his sister blew the internet off.
Aaron accuses late sister, Leslie of sexual abuse
The recent family drama of the singer Aaron Carter blew all over the internet. He supposedly accused his late sister Leslie who died in 2012 of raping him between age 10 to 13 years. The accusation comes in the midst of an ongoing feud between Aaron and his brother Nick Carter from the backstreet boys. Aaron apparently also accused his brother of domestic abuse.  According to Aaron's tweets, his brother Nick Carter abused him "my whole life". Aaron took to his twitter to confess about his sister's mental health issues where he stated,
"My sister Leslie suffered from bipolar and took lithium to treat it. She never liked the way her feelings and when she was off of it she did things that she never meant to do I truly believe that" Aaron began "I was 10 years old…"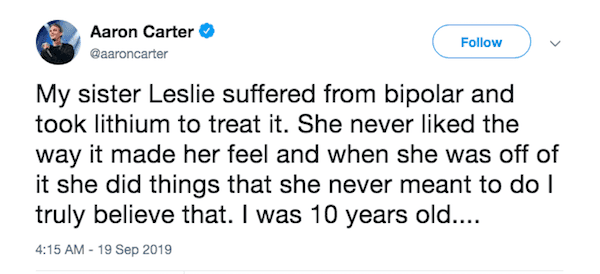 "My sister raped me from the age of 10 to 1 3years old when she wasn't on her medications and i was abused not only sexually by her but by my first two back up dancers when i was 8 years old. And my brother abused me my whole life," he added.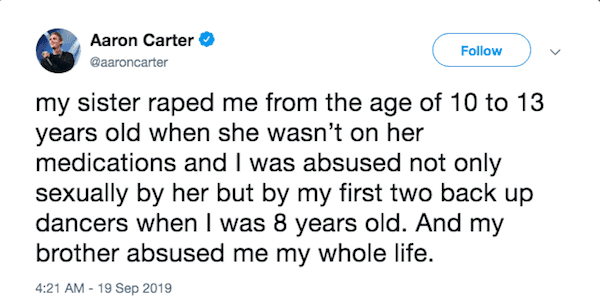 Also, read about Who is Brielle Biermann's ex-boyfriend Michael Kopech engaged to? Know about his Twitter controversy, net worth, and ex-girlfriend
Aaron Carter feud with brother Nick Carter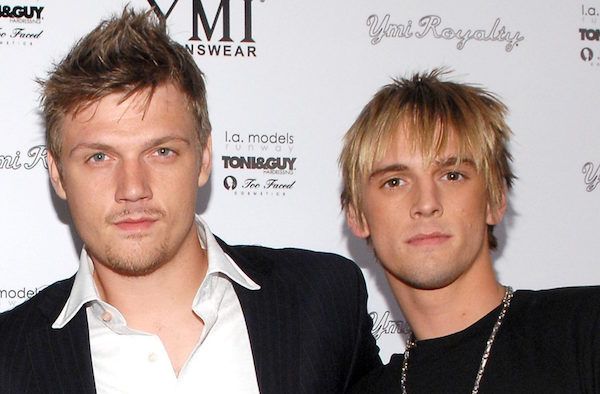 His brother Nick Carter, 39 has apparently filed a restraining order against Aaron after Aaron's revealing tweets on his social media. Brother Nick claimed that Aaron is a danger to the family and has fantasized about killing Nick's pregnant wife. Due to legal consent, Aaron owns a gun of his own and Nick and his wife feared it. According to one of Aaron's tweet, the police visited him and allowed him to own a gun of his own.
The American Talk Show, The Doctors featured Aaron last week. During the show, he revealed he was diagnosed with multiple personality disorder, schizophrenia, acute anxiety, and manic depression. He also claimed to be on a number of prescriptions and medications.
Nick shared his side of the story in a long, disturbing past which he shared through his social media too.
"After careful consideration, my sister Angel and I regret that we were required to seek a restraining order against our brother Aaron today. In light of Aaron's increasingly alarming behavior and his recent confession that he harbors thoughts and intentions of killing my pregnant wife and unborn child, we were left with no choice but to take every measure possible to protect ourselves and our family. We love our brother and truly hope he gets the proper treatment he needs before any harm comes to himself or anyone else."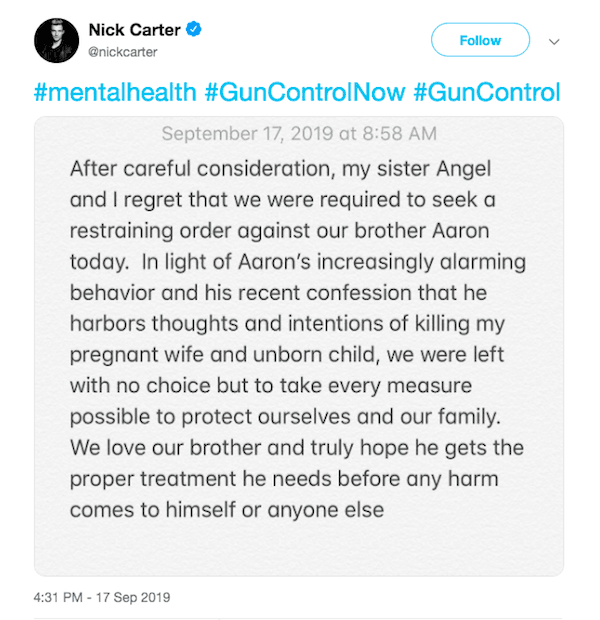 Nick also attached two documents in his request for protection. The first one states his concerns for the lives of his wife, son and unborn child. The second one stated he received an email from Aaron's twin sister, Angel Conrad, who recalled her conversation with the singer in August, during which he told her of his mental issues and admitted thoughts of harming Nick's wife Lauren and her baby.
Also, read about the Daughter of Steve Harvey, Lori Harvey in Controversy! Rumors of her dating famous personalities. Trey Songz' accusation
Carter's family drama over twitter
"[Aaron] said,'Angel I want to tell you something that I never told you before- I was diagnosed with schizophrenia and bipolar 2 years ago,'" Angel's email reads, according to the court docs.

"I (Angel) said, 'Okay, do you hear voices? Do you have thoughts?'" she continued. "He said, 'I have thoughts of killing babies. I come up with different scenarios in my head.' I (Angel) said, 'Who else do you think about killing?' Aaron said, 'I think about killing Lauren Kitt.' I (Angel) said, 'Do you think about killing me?' Aaron said, 'No, never.'"
He later responded to Nick's post on Twitter, denying his brother's claims.
"I am astounded at the accusations being made against me and I do not wish harm to anyone, especially my family," he tweeted. "This is obviously a chess game of some sort."

"All I ask is for my family to leave me alone," he continued, also posting a clip of the brothers' infamous physical confrontation on their reality series House of Carters. "This is blood. Not love. I will never be around you and I don't want to be around you. I am the one who said I'm done then you send me this!? Ok. Stop trying to get me 5150'd before I file a harassment suit myself nick I have the $."
Also, read about Nancy Pelosi's teenage daughter's response to President Trump! What is the controversy all about?
Aaron's bombshell tweets about his family accusations
Aaron's family conflict comes after Aaron canceled a number of upcoming tour dates this year in order to focus on "Taking sobriety one day at a time" as well as "a family issue". He dropped the shocking tweets on twitter at 4:00 am on Monday with a message,
"I appreciate the love and efforts from my supporters but after my next two shows coming up in Kentucky & Missouri & after I fly to Vancouver to do the toy drive which I'm donating 400 toys and over 1k of fan donations I'm canceling the rest of my shows for the remaining year."

"I have to put my health first and I hope you can all understand how much I need this time to heal and recharge my batteries, I love you. Stay strong. Stay healthy, and just know I'll be back next year ready to go. But as a man, this is what I need to do to have some peace. Xo."
LEAVE ME ALONE. FOR THE REST OF MY LIFE. IM BEGGING YOU. PLEASE. 🤝 I haven't even seen you guys and nick you bullied me my whole life. And tortured me as a child. And everyone knows it. ITS BEEN PUBLIC. and now you're scared of the truth. pic.twitter.com/kd7nIF49PI

— Aaron Carter (@aaroncarter) September 18, 2019
Also, read about Choosing Martial Arts over Acting, Uriah Shelton- a singer and an American actor. Explore about his childhood, Television works, filmography, Personal life and Controversy
A short bio on Aaron Carter
Handsome Aaron Carter is a pop and hip hop singer who hails from America. He garnered a lot of fame and popularity at a very tender age for his studio albums including hit singles such as I Want Candy' 'Aaron's Party (Come Get it)', and 'That's How I Beat Shaq.' More bio…