Acacia Brinley spent her pregnancy time with her boyfriend and experienced all types of emotions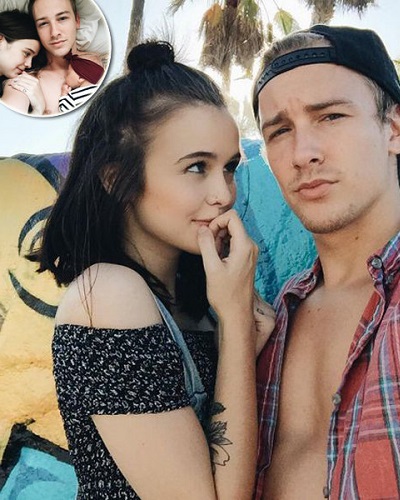 Every woman has the feeling of the motherhood and pregnancy is such a phase when the mother has pain but still has the adorable and strong feeling to welcome her child. Mothers play the role of gods and the pain of her child is the pain of herself. Today we address about YouTube star Acacia Brinley who opened up about her journey during the pregnancy time with her husband.
Let's dig deep to know her journey during the pregnancy!!!
Acacia's pregnancy journey
Since 2015, Acacia, the famous YouTuber was in the relationship with Jairus Kersey, the songwriter. Soon after they began dating, Acacia became pregnant and she revealed the happy news on the Instagram posting the video on October 6, 2016. Acacia posted the video where they were romantic and having the qualitative time. And both are really excited to have a baby and Jairus added writing:
 "I'm going to be a dad."
And when Acacia and her boyfriend were asked Are they scared to handle the pregnancy and Acacia added:
@taylorrmaine definitely not! Jairus and I have been dreaming of being parents since we were both little so we're both beyond excited
Similarly, On December 21, 2016, Acacia revealed about the baby sex and posted the video on the youtube saying that she is super excited to welcome her baby girl.Soon after they knew about the babies sex, they organize baby shower program.Where Acacia captioned:
Tonight we found out the sex of our baby. We made a short little video revealing it, the link is in my bio. Life is too good. I'm on cloud 9 with @jairusjkersey ????❤ also thank you @avamariaphoto for taking the best pix.
And from now, everybody has been arguing on the baby's names. Everybody is confused to name the baby. And she tweeted:
My parents and his parents have been thinking of names but I'm just gonna call everyone grandma and grandpa unless the kid picks other wise
Finally, all the wait is over. And Acacia and Jairus welcomed their baby girl on May 14, 2017, at 9:26 AM. At birth, Brinley was 19 inches long and weighed 7.7 ounces. And soon she posted a pic with her daughter on May 14, 2017, where the mother is holding a peacefully sleeping baby.
Also, she captioned:
Welcome to the world, Brinley Rey Kersey. 7.7 ounces. 19 inches. May 14th at 9:26 AM.) ????????????????
Is Acacia getting marry with her songwriter boyfriend?
Acacia is living a qualitative time with boyfriend and a daughter in their own world. And she tweeted on March 29, 2017, saying that she is soon turning her boyfriend into husband where she wrote:
Trust me when I get married it's gonna be the most over the top thing and you'll definitely know.
Update
The couple wed in April 2018 and their second daughter Rosemary arrived in September 2018.
Short Bio on Acacia Brinley
Acacia Brinley is a rising pop artist. She is notable for the lead artist of the band Watercolor who likewise has a committed fan base on her YouTube channel where she makes recordings of her acting naturally. More Bio…