Actor Adam DeVine engaged to his actress girlfriend Chloe Bridges after four years of dating!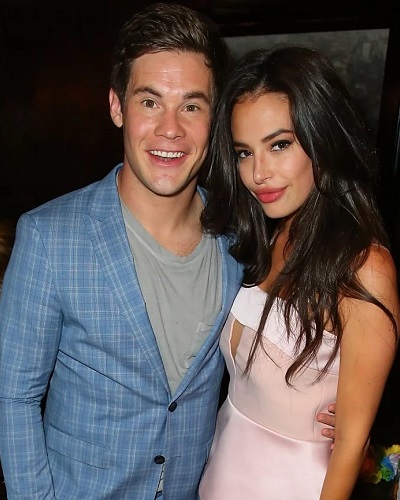 Actor Adam DeVine has proposed to his girlfriend of four years Chloe Bridges. Adam made the big announcement on his Instagram and said that they got engaged in a boat. More details of this milestone in the relationship between Adam DeVine and Chloe Bridges here!
Adam DeVine and Chloe Bridges are engaged
It was one of the happiest days for the couple actor Adam DeVine and actress Chloe Bridges. Adam proposed to Chloe on a boat and she said YES. Adam, 35 took to social media to share the great news with his 2.2 m fans. He wrote on his Instagram:
"She said yes! Well actually she said 'ahh Adam' and then kissed me but I'm pretty sure that means YES! I love Chloe more than anything and I'm so excited to spend the rest of my life with her amazing self. You are my best friend and I'm thrilled you want to get old and wrinkly with me! You'll be less wrinkly. I'm gonna look like a Saint Bernard. I proposed this past weekend and wanted to keep it private for a few days but we are now ready to tell the world! Love you @chloebridges! (sic)".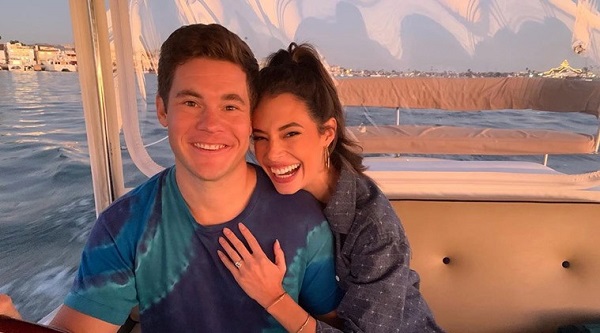 The picture that Adam uploaded with this post showed the couple cuddling each other while Chloe showed off the splendid engagement ring to the camera. The couple was in a boat and Adam was at the steering wheel and Chloe was in all smiles.
Chloe Bridges and her announcement on social media
Chloe Bridges also posted the news on her social media. She shared pictures of the proposal and captioned them:
"We are doing it!! I love this man with my whole heart and I am so excited to be with him forever. I've known we had a special connection since we first met (well FIRST I liked the way his butt looked in his jeans and the way he made me laugh and the fact that his backpack was monogrammed which seemed VERY adult to me five years ago) and I quickly learned that he is the kindest, funniest, most incredible man I've ever met. I'm so proud to be his girl and will be even prouder to be his wife. Let's do this baby @andybovine (sic)"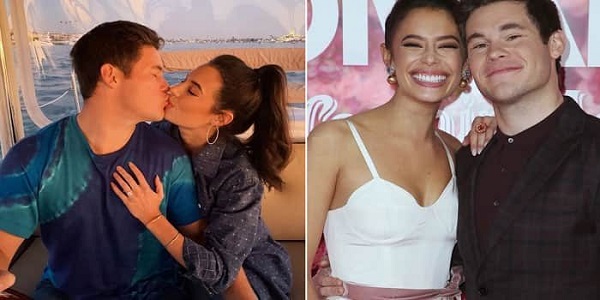 Many of her 673.3k followers liked the post and send her their congratulations.
Adam DeVine and Chloe Bridges-their relationship timeline
It was in 2014 that the couple met on the sets of the movie The Final Girls. They liked each other and started a friendship. But it was not long before they loved their friendship to a deeper level and began dating in February 2015. In September 2015, Adam spoke to PEOPLE about their relationship. He admitted that like other couples, they too have their disagreements but he tries to 'not go too deep in the doghouse'. The comedy actor said:
"I'm still a child to where I think that, like, attacking her with smooches is the best way to do it. You know, I haven't really done anything that'll get me in trouble, so usually, my aggressive smooch-attack will get me out of most trouble,"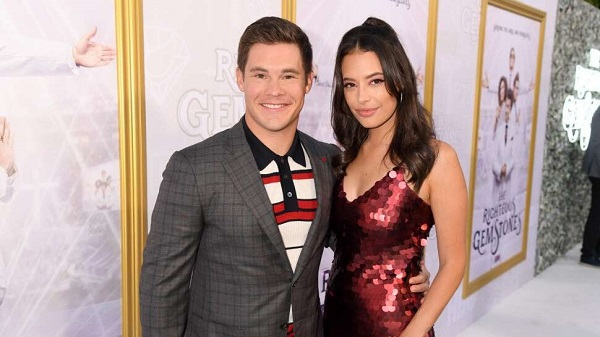 He added with a laugh:
"So far so good."
Short Bio on Adam DeVine
Adam Devine is an American actor, comedian, singer, screenwriter, and producer. He is a star and co-creator of the Comedy Central series Workaholics. He is a hardworking personality and has made a respectable position in the American film industry. Adam played the role of Bumper Allen in the musical films Pitch Perfect and Pitch Perfect 2. More Bio…
Source: News AU