Actor Michael J Fox gets his first sea turtle tattoo at the age of 57!
Michael J Fox, 57 was the latest customer at the beloved studio of the celebrities called Bang Bang NYC. He has got his first tattoo inked.
Michael J Fox and his first tattoo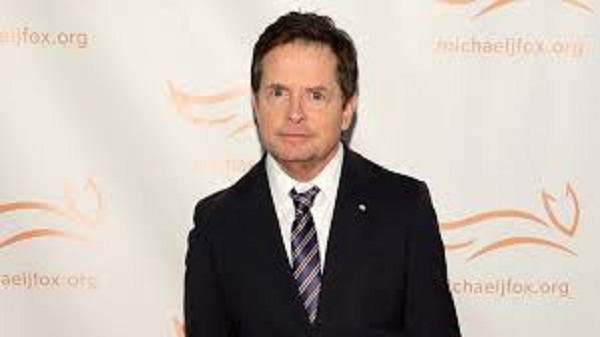 Tattoo designs are mostly done by youngsters and are a craze among them. Michael J Fox is in his late 50s. But the advanced age did not affect his desire to be inked. He got it done this Wednesday. He shared the tattoo picture with his fans on Instagram. He was obviously thrilled with his new body art. Artist Mr. K put the tattoo on his body.
The design of Michael J Fox tattoo
So what did Michael get inked? The design was a delicately drawn sea turtle and he decided to have the body art on his forearm. What was the inspiration for this design? Well, Michael did not reveal it and simply put in the caption:
'long story'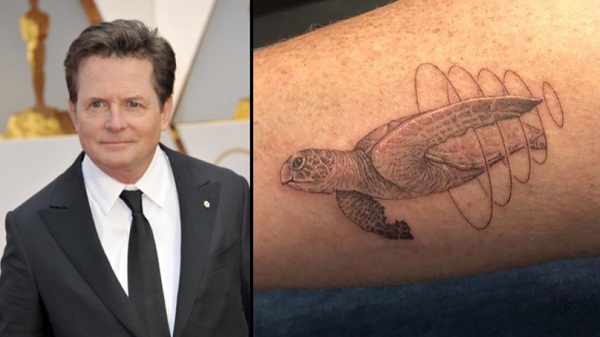 But Jon Bang Bang who owns the tattoo studio spilled the beans. He told Inked magazine on Thursday that the actor got the inspiration to ink the design of a sea turtle after he had an experience of transcendence swimming the aquatic creatures in Saint John. He said:
"He was telling me that there was a transformation for him with his career decisions when he was swimming in Saint John. He spotted this turtle with a chunk missing from it's fin and a scar on his face. And that turtle let him swim with him for about a half an hour. He made a transcending decision right after that. So that turtle was pretty significant to him."
Mr. K and his Instagram post
Click to know more about Tattoo artist Kat Von D stirs a controversy! She does not want to vaccinate her to-be-born child!
Mr. K also put up a picture of himself and his friend with the actor. Mr. K and his friend were holding some Marty McFly memorabilia probably autographed and gifted by the actor. He also expressed his gratitude to the actor in the following words:
"Represents his life and himself. Can't decide how I feel today @realmikejfox it was an honor #michealjfox #mrktattoo."
There he uploaded a picture of his artwork.
The Bang Bang Tattoos Studio also shared the photo of Michael lying down while been inked.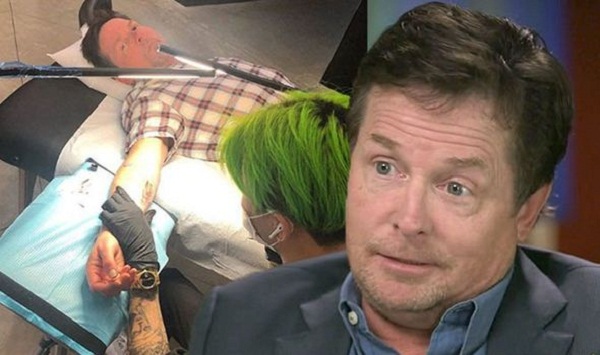 It may be recalled that Michael was diagnosed with Parkinson disease in 1991 and talked about it publicly in 1998. He supports research into the cause and treatment of the disease. Jon also told Inked that Michael's illness in no way came in the way of the tattoo procedure. He said:
'I think that he did really well. [Parkinson's] is something that can affect him really heavily or not as much, but he had a great day today here.'
Click to read more about Paris Jackson's recent abscess in the lower back was from a dirty tattoo needle!
Source: Daily Mail