Actress Jenna Ushkowitz is engaged to boyfriend David Stanley!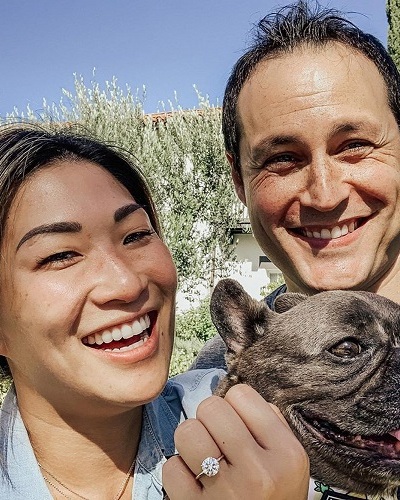 American producer Jenna Ushkowitz recently had a big day in her life. She and her boyfriend David Stanley upped their relationship. David proposed to her and she said yes. Read the lovely post of Jenna on her Instagram in which she shared her engagement news.
Jenna Ushkowitz is engaged
Glee star Jenna Ushkowitz is extremely happy and excited with a new milestone in her relationship with her boyfriend David Stanley. She shared this happy news with her fans on social media. Actress and singer, Jenna, 34 wrote on Sunday  2 August 2020 night on her Instagram that she and David got engaged.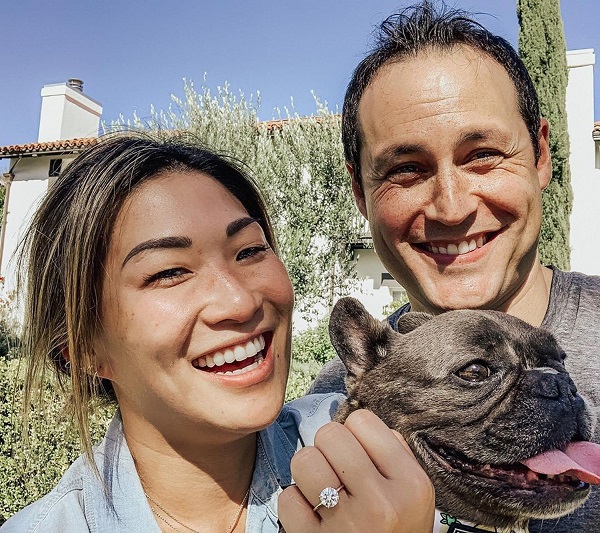 Jenna uploaded a selfie of herself with David and their French Bulldog, Bear. She was showing off her new sparkling diamond engagement ring in the photo. She captioned the post:
"Yes, a million times, yes," 
Her joy was obvious on her face and also in the caption that she put for this post.
The relationship of the couple
The couple, David and Jenna are now dating for the past two years. They began their relationship in June 2018. And last month, they had celebrated their two-years of togetherness. On 29 June 2020, Jenna had put up a the couple's photo on a beachside on her Instagram post to announce that they had completed their two years together. Their dog Bear was in that picture as well. And Jenna had captioned this photo:
"2 years of getting to know you, traveling, laughing,"
She continued:
"2 years of growth, learning about each other, ourselves, our love and 2 years of creating our little family. Can't wait for all the days, months, years to come."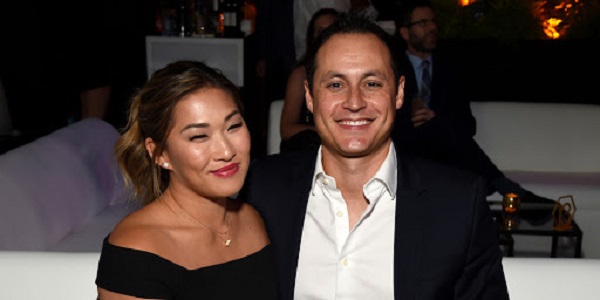 And now one month later comes their engagement news. The last month was a difficult time for Jenna and her Glee cast mates. They lost their dear friend and ex-colleague, Naya Rivera to accidental drowning in Lake Piru in Southern California. On 8 July 2020, Naya had drowned herself when she went boating with her son Josey who is four. But she managed to save her son who was found on the boat alone.
Jenna and her tributes for Naya and Nick
The producer Jenna was devastated with the deaths of Naya Rivera and Nick Cordero. For Naya, she posted the following tribute on her Instagram:
"Naya, you were a force and everyone who got to be around you knew it and felt the light and joy you exuded when you walked into a room,"

"You shined on stage and screen and radiated with love behind closed doors. I was lucky enough to share so many laughs, martinis and secrets with you. I can not believe I took for granted that you'd always be here. Our friendship went in waves as life happens and we grow, so I will not look back and regret but know I love you and promise to help the legacy of your talent, humor, light and loyalty live on."
"Rest easy friend, You put up the fight of your life. The world lost one of the greats. Your laugh, light, smile, positivity radiated through this world. Love you. ❤️ wear a mask. So sorry to everyone who feels the loss and had the chance to encounter Nick in their life. ALL my love to Amanda, Elvis and their families."
Short bio on Jenna Ushkowitz
Seoul-born Jenna Ushkowitz is an actress and a singer.
More bio…