What is actually going on between Lauren London and Nipsey Hussle? One day the two announce break-up and the other day they seem to be together. What is the actual truth?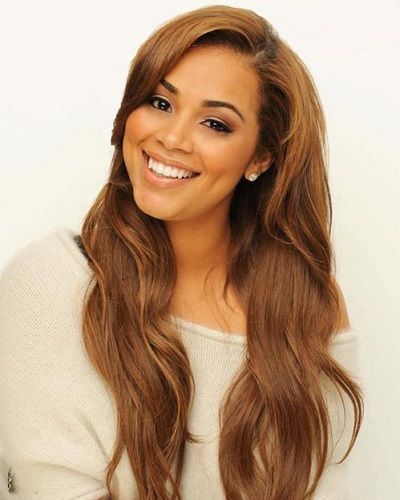 Lauren London and Nipsey Hussle's drama never seems to end.
When the two of them announced their split in November, we thought it was all over for the couple for the 4-year-long relationship.
But nothing was over between the lovers. At least that is what their Instagram followers believe.
---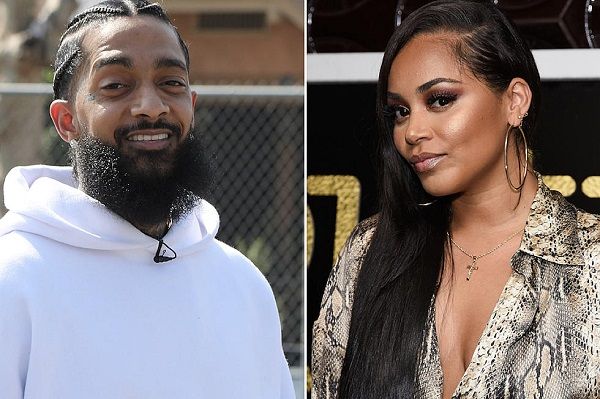 But the grief is that Nipsey was shot dead! Who killed Nipsey Hussle?
Three men were shot outside Marathon Clothing on March 31, 2019.
Nipsey, 33 was declared dead in the Hyde Park neighborhood of Los Angeles, south of the Crenshaw area while the other two are in stable condition. The culprits have not been arrested yet.
According to the sources, the shooter went close to Nipsey and shot him in front of his daughter. Witnesses also heard the sound of multiple shots of fire.
The police reports,
"Our hearts are with the loved ones of Nipsey Hussle and everyone touched by this awful tragedy. L.A. is hurt deeply each time a young life is lost to senseless gun violence. My Crisis Response Team is assisting the families coping with shock and grief."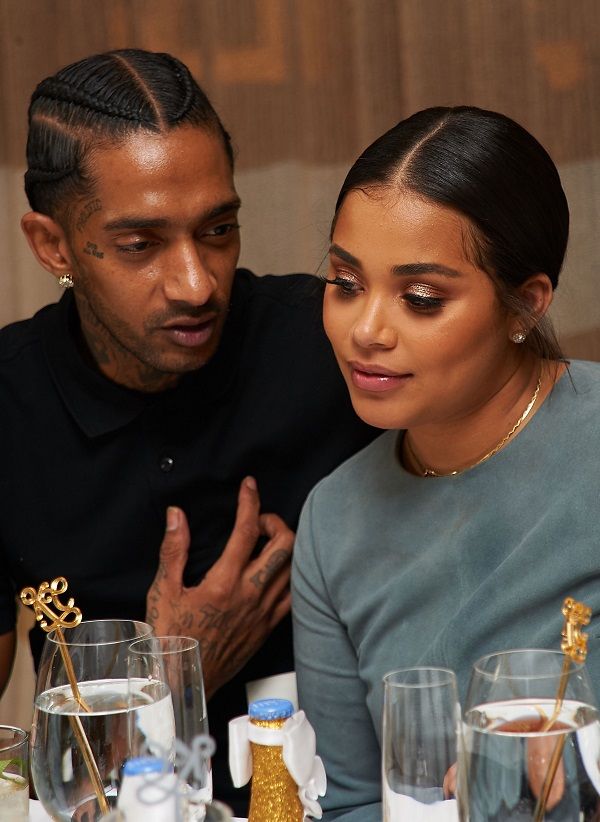 Most of the couples who break up tend to not have any contact with their ex but Lauren and Nipsey's relationship is not among them. These two seem to be in a good relationship until that day.
Also read Lauren Goodger's different look! Has she undergone plastic surgery on her face again?
After the release of the final music video of Nipsey and DJ Khaled's Higher, Lauren gave tribute to him via her social media handle, Instagram. She captioned,
"I Love You. Higher 
@djkhaled@johnlegend NIP HUSSLE THE GREAT!!!!"
She added,
"I am completely lost. I've lost my best friend. My sanctuary, My protector, My soul…. I'm lost without you. We are lost without you babe. I have no words."
Break-up news
There have been several rumors about this couple's break-up soon after the birth of the couple's child after four years.
Yes, the couple's once-called "couple goals" relationship welcomed a son, Kross Asghedom back in 2016 at the end of August.
The rumors were proved to be just rumors when both the celebrities shut people with their posts about still being in a healthy relationship as always which seems to be deleted for now.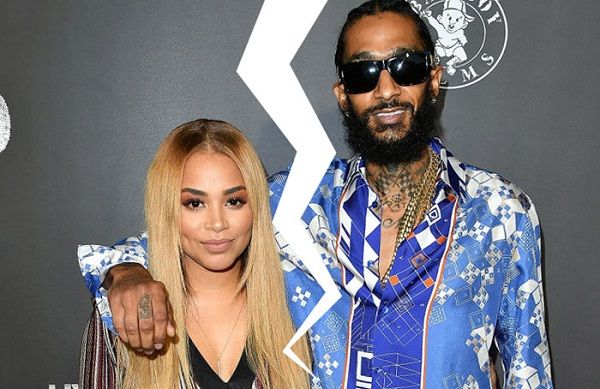 Maybe the two really had a feud going on between them which resulted in their break-up after a year of the rumor when a Twitter post of Nipsey stated:
"@LaurenLondon and I had a dope relationship and made a Beautiful child. we are deciding to separate and raise our Son together as the main priority. This was A mutual choice and We will function with each-other as family w love and respect."
Which of course, isn't available on Twitter anymore. Their regular deletion of posts occurs the confusion we can say.
Also, read Heath Ledger's dad happy with Michelle Williams's Secret Marriage!
Nipsey's baby mama, Tanisha confuses us more with no break-up at all
Nipsey was thought to be cheating on his longtime girlfriend and it became quite confusing once.
Tanisha replied to one of their fans asking about their patch-up news by saying that they never broke up.
"We never broke up lol. Show me the blog lol."
This is a "lol" kinda situation, I guess. Well, well, well. Nothing more to say.
Still good friendship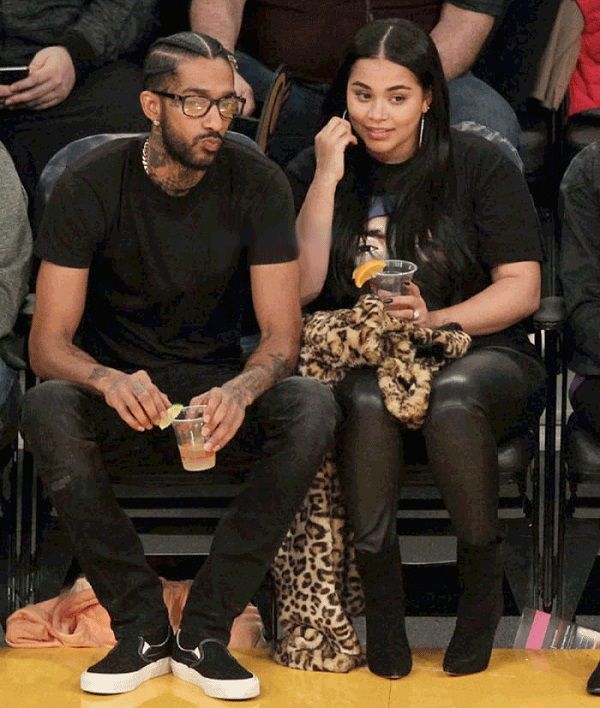 Break-up or not, it is true that Lauren still had good contact with her ex-boyfriend, Nipsey.
Nipsey and Lauren, unlike other split couples, don't seem to have a problem supporting each other after their break-up.
As they have decided to take care of their child together, they wanted to maintain their friendship.
After all, they had a "dope" relationship in their dating history.
Also read: The host of Gardeners' World TV Rachel de Thame's show reveals that she is suffering from breast cancer and this explains her absence from the last few episodes of the show!
"We always support each other"
How much ever we may look into it but this confusion doesn't seem to end. Nipsey even retweeted Lauren's ATL 2 news. This is the one I am talking about.
If you check you are sure to find Nipsey's retweet among them. Not surprised at all.
.@LaurenLondon wants "ATL 2" as much as we do https://t.co/PvtdWxq8dx

— HotNewHipHop (@HotNewHipHop) December 28, 2017
Maybe supporting each other is just out of habit.?
It's just because of their friendship, nothing more.
Also read: Nicole Scherzinger-her sizzling tangerine figure-hugging midi wear and her Greek birthday getaway-Click to know the details!
Christmas date even after the split
Nipsey was with Lauren on Christmas at the Lakers game against the Minnesota Timberwolves. Lauren also posted a picture with a caption:
"This dm went far asf huh? ???? @nipseyhussle"
She probably meant that their relationship that started with dm went this far or maybe she was just talking about the date, right? What do you guys think about this? Together or no more?
Lauren London and Nipsey Hussle in October
Lauren and Nipsey again slammed their breakup rumor with a new Halloween photo. The two looked extremely happy and chimed as they posed for the camera.
The couple had dressed as Sam Rothstein and Ginger Mckenna from the 1995 movie 'Casino.'
Fans were pleased with the picture and one fan even pleaded with them to get married!
Also read: The lead vocalist and guitarist of The Vamps, Bradley Simpson is having a hard time finding a date!!
Lauren London's diet plan for GQ red carpet
Lauren recently revealed the secret of her diet plan to get the right figure for the red carpet. She stated to Hollywoodlife,
"GQ reached out to us, me and Nip, and wanted to do the power couple segment, and we were both for it and I just drank a lot of water and ate a lot of fruit and vegetables!"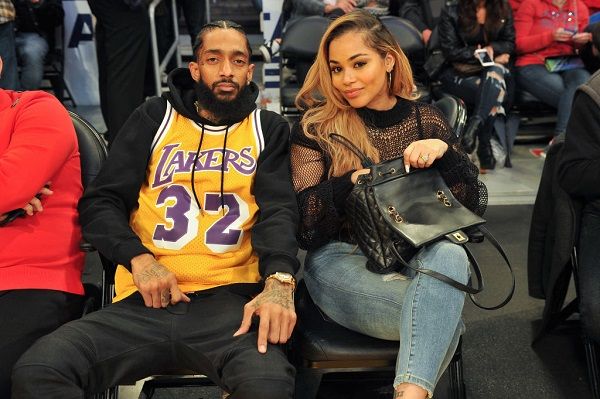 Adding,
"I don't have time to workout at all, so I just made sure that the foods that I took into my body were live, healthy foods that worked with my body, not against it."
Lauren shares a post-Nipsey Hussle's death
After the death of her love interest, Lauren shared a black and white photo for the first time with Nipsey Hussle in a snapshot with the caption,
"Missing you."
Nipsey Hussle's tattoo on London's hand
Lauren London has inked her hands with the tattoo of her love interest who is no more. She wants him to be with him wherever she goes. She shared the picture of it via her social media handle.
We continue to keep #LaurenLondon in our prayers. ? #NipseyHussle ? #TMC pic.twitter.com/GcZyGFznVU

— HOT 97 (@HOT97) June 29, 2019
More about Lauren London
Lauren Nicole London is an American film actress, model, television personality, and television actress.
She began her career by appearing in music videos and later acting in movies and tv shows. She is recognized for her film called ATL (2006) and a drama called The Game. 
For her work in ATL, she was also nominated for the Outstanding Performace by an Actress in a Supporting Role in Black Movie Awards. More Bio…
Reference: (atlantablackstar, hollywoodlife)