Affair of actress Rhea Chakraborty and director Mahesh Bhatt!
Rhea Chakraborty, 28 and Mahesh Bhatt, 71 have known each other since 2017 after she worked with Mukesh Bhatt in the movie Jalebi. Since then, Rhea and Mahesh were friends with each other. But after the death of Rhea's boyfriend, Sushant Singh Rajput due to suicide at their apartment in Bandra many photos of Mahesh and Rhea have circulated.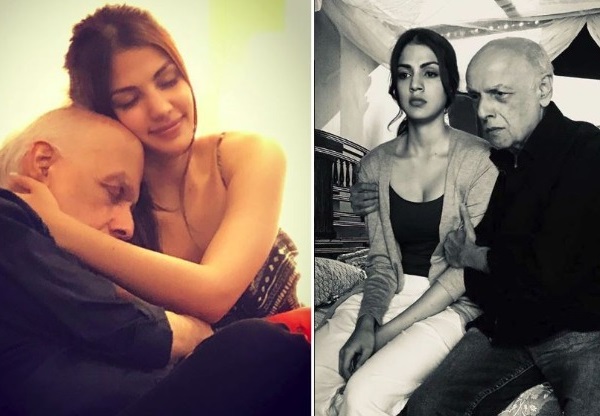 The circulated photos are questionable and raise suspicion as they seem inappropriate. Looking at the nature of Mahesh Bhatt people fans have many questions about their relationship. Mahesh is known for his bold directorial movies which have created many questions.
However, there is no such evidence that the two were in a relationship. Some sources have claimed that Mahesh was in between Rhea and her relationship with Sushant. Sources even claim that he made sure Chakraborty breaks up with Rajput.
Mahesh's assistant Suharita Das wrote on Facebook,
"Dear Rhea, When the world will be pouring grief for Sushant Singh Rajput and expressing shock and condolence I stand by you firm and strong."
She added,
"Having been a silent spectator to your impossible attempts at trying to keep him together and going…. it is my moral duty as a mother and a citizen of this country to tell once and for all that clinical depression is a catastrophe that medical science has no solution or answer to."
Rhea Chakraborty's mother on their relationship
Rhea Chakraborty's mother Suharika Das has denied the affair of Rhea and Mahesh, After the death of Sushant Singh Rajput, Rhea was investigated by the Bandra police. She was questioned for almost 11 hours by the police. During the investigation, she revealed that she and Sushant were planning to get married.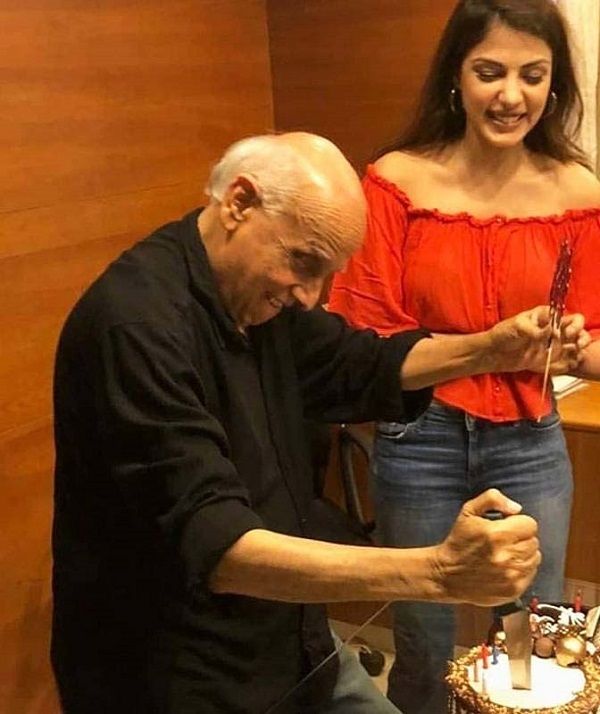 Sushant was mentally unstable and was taking medication for depression. She claimed that her mentor Mahesh told her to stay away from Sushant due to his mental condition. Mahesh told her that Sushant's health will affect her badly. Fans were unhappy with such statement of Mahesh.
After such an incident whole, Bhatt family and Rhea have been targeted by the fans. But Rhea and Mahesh kept quite.
Also read Did Josh Richards And Nessa Barrett Get Back Together? Everything About Their Relationship And Breakup!
Rhea Chakraborty and Sushant Singh Rajput's relationship
After break up with Ankita Lokhande, actor Sushant was linked with Rhea Chakraborty. But both denied being in a relationship in interviews. But the two were living together in the apartment of Bandra till a week before his death.
Almost a month after the death of Sushant, Rhea officially claimed to be his girlfriend through her Instagram. She wrote,
"Respected @amitshahofficial sir ,
I'm sushant Singh Rajputs girlfriend Rhea chakraborty, it is now over a month since his sudden demise .
I have complete faith in the government , however in the interest of justice,"
She added,
"I request you with folded hands to initiate a CBI enquiry into this matter . I only want to understand what pressures prompted Sushant to take this step.
Yours sincerely
Rhea Chakraborty"
Who is Mahesh Bhatt married to?
Mahesh Bhatt is married to Soni Razdan who is a British actress and film director. Together, they have two children Shaheen Bhatt and Alia Bhatt. They are still married since 1986.
Previously, he was married to Lorraine Bright at the age of 20. They married in the year 1970. Similarly, they have two children, Pooja Bhatt and Rahul Bhatt. But their marriage did not work out. He also had affair with the late actress Parveen Babi.
Also read Who is Brittney Noell? Know about his married life with Logic, baby boy, social media, net worth, biography…
Short bio on Rhea Chakraborty
Indian Rhea Chakraborty is an actress and VJ. Chakraborty is renowned for playing Aisha Pradhan in the romantic movie, Jalebi.
Next, she will be appearing in the movie, Chehre as Neha Bharadwaj. Read more bio…