After all the unstable relationships, Mickey Rourke is going strong with Russian beauty! Know about all the previous relations and his career from being Boxer to Actor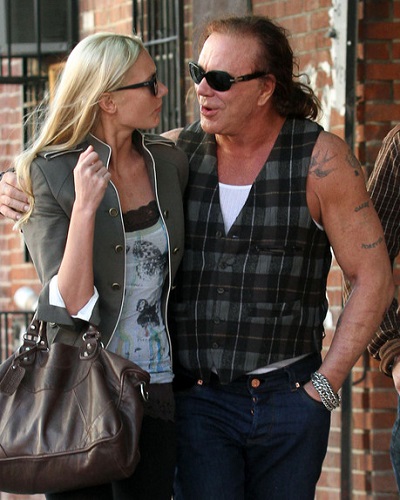 Mickey Rourke is an American actor, screenwriter, and retired boxer, who has appeared primarily as a leading man in drama, action, and thriller films.
Given the pure muscle mass of Mickey Rourke, it's not surprising that he started out as a boxer.
---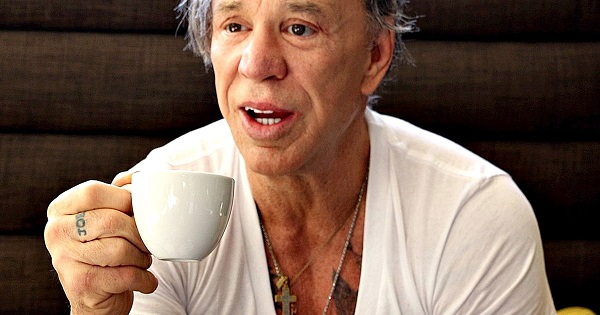 Mickey's Relationship status
Mickey has been in many relationships but currently, he is dating Anastassija Makarenko who is a Russian model and 33 years younger than him. They have been spotted together in public many times and they have made an appearance together in many award functions and movie premiers.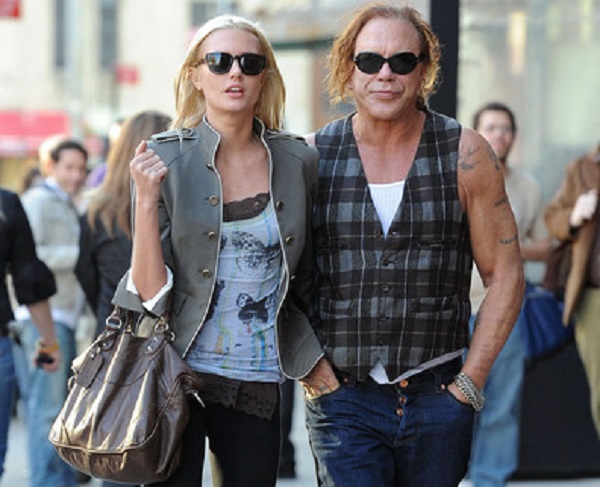 The pair, who both live in New York, met each other on a photoshoot since then they had the spark and still going strong. About his women he says,
"She's a gift from heaven."
He also added,
"Obviously she's a very beautiful woman. But she's got the biggest heart, she's got a great family, she's really close to her mother and father – they're great people."
Rourke has given her a Pomeranian dog named Tango as a sign of his love. She took Rourke to Germany to meet her parents a few months after they started seeing each other and concluded:
"They loved him. He's the most beautiful man in the world, he's a sweetheart and the best boyfriend."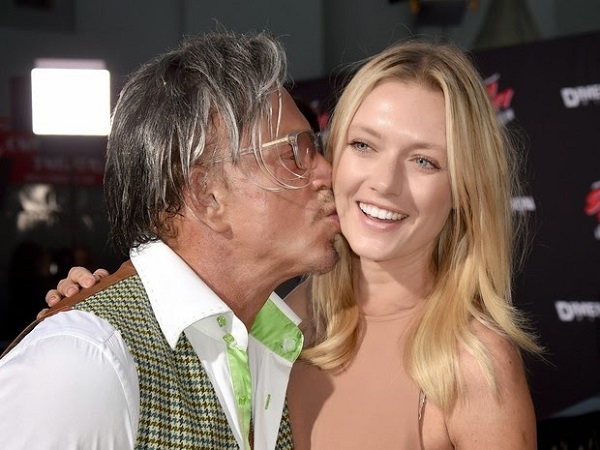 You may like to read Celebrity fitness trainer Mandy Blank found dead at 42 in a bathtub of her LA home!
Due to Rourke's relationship history, people didn't really take it seriously when he revealed his latest sugar baby, Anastassija Makarenko. Although he claimed that when he first met the model, he wasn't planning on the relationship getting serious but she has changed his mind about love. Rourke has promised that despite his rocky past, he's never cheated on her.
"I haven't f***ed around on her. I haven't been that way for 23 years so this is new to me and it's not easy. Sure, I could do something on the side but I've got to live with myself."
His past relationships
Mickey has been in more than 10 relationships before his girlfriend, Anastassija Makarenko. Anastassija is 34 years younger than him. He also has been married twice, both were his co-star in the movies.
His first marriage was with Debra Feuer. In 1981 he married Debra Feuer, whom he met on the set of Hardcase (1981) and who co-starred with him in Homeboy (1988) as his love interest.
The marriage ended in 1989, with Rourke subsequently commenting that making the film 9½ Weeks "was not particularly considerate to my wife's needs." The two have remained good friends, according to an interview Feuer gave in 2009.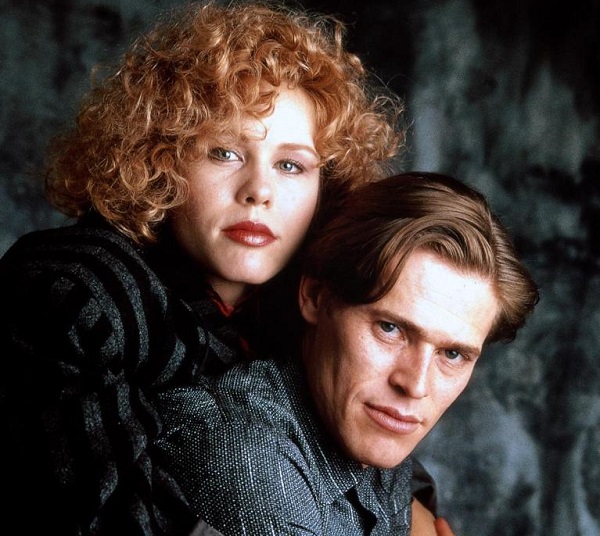 Relationship timeline
His second marriage was with Carré Otis who was his co-star in the movie "Wild Orchid". They met each other in the set and a tumultuous tabloid couple was born. Wild Orchid co-star Carré Otis was briefly a cause celebre following the release of the film owing to rumors that she and then-lover Rourke filmed an unsimulated sex scene.
Otis married Rourke on June 26, 1992. In 1994 Rourke was arrested for spousal abuse. The charges were later dropped. The couple reconciled and also starred together in Exit in Red, but their marriage ended in December 1998.
Otis and writer Hugo Schwyzer co-authored Beauty, Disrupted: A Memoir, an autobiography that detailed Otis' marriage to Rourke that was published in October 2011 by HarperCollins.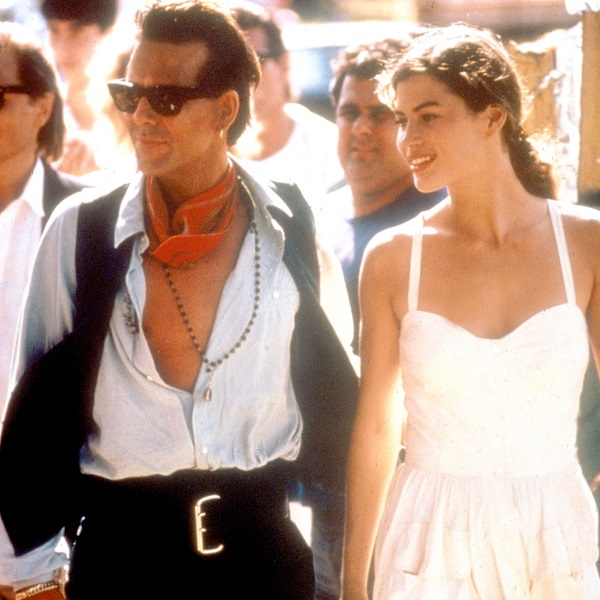 After both the marriage was unsuccessful, he was later engaged to Elena Kuletskaya who is a Russian model in the year 2009 but it didn't turn out for both of them and they separated in the same year.
Besides these Beauties, Mickey has been in relationships with Eugenia Volodina (2009), Courtney Love (2009), Sasha Volkova (2005), D'arcy Wretzky (2000), Christine Bolster (1989), Natalya Lapina, and Terry Farrell.
His Carrer from boxing to acting
Although many people know Mickey Rourke for his acting, he actually started out as an amateur boxer and had little interest in becoming a movie star.
Rourke won his first match at the age of 12, following it up with 27 more amateur boxing wins, with only three losses. After suffering several serious concussions, Rourke decided it was time to retire although he would later return to the ring.
Rourke made his film debut in 1979 with Steven Spielberg's 1941. He landed a few more notable roles before deciding to return to boxing. Because he felt like he didn't respect himself as an actor.
Despite beating many of his younger contenders, Rourke suffered many injuries. She has broken her nose and a split tongue and even required reconstructive surgery on his face. Fortunately, his acting chops were more than enough for him to return to Hollywood.
Also read Elena Kuletskaya's pop boyfriend, the hottie-nottie couple and married life: Read it all here!
Short bio on Mikey Rourke
Mickey Rourke is an American actor, boxer, and screenwriter. He is extremely prominent as a leading man in drama, action, and thriller movies. He is a hardworking person and has made a recognizable position in the American entertainment field. Moreover, he has earned more fame and fans. See more at…