Alec and Hilaria Baldwin welcome baby no. 4! Hilaria announces by means of sweet Instagram posts!
The homecoming
The Baldwin couple is extremely happy to welcome baby no. 4. Hilaria and Alec Baldwin welcomed their baby boy and had made the announcement on their social media this Thursday. This was revealed by means of a sweet Instagram post from Hilaria's account. The picture showed the six family members nicely cuddled up at home and the newborn was on the far left in his bassinet. Hilaria was keeping a watchful eye on him. Daughter Carmen Gabriela was looking back towards her mother while her two younger brothers Leonardo and Rafael were closely watching the screen. She had captioned the photo expressing her true feelings:
"Reunited ????! So tired, but happy! Little rainy day movie. #wegotthis2018,"
More social media announcements
Earlier in the day, Hilaria had posted a picture of her hand holding that of her son's. She had captioned it simply as 'Home'.
She had also shared with her fans a photo of herself and Alec, 60 gazing lovingly and smiling down at their newborn son in the hospital room after his birth. She captioned it too and wrote:
"He's here! He's perfect! 8lbs 2oz ???? #wegotthis2018,"
The name of the baby has not yet been disclosed. There was also a picture on her Instagram of her daughter lightly tapping her little brother's nose. She wrote along with:
"Proud big sister Carmen came to meet our new baby today…the other boys were napping, so they will meet him soon! All is wonderful. Still choosing his name. Carmen has had quite a few great ideas ????."
Carmen's demand
Before the 4th child, the couple had a daughter and two sons and little Carmen was longing for a sister to join her. But after the son was born, though happy, she was also disappointed. Hilaria said about Carmen:
"She was a little bit disappointed. [She said,] 'How about you have a girl first, then you can have another boy?' I was like, 'It doesn't work that way! I don't get to choose,' "
Hilaria continued:
"She's like, 'No, you don't understand, Mommy. It's going to be a girl.' I was like, 'No, I promise. I promise you it's a boy,' She is committed to a fifth child."
Alec too said:
"My daughter Carmen said, 'You have to have another one. We have to have another girl so we have another girl in the house. And my wife says to me, 'I want to have maybe one more, Alec. We have one girl,' And I said, 'I hope you and your next husband are very happy together.'"
Their relationship and married life
Hilaria and Alec have been married for nearly 6 years now. The two met in 2011 and began dating in August 2011. They got engaged in April 2012 and tied the knot on 30 June the same year. The wedding ceremony took place at St. Patrick's Old Cathedral in New York City. Their daughter Carmen was born on 23 August 2013, son Rafael on 17 June 2015 and son Leonardo Angel Charles in September 2016. Hilaria's recent delivery took place on 18 May 2018.
Hilaria, 34 had revealed in an interview that she is an alpha parent. She said:
"I am the boss at home and everybody knows that. They call me that, You ask them, 'Who is the boss?' and they'll say, 'Mommy is the boss.'"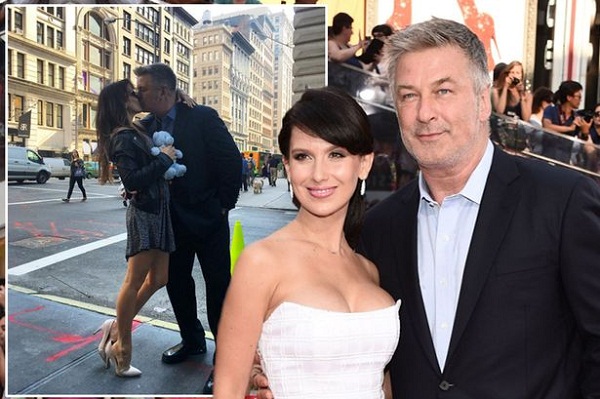 Alec's previous marriage
The American hunk was initially married to actress Kim Basinger with whom he had a daughter named Ireland. The couple had married in 1993 and Ireland was born in 1995 but by 2000 it was splitsville. They had an ugly divorce and custody battle.
Short Bio on Alec Baldwin
Alec Baldwin is an American actor, writer, producer, and comedian. He is famous for his remarkable work of displaying convincing characters in just about every genre. More Bio…