Alessandra Ambrosio: her ravishing body, her confidence and her superb Ibiza vacation with her fiance and friends!
Alessandra Ambrosio's highlighted envious figure!
Brazilian model Alessandra Ambrosio, 36 has really maintained herself well! She is the longest serving Victoria Secret's angels being on their campaigns since 2005. Her well-toned body and great figure defend her long tenure on the Lingerie Company's advertisement campaigns. Alessandra Ambrosio displayed her stunning body and washboard abs as she sunbathed on a yacht in Ibiza, Spain. The supermodel was in a white two-piece bikini as she relaxed on the yacht with her friends and fiancé, Jamie Mazur. Alessandra Ambrosio's white bra top had a whipstitch detail and this added the touch of difference to it. The triangular bikini she had worn with regular straps also exudes sporty vibes and is gaining popularity these days. It displayed her cleavage to the fullest. Her matching bottoms revealed her abs and thin waist as she stood atop the yacht laughing and enjoying with her pals. The model is also an entrepreneur with her own beachwear brand called as 'Ale by Alessandra'.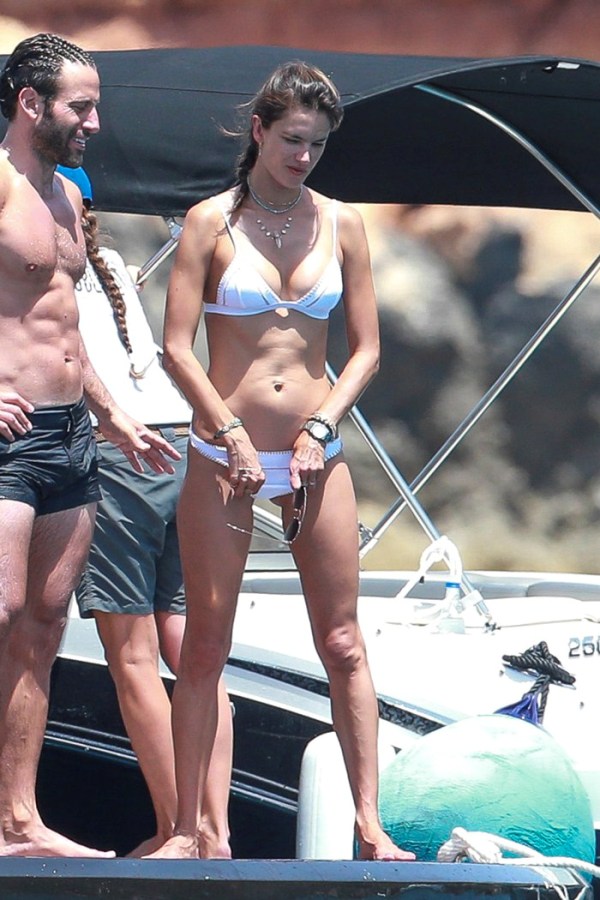 However, she does have a deep insight of such swimwear and occasionally wears other brand bikinis as well if she likes it. Her hair was tied into a French plait at the back. She had no makeup on during this trip. Her striking features and naturally radiant complexion stood out in the sunshine. She was seen wearing a silver and pearl necklaces and delicate drop earrings. The group took turns to take a dip in the fresh and cool waters.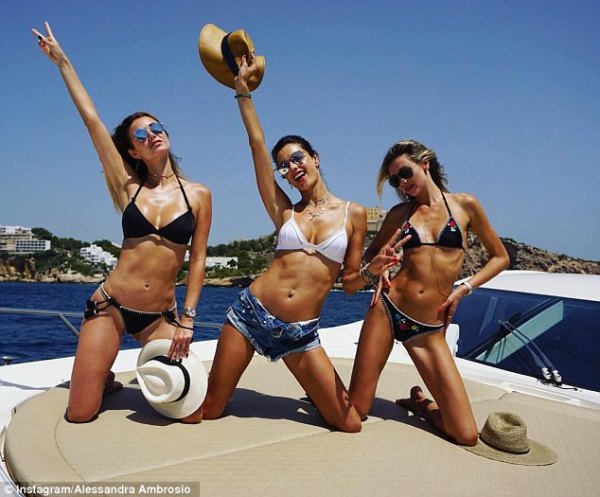 After fooling around for a while, the group headed to the deck to party and while their afternoon away. She put on a pair of shorts while on the deck. Alessandra Ambrosio is a mother of two children and maintaining such a svelte body after two deliveries is a rare achievement! Kudos to her!
Her say on her post-delivery body
Alessandra Ambrosio feels that her motherhood and 2 children have given her a new different perspective of her body and her profession. Last year, in an interview, Alessandra Ambrosio had said:
"I used to be 100% comfortable on lingerie shoots – then I had a child. Somehow it felt a bit weirder to be in lingerie once I was a mum. Your body will never go back to exactly what it was before pregnancy, whatever people tell you. It can't."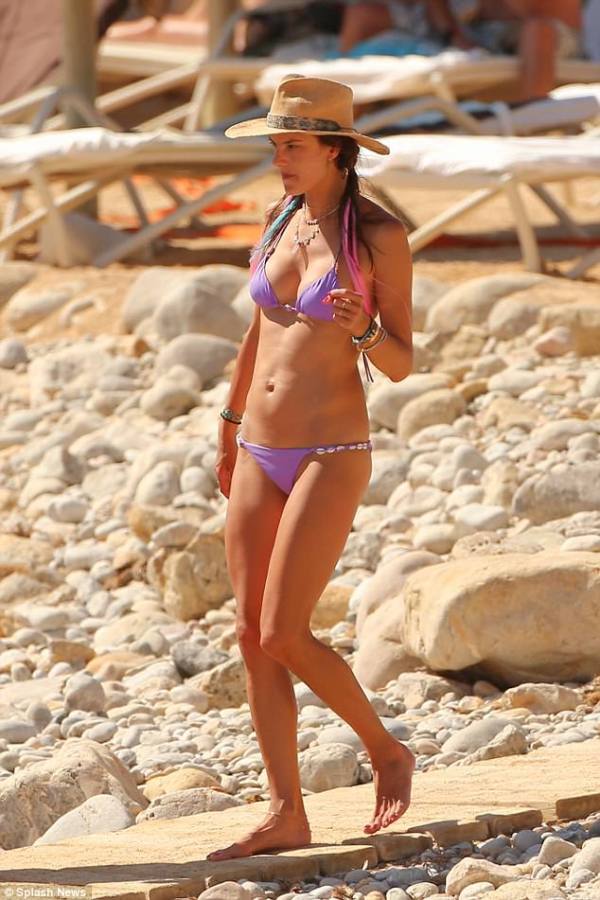 However, she soon overcame these myths and felt that her body now has a higher purpose in life. She became more confident with her appearance and has carried it well. Alessandra Ambrosio added:
"But I think I have a better body now than before I had kids… it just looks more formed now and I feel better about it than I did."
The beach Monday 

One day prior to her yacht sun-basking and party, Alessandra Ambrosio was seen on the beach of the Spanish island in a purple bikini which of course revealed her envious body. She had adorned her hairs with pink and blue streaks and was spotted walking the seafront. The bikini had sweet shell details which set it apart. The straps formed a triangular shape around her back by meeting in the middle of the model's back.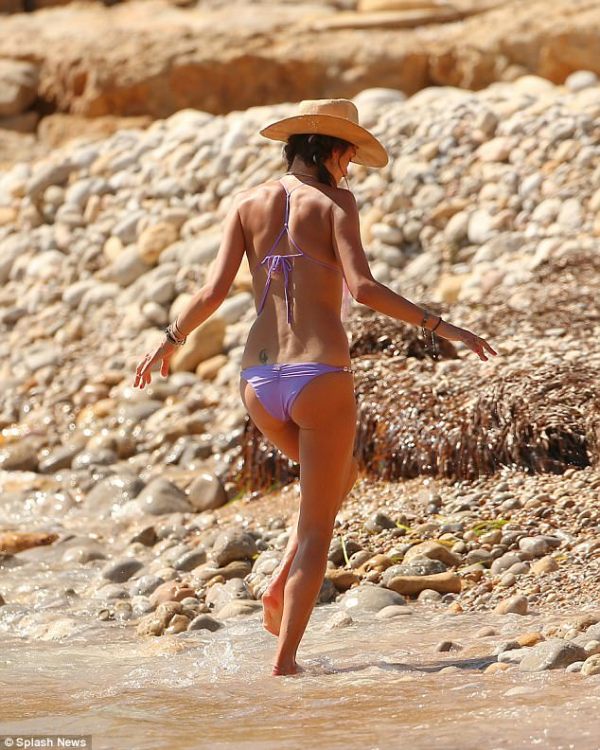 Her lower back tattoo of a cat sitting on a crescent moon was seen through her low-placed bottoms. She had covered her head with a big straw hat which was decorated with a patterned band. Her hairs were made into two loose braids which fell over her shoulders. She had two necklaces, one bracelet over each wrist and a delicate anklet on her right leg. She waded in the water, washed her hands in it and then returned back to where the group lay in the sun. She also was seen sipping on a beverage with a straw. Her eyes were shielded in a pair of mirrored aviator sunglasses. She covered up her body in a light blue sarong and also held onto a pink patterned purse as they stood up to leave.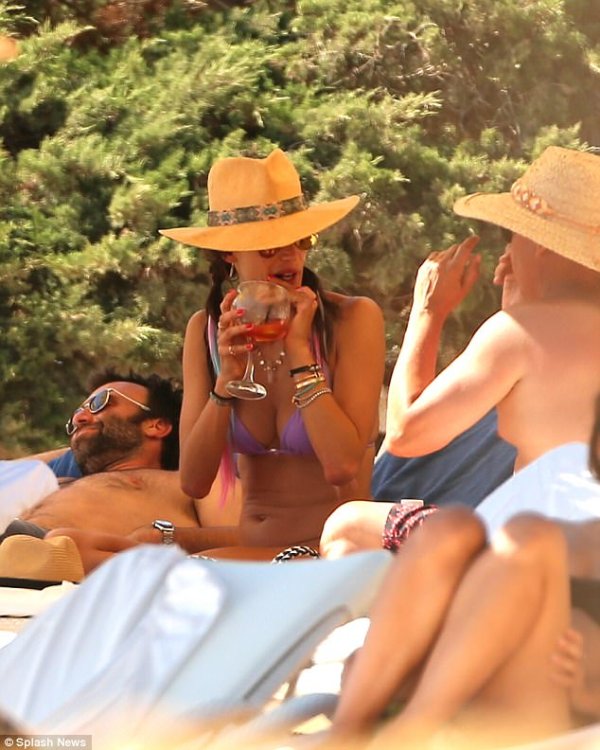 Short Bio on Alessandra Ambrosio
Alessandra Ambrosio is a famous Brazilian model and actress. She is best known for her work with Victoria's Secret and she was chosen as the first spokesmodel for the company's PINK line. More Bio…