Here's How Alex Scott fell in Love with ex Kelly Smith! A glimpse from Her New Memoir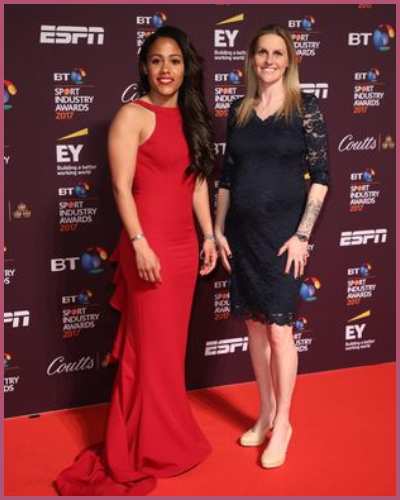 BBC sports presenter Alex Scott in her new memoir How (not) to be Strong disclosed her estranged love story.
It's the first time she spoke about a secret long-term relationship with fellow Lioness Kelly Smith.
The former Arsenal Ladies player was head over hills for her teammate as a young player.
---
BBC sports presenter Alex Scott recalls a past love affair with former Arsenal Ladies player Kelly Smith in her new memoir!
Alex Scott talks about her romance in her new memoir How (Not) To Be Strong
The BBC star, Alex Scott, 37 has talked about her romance with her Arsenal teammate in her new memoir, How (Not) To Be Strong. She had never been this vocal about her secret long-term relationship with fellow Lioness Kelly Smith.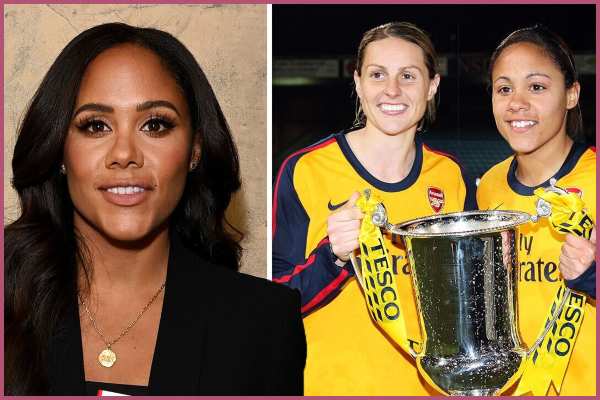 The former footballer candidly mentioned her romance and the subsequent heartache resulting from her split. She was madly in love with England's second-highest goalscorer Kelly Smith. She began her memoir by saying,
"I went back and forth on whether I'd actually be writing the chapter. But then it was one of those moments, I'm writing this book and I want to tell everything. I thought I'd be cheating you all if I didn't put that in there."
In her memoir, Alex described how her six years older then-beau Kelly was alcoholic while she was still in trauma because of her father. Both of them were not mature enough in love and were dealing with their own issues so, things could not blossom forever.
Just don't be confused this memoir consists of all the aspects that made Alex Scott this strong adding,
"I wrote the book to be free. I wrote the book for my mum and I wrote the book just to have that weight lifted, to move forward."
Also, Read Lesbian Soccer Stars Ashlyn Harris and Ali Krieger's Welcome Second Baby, Son Ocean!
Kelly Smith was the first love of Alex
Disclosing her first experience in love, Alex Scott mentioned her first love Kelly Smith she poured her heart into the memoir. She added on her love story saying,
"And for me, it's like that first love story, I fell madly and deeply in love. And yes, there's that heartbreak and those things, but it's a huge part of my life and I wouldn't go back and change that."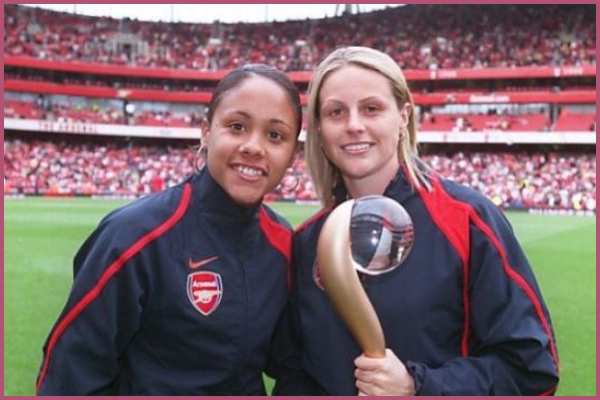 England team-mates Alex and Kelly met as Arsenal teammates after signing in 2005. They were then transferred together to play with the Boston Breakers in 2009 and how would not they feel loved when they were together for so long time as Alex confessed,
"Because that feeling of love and that excitement and what it gives you, it needed to be in there."
Her estranged lesbian partner, Kelly Smith, 43 is now married to management consultant DeAnna Dobosz. The couple also shares two children.
Also, Read The tragic love story of Cody Orlove and Zoe Laverne 
It's sad how Alex Scott used to crave affection but was denied
Alex Scott who was raised in an environment where getting affectionate toward her own mother was not allowed. She also recalled the moment she shared with best friend Regan Coleman citing,
"I remember going round to her house and her hugging me. I didn't know how to hug because we grew up in an environment where we weren't really allowed to show love or express anything."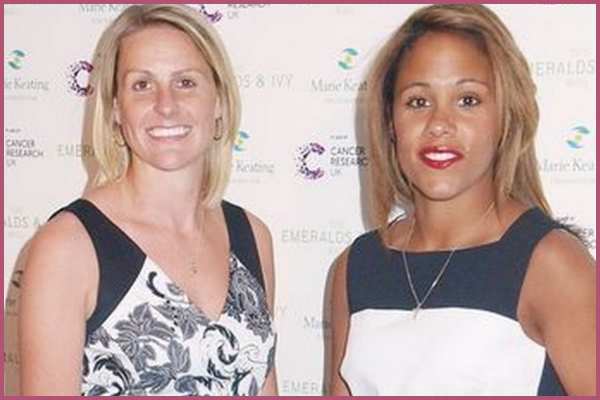 Alex Scott had a tearful conversation with her mom Carol who is now fighting MS. She then talked of how difficult it was for her and brother Ronnie to deal with the mother's diagnosis and their childhood especially adding how their father prohibit the happiness adding.,
"You said you wished that you were able to enjoy the feeling of hugging your kids whenever you wanted. The fact that he wouldn't even let you do that, that we weren't allowed to receive that love from you as children, Mum, I'm so sorry."
Also, Read Soul Singer PP Arnold Reveals She was Raped by Ike Turner in her New Memoir!