Full story of the gruesome relationship of Alexa Nikolas and Mike Milosh! All about the 'Grooming by the Groom' open letter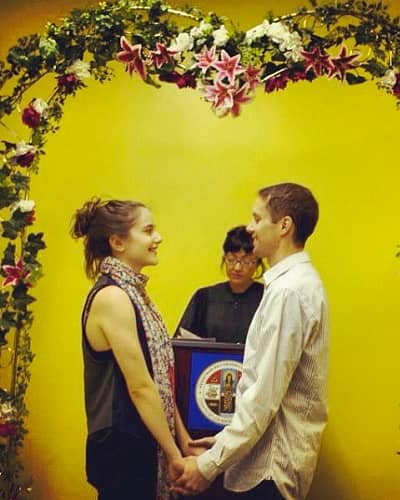 Alexa Nikolas has come out after years of being sexually abused by her ex-husband Mike Milosh. She accused him of domestic violence, gaslighting, and grooming.
She shared an open letter in a lengthy Instagram post which she titled  'Groomed by the Groom'. She kept the open letter in 5 parts and gave a trigger warning and also listed the Sexual Assault Hotline number 1-800-656-4673.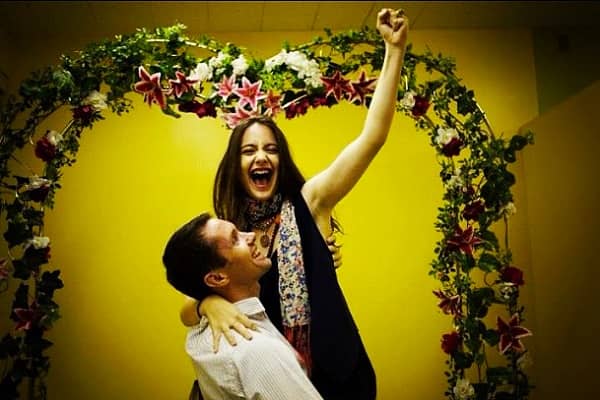 Alexa was just 16 years old when she met the 33 years old Mike. In the open letter, she described Mike as an 'older male ephebophile musician that groomed a teenager for a green card, success, and sex'.
In the letter, Nikolas revealed that she has been trying to process through the incident and have done multiple therapy sessions, and has engaged in every type of healing practice.
In 2008, she was just 16 years old when she worked in Iowa on a film. She liked his music and decided to message him via Myspace. Mike replied to him asking for her phone number. After he got her number they talked for hours about their lives. What I was doing in Iowa and what he was doing in Canada. They contacted each other through mail and Mike was aware of her age.
Also read Sexual assault victims accuse dating app Tinder of being predators! playground!
More on the open letter
His behavior was alarming to her so she kept her distance from him. It was not until her 18th birthday he asked her to visit him in Berlin. He asked her to pay the rent of the apartment which she happily did but was a big RED FLAG for her.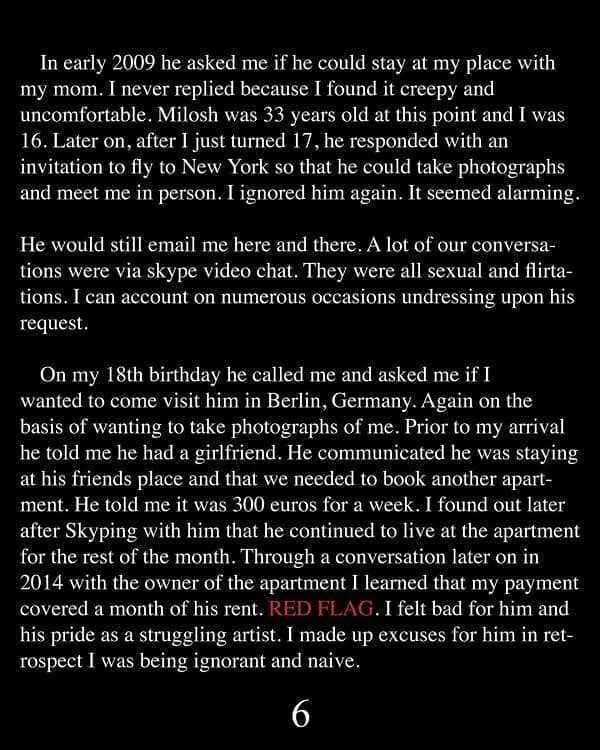 Alexa first shared her sexual experience,
"My first sexual experience with Milosh was the first night I arrived in Berlin. I was 18 years old and he was 35 years old. I took a shower and I was on my period, which I remember feeling good about because I didn't want to sleep with him right away. I wanted to postpone sleeping together so we could get to know one another."
She added,
"I told him no, I'm on my period, and I don't feel comfortable. He responded saying he doesn't care about having sex while a girl is on her period. He also said he likes the taste of blood. I remember feeling very uncomfortable, but I was attracted to him and I did not want our first sexual experience to be spoiled."
Nightmare marriage
Moving forward, the couple dated long distances from 2010 to 2011. Alexa was the one who always paid for him while he was a 35 years old man. The couple married in the year 2012. After they moved in together, the honeymoon period was over soon. Whenever she was upset, he got more upset and used to punch the refrigerator and candles.
In 2015, she found out the reason why he married her while looking at his emails. She revealed,
"I found a message from his record label that they were not going to pursue RHYE if he did not have an artist visa. They were not going to supply it for him and if he got denied he could not go on tour. He would not receive the million dollar record deal if he could not promote 'Woman' on tour'."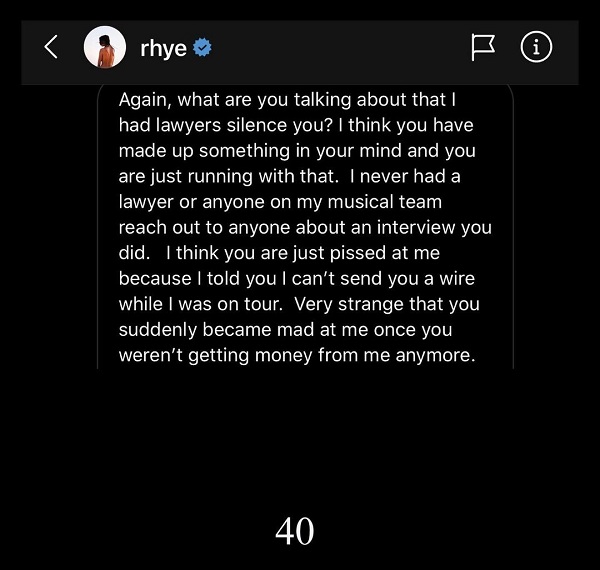 Finally, Alexa got out of the relationship in 2016. She finally had the courage to speak up. Since coming out, she has received support from many people.
Also read Student Advocate For Sexual Assault, Daisy Coleman Died At The Age Of 23!