Amelia Gray Hamlin has gained 50 pounds recovering from eating disorder! Her struggle with anorexia, family, boyfriend and social media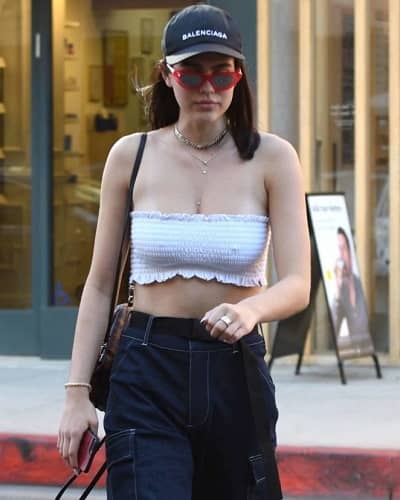 The daughter of Harry Hamlin, Amelia Gray Hamlin has finally recovered from an eating disorder. She has had serious anorexia since her early teens. Amelia gained 50 pounds in the sixth month while trying to recover from her eating disorder.
Her parents Lisa Rinna and Harry Hamlin opened up about her struggles with anorexia and how she ended up getting treatment on the latest episode of Dear Media podcast The Skinny Confidential Him and Her.
Similarly, she developed an eating disorder at the age of 14. It happened after she was upset by her appearance in paparazzi photos that were taken when she was leaving a store with her mom.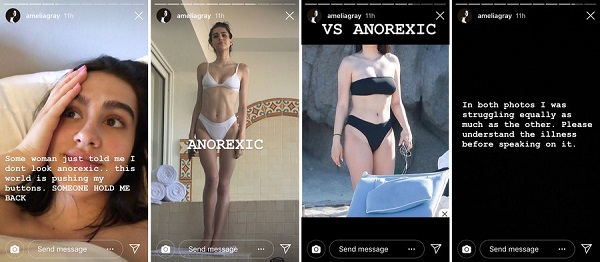 Amelia revealed,
"I woke up one morning at my childhood best friend's house. It was, like, seven in the morning. My parents, my sister, they're all outside, waiting to pick me up,"
They took her to UCLA to see a doctor, so she could begin treatment for an eating disorder. She said,
"He looked at me… and he was, like, so, yeah, basically at this rate in about four months, you're gonna be 45 pounds, and you're gonna be dead,"
That changed her and she thought she would change herself. She has changed herself but she has side effects. She suffered from hormonal imbalance, thyroid, depression, and anxiety.
Also read American Idol runner-up Lauren Alania chose to sing for her cousin! Her family problems led to her eating disorder! Also know about her perfect boyfriend, Alexander Hopkins!
More on Amelia Hamlin's health
At the beginning of her weight gain journey, she was still eating an apple a day. She would just eat a bowl of vegetables at night with some sriracha. Previously, she used to work out and eat normally when she was anorexic. She did not allow her body to heal and was gaining a lot of weight.
Her mother said that she was fine and it might have happened as she was eating more than she thought she needed. She revealed,
"I tried doing all those things for a little bit, still nothing. I'm just gaining and gaining and gaining. And that I think was so hard, being in the public eye, gaining weight at such a young age. Like, that's just so f****d up."
Amelia later found out that she had Hashimoto's disease which is an autoimmune disorder in which the thyroid gland is attacked.
Hamlin's family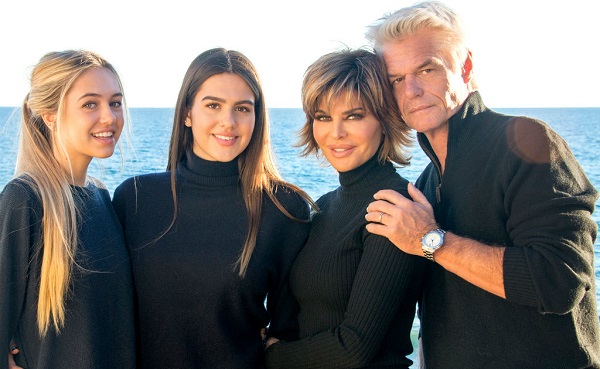 Amelia Gray Hamlin was born on 13th June 2001 in California, USA. She is 19 years old at present. She is the daughter of Lisa Rinna and Harry Hamlin. Her mother Lisa is an American actress, author & TV personality and her father Harry is also an American, author, and entrepreneur.
Likewise, she has a sister Delilah Belle Hamlin and a half-sibling, Dimitri Alexander Hamlin. Her paternal grandparents are Bernice Hamlin and Chauncey Jerome Hamlin, Jr. Also, her maternal grandparents are Lois Rinna and Frank Rinna. She has an aunt Nancy Rinna and three uncles Clay Francis Lindus, David Gray Hamlin, and Louie Hamlin.
Who is Amelia dating?
Amelia Hamlin is dating Mercer Wiederhorn since the summer of 2019. They were seen having a quality time with her sister Delilah and her boyfriend Eyal Booker at a Farmer's Market in Los Angeles. They were seen stepping out of the farmer's market together.
Their relationship is going well and is seen vacationing together.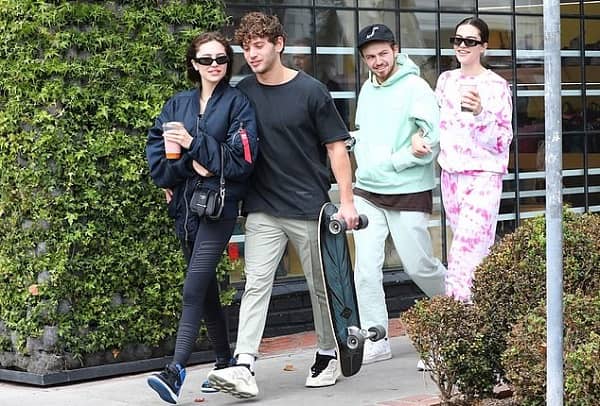 Also, read Are Devin booker and Kendall Jenner dating? Know about their date night, relationship, previous love life, and Kendall's net worth
Amelia Hamlin on social media
Amelia Hamlin has around 653k followers on her Instagram account. She shares her modeling shots on her account. On 11th February, she walked on the runway at BlondSNY Fall 2020 show and shared it on social media. On her Twitter, she has around 2.7k followers.
Amelia joined Twitter in December 2016. But she has not made a Tweet since March 2018. Her TikTok account has 3.9k followers. She joined TikTok on 26th February. Hamlin has only shared 10 videos.
Short bio on Amelia Hamlin
Amelia Hamlin is an American actress who is best known for her performances in 'Rachel & the TreeSchoolers'(2012), 'Harry Loves Lisa'(2010), and 'The Real Housewives of Beverly Hills' (2010). Read more bio…