American actress pregnant Anne Hathaway enjoys a fun-filled surprise baby shower and a day out with her husband Adam Shulman and son Jonathan in New York!
American actress Anne Hathaway is pregnant for the second time. But that does not stop her from attending major entertainment events and do family trips. The last weekend she was out with her family.
Anne Hathaway and her family outing
On 11 October 2019 Friday, Anne was seen with her family heading towards a park in New York City. Anne, 36 was with her husband Adam Shulman. Their 3-year old son Jonathan was also with the couple. They were all smiles and seemed to be eagerly looking out for this fun day out.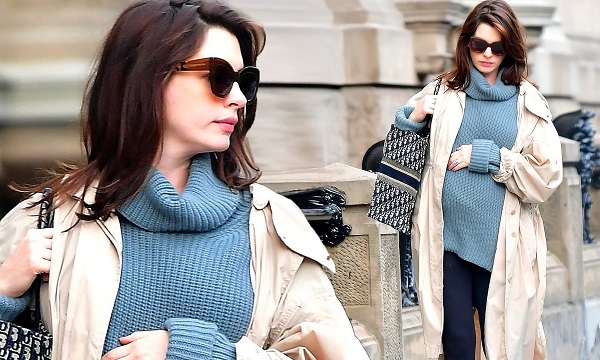 They were dressed casually and Anne's baby bump was obvious. But Anne's second pregnancy does not stop her from enjoying life and living it to the fullest. She has also been spotted at several awards functions and at other major events of the film industry.
Anne Hathaway and her second pregnancy
Recently, Anne had also commented on what she feels is different in her second pregnancy compared to her first one. She told Access:
"The first time, you're pregnant, it's the only thing you have to focus on. This time, I'm pregnant and chasing around a very active three-and-a-half-year old boy. So it's a little bit different. I'm more tired this time around but all good,"
Anne has been very honest in talking about her second pregnancy and her tiredness in it.
Anne Hathaway and her baby shower
It was in late July 2019 that Anne revealed the great news of her pregnancy to the world. She is no in an advanced state of her pregnancy. Last Saturday 12 October 2019, Anne also held a fun-filled baby shower at her home in New York for her family and near friends.
A source gave an insight into this baby shower. The insider revealed that it was a low-key affair and took place at the actress' Upper West Side home. The baby shower was arranged by her near and dear ones and it was a surprise thing for Anne. He source narrated how it all happened:
"It was a surprise baby shower! Anne walked in and everyone yelled 'Surprise.' She looked completely shocked and put her hand over her mouth then her face," the insider shared. "She hugged one of her friends and said 'You guys are so good!'"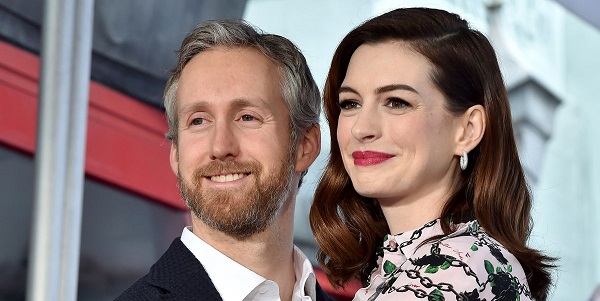 As regards Anne's appearance during the baby shower, the source said:
"Anne wore an off-the-shoulder navy blue dress and a gold butterfly necklace. Anne wore little-to-no makeup."
She had her hands on her baby belly and was seen once chatting with Jessica Chastain. The insider added:
"Guests gathered on her outdoor terrace where a table was set up with a tray of baked goods and food was served in elegant silver." However, it's unclear if the Hollywood star revealed the gender of her baby, as the source said there was "no sign if it's a girl or a boy."
Anne Hathaway and her pregnancy struggles
Anne had her share of pregnancy struggles and earlier she had offered some support to those who are wrestling with infertility issues. She had said:
"It's not for a movie…?? #2 All kidding aside, for everyone going through infertility and conception hell, please know it was not a straight line to either of my pregnancies. Sending you extra love."
Short Bio on Anne Hathaway
Anne Hathaway is an American actress. She is known for her movies like 'Les Miserables', 'The Dark Knight Rises', 'Rachel Getting Married', 'Love and Other Drugs'. More Bio…
Source: Just Jared