American Basketball Player Tim Hardaway Jr. opens about his experience and all his details! Read to get to know him a little bit more!!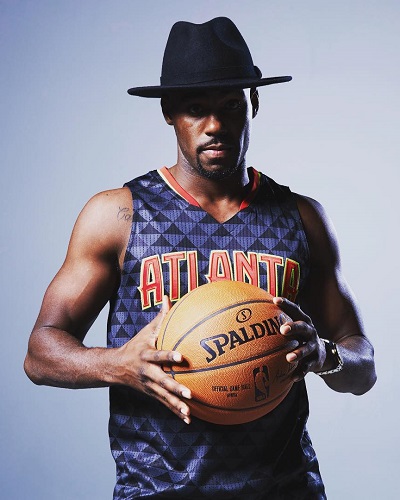 An American Basketball Player Tim Hardaway Jr. has had an amazing career in his life.
He has been playing for the New York Knicks of the National Basketball Association (NBA).
---
During his season in Atlanta, he did an interview with Post columnist Steve Serby in which he revealed all thing happing in his life and how the next phase will be different from his past.
So let see his interview and get to know him a little bit more!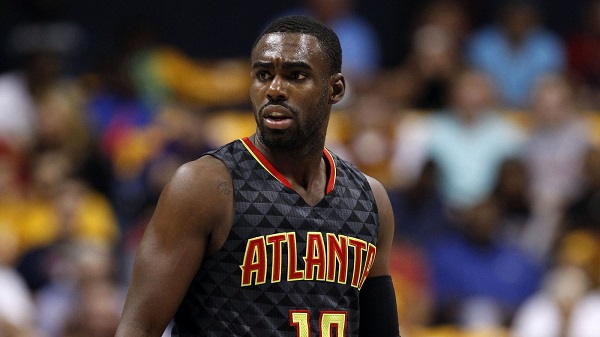 Q: How much did Phil Jackson's criticism of you when he traded you to the Hawks in 2015 motivate you?
A: It motivated me big-time. Then when I went down to the D-League, it really felt like he was getting the best of me, you know? But I loved it, I loved the challenge and I loved the opportunity that was at stake, you know? You could either fold, or you could get up on your feet and stand for who you are as a person. My whole motto is to prove people wrong. I've been doing that ever since I was in high school, and I just live with that and thrive off of it and keep that saying on my head every single time when I feel like I'm down or we as a team was down.
Q: Why do you have to always feel that you have to prove people wrong? About what?
A: I had doubters ever since I've been playing basketball — "You'll never be like your father [Tim Hardaway], you'll never make it to the NBA," I can go on and on about it, everybody knows these stories. And everybody that has a father, or a parent that's played professionally, they can relate. And just having those doubters, and having those people around you, fuel you to be great. And I love it. It's the best feeling in the world, and I'm smiling about it, but it really is, because it takes the best out of you and it makes you a better person.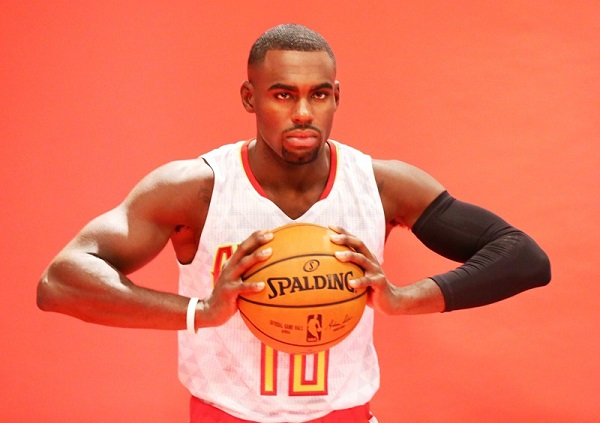 Q: You have new fodder now because many Knicks fans think your four-year, $71 million deal is the most insane contract they've ever seen.
A: I would tell 'em they're getting a different ballplayer than what they saw previous years. I definitely grew as a ballplayer, grew as a man on and off the floor. … I just want them to know that they're gonna get the best of Tim Hardaway Jr. 24/7, 365 days of the year, and they won't regret it.
Q: So you're worth the money?
A: I think so. I know so. I know how much work I've put into the offseason, I know how much work I put in during the season, and I don't think it's a mistake at all.
Q: Can you be an All-Star?
A: I believe I can. I believe KP [Kristaps Porzingis] can be an All-Star, I can believe a lot of the guys on our team can be All-Stars or raw rookies going to the All-Rookie game, or the World versus USA game. I have faith in everybody on my team.
Q: If Carmelo Anthony is traded, a lot of pressure will be on KP. How are you going to help him with that?
Q: Me and him are gonna be feeling the same type of pressure, and all we can do is have each other's back in that aspect. Pretty sure teammates will all jump in as well. At the end of the day, it's a team sport, we're all in this together, and if one man is down, it takes the rest of the 14 guys to pick him back up.
Q: If you could pick the brain of one NBA player in history, who would it be?
A: Pistol Pete [Maravich]. When I was playing with the Hawks, and we had our throwback night, they raved about Pistol, we retired his jersey. I kind of knew the history, but I didn't know the history in depth like that. I know if the 3-point line was there when he was playing, he would crush the college scoring record. Just watching highlights of him, how he'd run through the court, making those crazy passes, making crazy difficult shots … kind of like the Steph Curry from back then.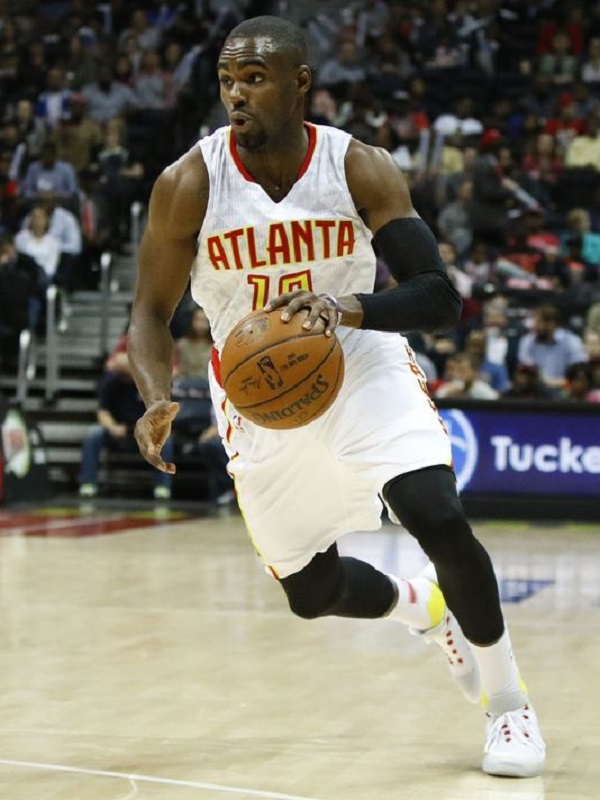 Q: What advice would you have for Lakers rookie Lonzo Ball in dealing with his outspoken father, LaVar?
A: I heard 'Zo give me an answer, and he said that that's his father, and you can't change the man, that's how he's always been, that confident. I mean, if I was Lonzo and I had to tell my father one thing … "Be yourself, but pick and choose wisely when you can rave and when you can't." You've got the utmost confidence in your son, but at the same time … putting a target on his back. But, that's his father, he has the utmost confidence in 'Zo, and if 'Zo feeds off of that, and plays better when that happens, then so be it. But if that was my dad, I'd tell him to pipe down a little bit: "Don't change who you are, but you could settle down."
Q: What advice would you give to the Tim Hardaway Jr. who was drafted 24th overall by the Knicks in 2013?
A: Don't take anything for granted. You were put in this position to succeed as a ballplayer. I didn't take the game serious back then. I was just excited and happy to be a part of an NBA team and to be a part of the New York Knicks, and play in front of thousands and thousands of fans in the Garden. But coming back now, I understand that this is serious, and I'm taking it to heart. I want everybody and the fans to know that this is a different Tim Hardaway Jr. coming back here with a mindset of bringing the New York Knicks back to where they need to be, and that's one of the top-tier teams in the NBA.
Q: Describe the low point emotionally in 2015 when you were sent down to the D-League Canton Charge and struggled. 
A: Emotionally it was a wreck. I played terrible.
Q: Did you seek your dad or your mom's advice?
A: My mom was crying, my dad was letting her know that "everything'll be fine, everything'll be OK, don't worry about it." And I told 'em, "I got this. I'm gonna get myself out of this one. I don't want nobody's help. If I ask for advice, I'll call for your advice," but I wanted to get myself out of that funk, and I'm happy I did.
Q: Was that rock bottom for you?
A: Yeah, that was rock bottom. That was under the ground. That was in the core of the earth. That's how deep it was. You know, you have all that confidence going into Atlanta thinking you're gonna play, then they tell you you're not playing the first 25 games … and you were like, "Why did you guys bring me here?" And you start questioning it. And then the human nature is to blame others. But I blame myself for this one. My agent called, saying, "Suck your teeth in, don't give no lip, do whatever you gotta do to get back on the floor," and that's what I tried to do.
Q: Why didn't former Knicks coach Derek Fisher succeed here?
A: Just in the wrong place at the wrong time. You had guys here that wanted to win now, and it was tough to have a guy that you played against … I felt like he was just thrown into the fire.
Q: Who are athletes in other sports you would pay to watch?
A: I would want to see Aaron Judge (smile). Now I get an opportunity to do that.
Q: Why would you pay to see him?
A: A rookie just doing … I really want to be a part of that. … What is that, the court thing, with a judge?
Q: The Judge's Chambers. 
A: That's a great idea, whoever came up with that. That's awesome.
Q: You want to sit up there?
A: I'll sit up there for an inning. I would definitely do it, just to get a feel for it. I mean, I see it on TV or whatever.
Q: You'll have to wear a robe.
A: Yeah, I know.
Q: And they give you Yankees mallets.
A: (Laugh).
Q: You're OK with that?
A: I don't know about that.
Q: Well you'll wear the robe.
A: I don't know about it either, but I'd definitely be there though (chuckle).
Q: I need a commitment now.
A: Not right now, not a commitment right now (smile). But Aaron Judge, definitely want to see him. Him or Bryce Harper, one of those two. Who else? Football: Tom Brady, a Michigan man right there, pay for a ticket to see him if he was overseas somewhere. One of the greatest football players to ever play, for sure. … [Lionel] Messi … Rafael Nadal, Roger Federer. … I have never been to a tennis match in my life. … Serena Williams.
Q: What do you know about Odell Beckham Jr.?
A: I've seen him so many times already, and he always excites the fans, always excites everybody watching. … And we got [Brandon] Marshall, too? I'm saying right now, if Eli Manning can't have an MVP season, I don't know what. He has two weapons on each side of the ball that he could throw to any given moment and they could take it to the house, so I'm excited for the Giants to see what they're gonna do this season, I'm very excited.
Q: You're a Giants fan?
A: I was a Giants fan when I was here, yeah.
Q: How come you picked the Giants over the Jets?
A: I don't know. … I guess just watching Odell and seeing how this city embraced him as a player. It kind of reminded me of myself when I first came here, the city embraced me as a rookie, and I just fed off the energy of the crowd.
Q: You picked former Hawks teammate Kyle Korver's brain about a healthy diet.
A: I eliminated a lot of fried food. I still eat it occasionally … butter is bad, even though it tastes phenomenal when you're cooking with it. But try to stay away from that. Ate a lot of fish, sometimes red meats here and there, but not the night before a game, a lot of grilled chicken, a lot of baked chicken, a lot of veggies.
Q: Favorite New York City restaurant?
A: I'm not gonna say it because then …
Q: Well there are two ways to look at it: You can get a free plug in, or you could lose your spot.
A: (Laugh) Exactly! So I'm gonna keep that under wraps right now.
Q: How did you change your body, now at 204 pounds at 5.7 body fat percentage.
A: Weight room at least four times a week during the season. A lot of the traveling will take a toll on that, so you have to force yourself to get in the weight room or force yourself to get in the cold tub and hot tub, and get massages when needed, and all that good stuff just to make sure you're able to perform at the highest level on the court.
Q: You began studying film more?
A: Studying film is definitely one of the keys to success in this league. You're given the answers before you're taking the test. The more you study, the more you watch film, the easier it is for you to be in the right spot at the right time on both ends of the floor.
Q: Are you a trash talker?
A: Only when I have to be. Draymond Green's considered a trash talker in the league, but he just has passion for the game. I wouldn't consider myself as trash talker, I just consider myself as a passionate ballplayer.
You may like to read "If I can see it, dammit, I know you can see it"-Totally blind world's most famous musician Stevie Wonder joins the US peaceful protest against social oppression of the people of color!
Q: Quick hitters: Thoughts on J.R. Smith?
A: Just a guy that enjoyed life, put it that way.
Q: Amar'e Stoudemire?
A: Very passionate about his culture.
Q: Carmelo Anthony?
A: He was my veteran when I was here.
Q: Your big brother?
A: My big brother, yeah.
Q: What about the argument on the court you had with him?
A: Just two brothers fighting. And then kissing and making up the next day. And then the media takes it out of proportion and tried to make it bigger than what it is when it wasn't.
Q: What did you fight over that time?
A: I don't know, I think it was a play or something that happened, or something like that. But it wasn't no big deal.
Q: Iman Shumpert?
A: Cool kid, '90s kid.
Q: Tyson Chandler?
A: I feel like Tyson was like the mature one on the team. He was like the one that kept everybody in line and in place, made sure everybody was on top of their things.
Q: Raymond Felton?
A: Floor general.
Q: Kenyon Martin?
A: He always was ready to fight (laugh).
Q: Michigan football coach Jim Harbaugh?
A: Legend.
Q: Michigan basketball coach John Beilein?
A: Father figure.
Also read 'Let's Make A Deal' Model Tiffany Coyne Pregnant? Get To Know More About Her Personal Life, Relationship Status, Husband, Child
Q: Who is Ed Downs?
A: That's my trainer since I was a sophomore in high school. Still use him to this day. He used to train my dad, Alonzo Mourning, Jamal Mashburn when they were playing. Basically my dad was like, "Here Ed, help me get him to where he wants to go." And he got me stronger, he got me more athletic, he got me my explosive power.
Q: You lived in Riverdale your last time here. Where will you live this time?
A: No idea yet. Just limit distractions so I can focus on the team I'm on and focus on the season at hand.
Q: Deserted island, one woman?
A: My mother. She made me the person I am today. She was the backbone of our family, my dad could tell you that firsthand. He wasn't there all the time so she had to take me to all my games, she had to take me to school, made sure she cooked for us. That was a job, helping to raise three kids when your husband is on the road and playing professionally.
Q: A dream or something you've visualized?
A: Winning a championship Game 7, down two, you hit the game-winning 3. … And you're on the road. And to do it in this organization, 'cause I don't want to go anywhere else.
Q: Describe the connection between this city and the Knicks.
A: It's bigger than any other franchise or any other sport that I've seen, how they're so passionate about the Knicks, and how they want them to win so bad. It's not the frustration of the fans of us losing, they want to see the dog, they want to see that fight, they want to see that hunger inside of you. And I really do feel like I can come in here and bring that out of the fans.
MarriedBiography hope you guys get to know about Tim a little bit more and know about his experience in life.