American Chef Andrew Zimmern and her wife Rishia Haas have been Married for 14 Years and still going Strong! What's the secret behind their successful Marriage? Find out!
All those who like to watch Bizzare food and keeps their eyes for Travel and Living Channel must know Andrew Scott Zimmern. Although his choice of food is bizarre and nasty but his choice in women we must say is fabulous.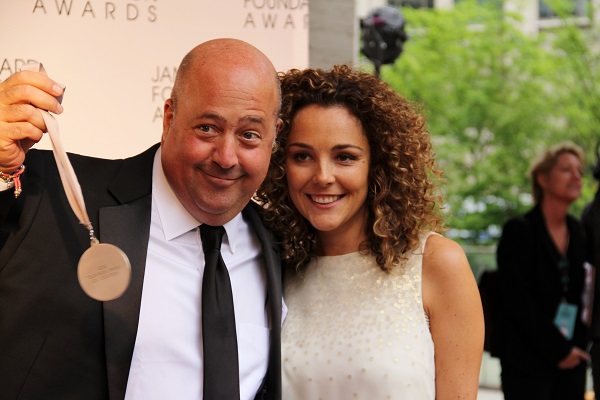 This three times James Beard Award-winning TV personality, chef, writer, and restaurateur is married to his gorgeous wife Rishia Haas and has more than fourteen years of successful married life. Their long journey of togetherness is amazing so let's find out the beautiful reason behind it.
Married life of Andrew and his wife Rishia
The power-house couple tied the knot in the year 2002. Rishia and Andrew Scott crossed the path in the year 2000. After dating for about a year Andrew decided to propose and did so in the September of 2001 during their trip to Mexico.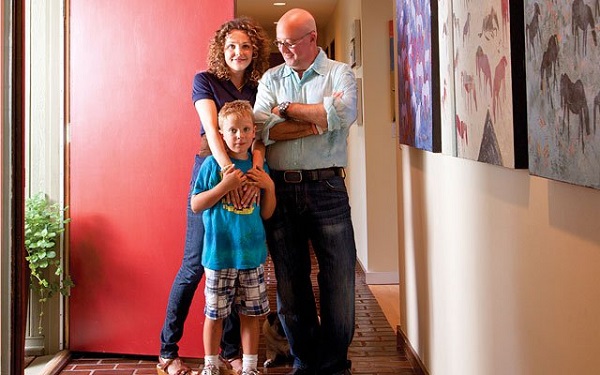 A year later in 26th December both of them got married. The couple got married in secret in Minneapolis in St. Paul Judge Roseanne Nathanson. However, they revealed about their marriage and held a reception in June 2003.
They organized a big, fat wedding on 26th December 2001 but it was a private event and only close friends and families were invited. The glorious ceremony was held at St. Paul Roseanne Nathanson in Minneapolis.
Despite having their own profession both of them have stuck together. Although not much have been revealed about Rishia it is believed that she is helping her husband and frankly we guess she enjoys it.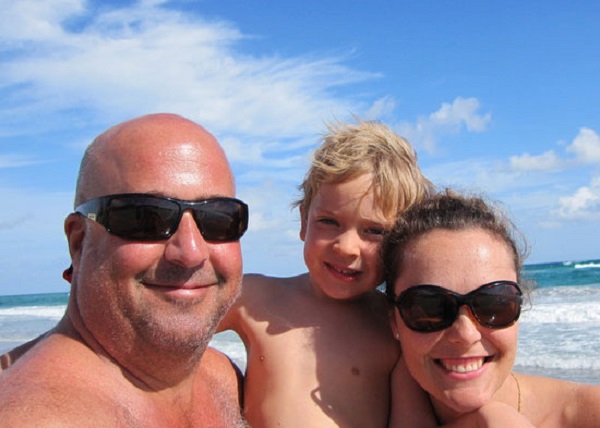 Since then, their life has been flooded with happiness and contentment through their blissful marriage. Hence, their love life serves as a big inspiration for many, especially for the Hollywood couples where relationships do not last that long.
Family and Children
Andrew and Rishia have been blessed with a child, a son named Noah who was born after 3 years of their marriage on 2005. The family of three is living happily in their grand house in Minnesota.
Regardless, both of them are living happily with their child without any news or rumors of divorce. Nothing about their previous dating affairs has been revealed to the public. He might have had girlfriends prior to Rishia or not, we don't know.
Andrew is one of that personality that does not have such a lovely past. Once a homeless man, Andrew resorted to stealing, not to mention drug addiction.
Despite having such a grim ghost of the past Andrew does not hide, instead, he tells his story and keeps it in his heart about his perseverance. Now, he is one of the most famous personality, not only in his country but the whole globe.
About Andrew
Andrew Zimmern (andrewzimmern.com) is universally regarded as one of the most versatile and knowledgeable personalities in the food world.
As the creator, executive producer and the host of the Bizarre Foods franchise on Travel Channel, Andrew has explored cultures in more than 150 countries, promoting impactful ways to think, create and live with food.
In 2012, he launched Andrew Zimmern's Canteen, reflecting his fascination with food history from around the world.
With a location at Target Field, home of the Minnesota Twins, and the Kansas City Royals' Kauffman Stadium, the company will expand into Minneapolis' new Viking Stadium and several other locations in 2016.
Short Bio on Rishia Haas:
Rishia Hass is a Food writer and teacher.She is an administrative assistant at Hazelden Betty Ford Foundation. She Rishia is better known for marrying a popular chef named Andrew Zimmern.