American model Amber Rose flaunted her baby bump! Know about her promoting controversial detox tea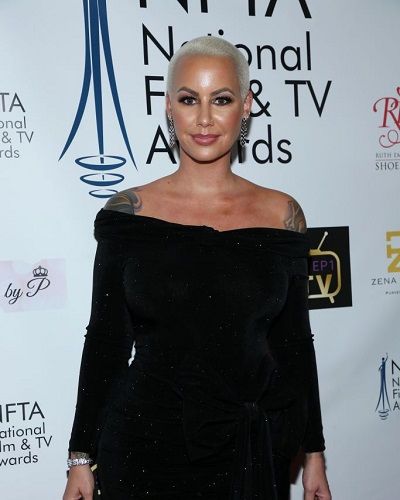 Amber Rose recently posted a photo of her showing her baby bump. She is 35 years old businesswoman. Similarly, she embraces her new body and makes a joke in the caption of her photo. She shared a new NSFW pregnancy photo of herself on Instagram.
Likewise, she is encouraging many women to embrace their bodies. Also, she is an activist for gender equality with her own feminist movement. Amber posted a picture of her sitting on a chair and posing with her legs. Similarly, she opened her legs wide on the picture and she was wearing a matching top and bikini bottom outfit.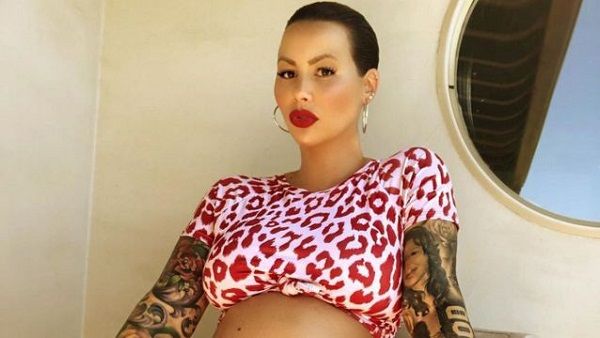 She captioned the photo,
"When ur 8 months Pregnant but Hoe is still life ????????‍♀️????"
There were many of her fans who supported her showing off her pregnancy bump. They were happy about her embracing her new body shape. Previously, she has shared that she was suffering from hyperemesis gravidarum, a debilitating condition that brings about bouts of nausea in pregnancy.
Moreover, she said,
"For people that don't know what it is, it's basically extreme nausea, vomiting, and dehydration,"
She added,
"[I'm] really, really tired. I can eat a little bit more now that I'm in my second trimester but not much. I pretty much sleep all day."
Also read American model Olivia Culpo has found new love in NFL player Christian McCaffrey after her breakup with Danny Amendola!
What happened when Amber Rose promoted Detox tea?
Amber Rose promoted a detox and weight loss tea on her Instagram while she was pregnant. Because of that, she faced criticism. On June 2019, she was expecting her second child. She did a paid advertisement for Flat Tummy Co's "organic pregnancy tea".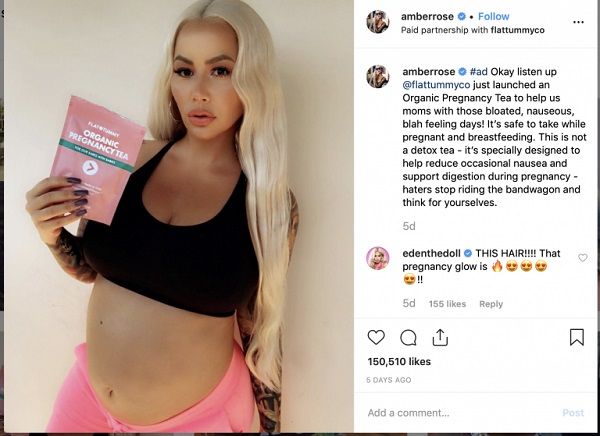 Similarly, the tea is meant to help the mothers who are feeling bloated and nauseous. But she was not supported by her followers. She faced backlash for promoting the controversial tea.
Amber Rose and her relationships
The American model Amber Rose is not married. In the year 2010, she had an affair with Kanye West. But their relationship could not work out. Amber claimed that she was cheated by Kanye. He cheated on her with Kim Kardashian. After that in March 2012, she started dating Wiz Khalifa.
They were so much in love with each other that he bought a house for both of them to live together. Similarly, on 6th September 2012, they announced that they are expecting a baby together. They announced it at the MTV VMAs. On  21st February 2013, she gave to her child named as Sebastian "The Bash" Taylor Thomaz.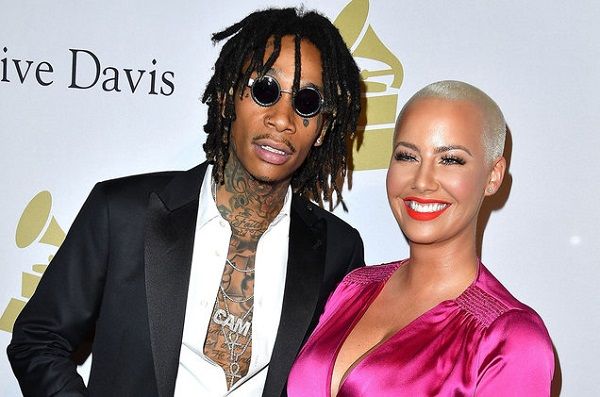 Likewise, they married each other in the same year in July. But their marriage could not work out and they divorced in the year 2014.
Also read Former American model and actress Claudia Haro-her love stories, children, and attempt to kill her second husband Garrett Warren!
Short bio on Amber Rose
Amber Rose is an American model, actress, recording artist, and socialite. She is well-known for appearing in the music videos "What Them Girls Like" by Ludacris and "No Sleep" by Wiz Khalifa. See more…
Source: capitalxtra, independent, Wikipedia