American TV host Angie Mentink gears to battle breast cancer! Her family, husband Jarrett, friends, and fans provide all the required support!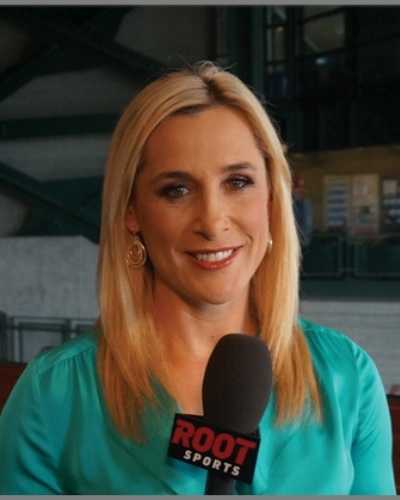 Angie Mentink diagnosed with breast cancer
The gorgeous Angie Mentink has been an anchor and host on the TV show 'Root Sports Northwest' since 1997.
She has been doing her job excellently and has reported on the Seattle Mariners, Seattle SeaHawks, Detroit Tigers, and FSN Northwest.
She herself is an established sportsperson and has been a three-time college All-America softball player for University of Washington (1991-1995).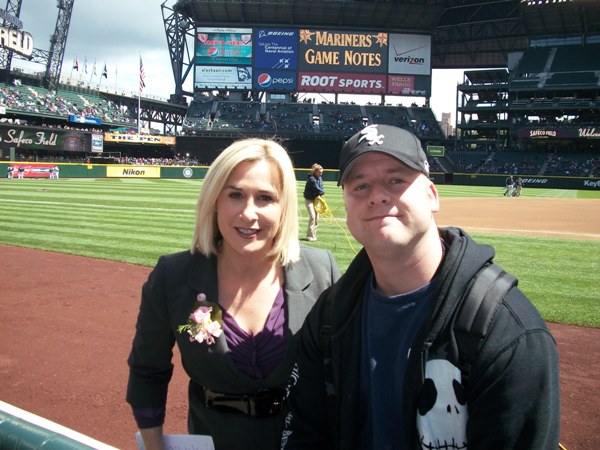 On 7 September 2017, Angie Mentink announced that she has been diagnosed with breast cancer. She tweeted:
"Talk about ungrateful, after everything I did for my boobs, today I find out they are trying to kill me. Yeah so ummm I have #breastcancer"
Talk about ungrateful, after everything I did for my boobs, today I find out they are trying to kill me. Yeah so ummm I have #breastcancer

— Angie Mentink (@AngieMentink) September 7, 2017
Angie Mentink's happy family and married life
Angie Mentink's maiden name is Marzetta. Her original on-air name was Angie Arlati. This name was due to her first marriage to her college sweetheart.
This 43-years-old TV broadcaster is now married to Jarrett Mentink. Jarrett was a former Assistant Basketball Coach for Seattle Pacific University and now a professor and children book writer.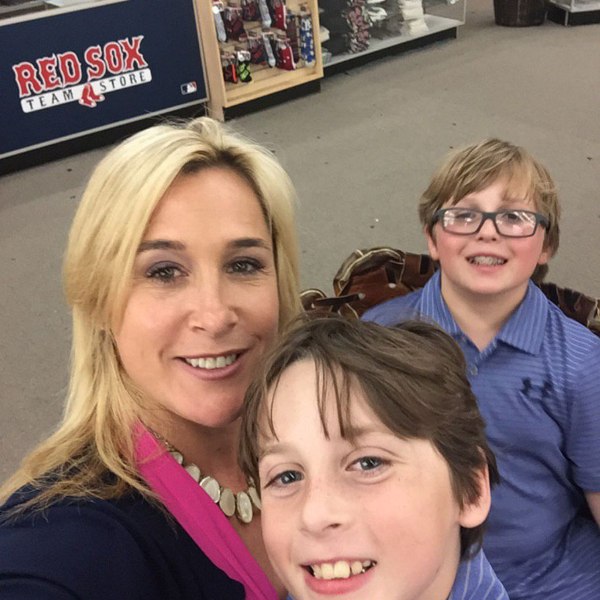 The couple has 2 children. Angie and Jarrett spend quality time with their two sons and teach them about life and varied skills. Jarrett too is a very supportive husband and a loving and caring father.
Angie's breast cancer diagnosis would have definitely hurt them. Even during this sad time, Angie is thinking more about her kids and family and husband and less about herself.
She tweeted:
"My biggest concern is not with myself but those I love. That is my favorite # yet. Thank you"
You may also like to read Barack Obama Wore the Same Tux for Eight Years, Michelle Obama Recently Revealed, Dive In to Learn About the Revelation
Angie Mentink's breast cancer stage
Angie Mentink has not provided much information about the type and stage of her breast cancer. Generally and in simple terms, breast cancer could be in any of the following stages:
Stage 0-Very small and localized to breast
Stage 1-Less than 2 cm tumor in the breast with no or minimal spread to local lymph nodes or >2 cms<5 cms and no spread to lymph nodes.
Stage 2-Tumor size >2 cm<5 cm and spread to lymph node, or > 5 cms with no spread to lymph node
Stage 3-Tumor size < or > 5 cm with lymph node spread and also skin and chest involved.
Stage 4-Spread to distant organs
5-year-Survival is more than 99% in stage 0 and 1 and around 15% in stage 4.
There has been an outpouring of support in response to Angie's announcement tweet. Mike Salk from ESPN tweeted that everything would be ok and she will beat cancer with her strength and courage.
Oh no. Thinking about you, wishing you the best, and knowing you are going to beat this thing.

— Mike Salk, 710 ESPN (@TheMikeSalk) September 7, 2017
The Mariners Organization also responded with an encouraging tweet:
"Angie, from the entire Mariners organization, you're in our thoughts. Knowing you, cancer doesn't stand a chance."
Jen Mueller tweeted his support thus:
You are one of the toughest women I know. #Cancer will be sorry it ever tested you. ? You've got this. Love ya gal! ❤️

— Jen Mueller (@JenTalksSports) September 7, 2017
The general assignment multimedia sports reporter for the Los Angeles Times, Lindsey Thiry, Anchor NW Sports Report, Brad Adam, Mike Sando of ESPN.com, Jackie Montgomery, and much more have lent their support for Angie during this hour of need. Angie was totally touched by the overwhelming support and tweeted:
It is hard to watch this game through tears-I am overwhelmed-You have made me so happy on a sad day. Thank you @ROOTSPORTS_NW and @Mariners

— Angie Mentink (@AngieMentink) September 7, 2017
www.marriedbiography.com wishes Angie an early recovery from this disease!
Short Bio on Angie Mentink
Angie Mentink is an American anchor. Currently, she is the host of Root Sports Northwest as well as the co-anchor of Mariners Live. Apart from her journalism career, she was also a three-time college All-America softball player at the University of Washington. More Bio…