Andie MacDowell, an American actress speaks about the relationship status of her daughter, Margaret Qualley! The 'nice' relationship between Pete Davidson and Margaret Qualley!
It seems as if Peter Davidson has mom's approval. The American actress, Andie MacDowell has spoken about her daughter, Margaret Qualley's relationship stuff without any hesitation in public. The talented actress is also a fashion model. She is famously known for her debut movie, Greystoke: The Legend of Tarzan, Lord of the Apes.
Let us have some more details about the actress, her daughter, and her daughter's relationship status as well.
Obtaining mom's approval
Recently, with the role of a mother, MacDowell has claimed some positive statements regarding her daughter, Margaret Qualley's relationship with Peter Davidson.
She explained that as her daughter is happy with her current relationship, she does not want to give any pressure on them. Andie MacDowell said that Margaret Qualley and Peter Davidson have nice relationships with each other. The couple should not have anyone who steps on them too much.
She said:
"I FaceTimed with Pete the other day or no, she took a video of me to send to Pete that's what it was. She has a beautiful relationship with him but I don't want to step on her relationship too much. They have a nice relationship."
However, at the L'Oreal fashion show in Paris, MacDowell declares that she has not met Peter Davidson face to face until now.
Also, read about  The famous 6 Russian models who have gone international and have a great presence in the American fashion world!
Margaret and Peter Davidson
The daughter of the 61-year-old actress, Margaret has been spotted hanging out with Peter Davidson, comedian multiple times recently.
They were found traveling together on a flight. According to some sources, the couple seemed to be very smiley and flirty. Moreover, many fans also approached them and the happy couple was overwhelmed to give autographs to the fans. The couple went to the same hotel from the airport.
Furthermore, the happy and lovely couple were also photographed together at the premiere of Qualley's film, 'Seberg' at the Venice Film Festival.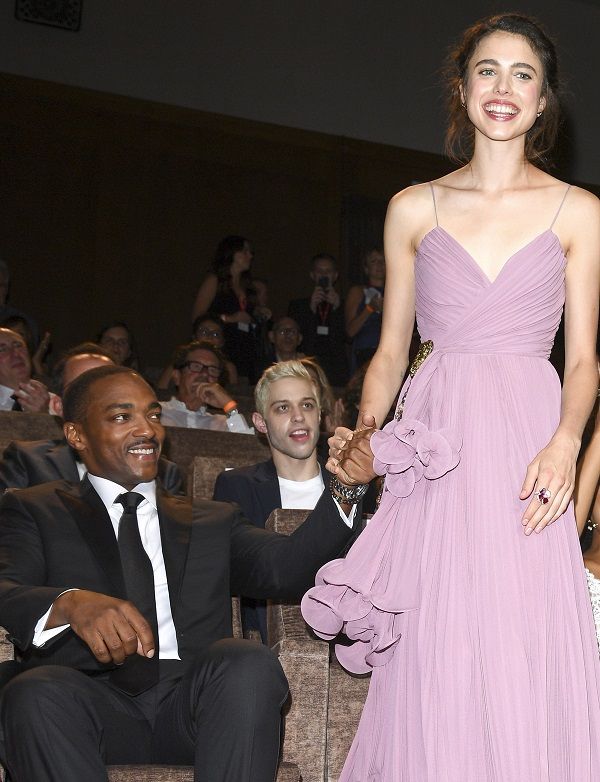 At the Venice Film Festival occasion, the actress, as well as the dancer, wore a gorgeous pink chiffon gown. She stood as her costar Anthony Mackie held her hand in support. On the other hand, Peter Davidson sat behind the pair watching  Qualley from her seat.
On the 2nd of September,2019, Margaret and Peter were found taking a stroll through the streets of Venice walking hand-in-hand together at the juncture of labor day. On that day, the pretty lady wore a cream-colored tank dress with flats. And the comedian wore a graphic tee and shorts with a baseball cap. He has his finishing look with his sunglasses.
Also, read about Fashion model Kate Upton criticizes Victoria's Secrets for its non-inclusivity and not proper representation!
A Short Bio on Andie MacDowell
The fashion model, Andie MacDowell has her full name as Rosalie Anderson MacDowell. She was born on 21st April 1958. Currently, she is 61 years old (2019). She also gained the public's attention while receiving critical acclaim for her role in 'Sex, Lies, and Videotape' (1989). She also won the 'Independent Spirit Award for Best Female Lead'.
She was also nominated for a 'Golden Globe Award for Best Actress-Motion Picture Drama'. More Bio…
A Short Bio on Margaret Qualley
Daughter of Andie MacDowell, the full name of Margaret Qualley is Sarah Margaret Qualley. She was born on the 23rd of October, 1994.  She is also famous for being a talented American actress and also a brilliant dancer as well. The Starkid is trained as a ballerina and briefly involved in modeling.
Talking about her achievements in career, she was much appreciated for playing a troubled daughter in the HBO mystery series 'The Leftover'. She has also received a Primetime Emmy Award nomination for 'Outstanding Supporting Actress in a Limited Series'. More Bio…
References: (people, foxnews)