Everyone was Flirting with Andrew Garfield at The Tony Awards!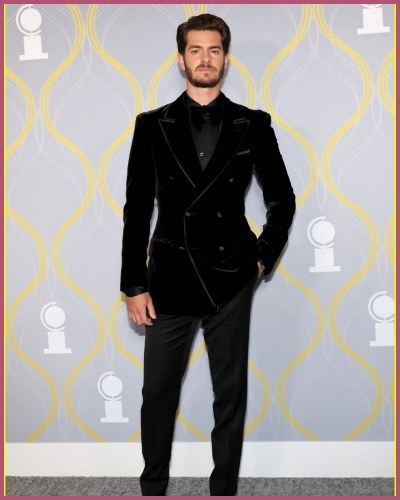 Andrew Garfield attended the Tony Awards looking dapper in a black suit.
The actor was nominated for an Oscar this year for his role in Tick Tick Boom.
Ariana DeBose sat on Garfield's lap during her performance at the Tonys.
---
Andrew Garfield stole hearts at the Tony Awards
Andrew Garfield attended the 75th Tony Awards on Monday, June 13 at Radio City Music Hall.
Garfield was dressed in double-breasted black velvet Tom Ford suit and made it to the Best Dressed List.
The actor always makes headlines for his talent, kindness, and good looks. However, at the Tony Awards, many people seemed obsessed with him.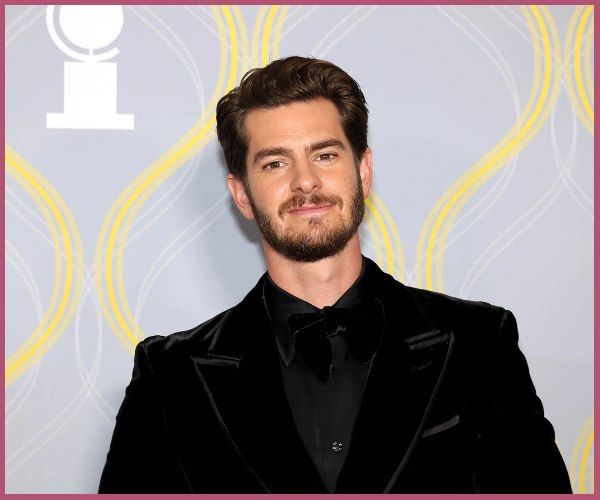 We can't complain. With his charming looks, anybody could fall for him.
Andrew continuously stole the show during Broadway's biggest night, despite his best efforts to just get through the show.
Ariana DeBose had a fan dream come true when she sat on Andrew's lap at the awards.
Yes, you heard it right.
Ariana DeBose, who was the host of the night, performed a hilarious musical that cracked up the audience. Before sitting on Andrew's lap, she lovingly poked him in the face.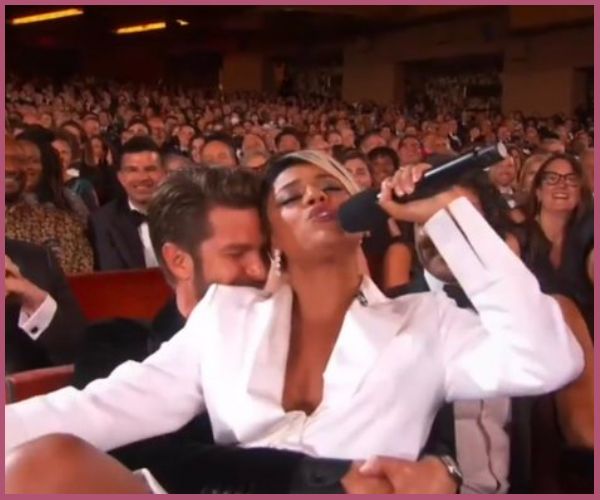 While the audience was enjoying the scene, Andrew was blushing and he pulled Ariana for a hug.
DeBose started singing:
"I am close to you, oh so close to you / I am touching you, there's not a lot that you can do,"
Also, Read Andrew Garfield, 38 take a brief break from acting; wants to be ordinary for a while
What was Garfield's reaction to being flirted with?
Later, the actor was on stage with Nathan Lane to present the award for Best Play. 
Nathan couldn't stop gushing about Garfield. He said:
Andrew, look at you. Darling dear, Andrew Garfield … I've missed you so much," 
Fans were jealous and excited about DeBose and Nathan's gesture toward Andrew.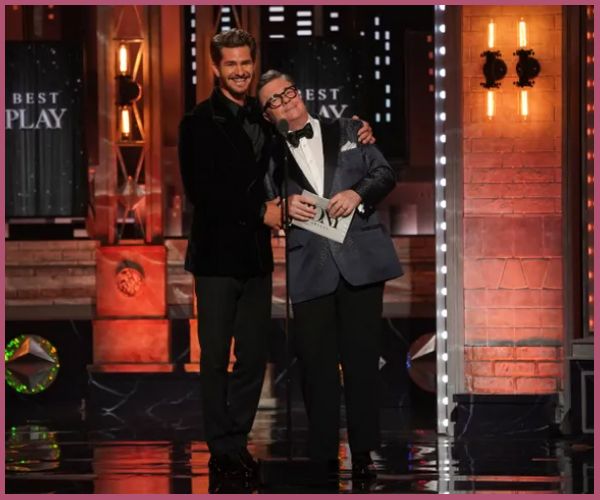 One fan wrote:
"Three hours of Nathan Lane flirting with Andrew Garfield as Garfield blushes please"
Another one wrote:
"I respect Ariana DeBose for realizing what is the point of hosting an award show if you don't use that opportunity to sit on Andrew Garfield's lap"
A third one wrote:
"Would watch a show where Nathan Lathan hits on Andrew Garfield until he's reduced to giggles."