Angela Madatyan and husband Serj Tankian celebrated 8th Marriage Anniversary! Know about their wedding, children, age, net worth, Instagram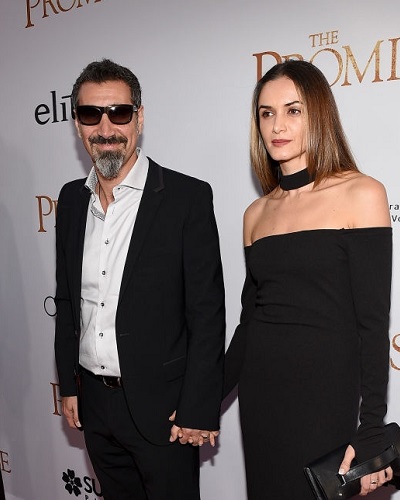 Angela Madatyan is known as the wife of lead vocalist, songwriter, keyboardist and rhythm guitarist of System of a Down, Serj Tankian. Angela is an Armenian woman from Vanadzor.
Likewise, Angela and Serj celebrated their 8th wedding Anniversary on 10th June 2020. He wished through Instagram and shared a black and white picture of young them sharing a kiss.
He wrote,
"

I have been blessed with a life partner who is as passionately committed to justice and equality as I have been my whole life. Thank you for adding color and vibrancy to my world and making it our world @madtank Sirum em Kez!
@happyanniversary"
Angela Madatyan and Serj Tankian (Source: Instagram)
It has been eight years of their happily married life. Likewise, Serj is a family guy and he does not miss any moment to make his family feel special. He wished his wife Angela on Valentines' Day as well.
Journey from relationship to marriage
Angela Madatyan and Serj Tankian are a perfect couple as they dated each other for eight years. They were very open about their relationship and made frequent public appearances in events and shows. After dating for eight years since 2004, they decided to take their relationship a step further.
They walked down the aisle on 10th June 2012. It was an intimate ceremony that was held in front of their family and friends in Simi Valley, California. As per sources, guests were not allowed to take photographs and videos at their wedding.
It has been eight years since their married life and 16 years since they began dating. They are still happy together and setting a perfect example.
Also read Kristen Messner; Wife Of Famous Lead Guitarist Lindsey BuckingHam!
Angela Madatyan's children
Even though Angela Madatyan and Serj Tankian were open about their relationship but became private since their marriage.
After two years of married life on 24th October Serj revealed that he and his wife welcomed their first child. They named their son Rumi Tankian Madatyan.
On 22nd October Serj posted the picture of his little Rumi's back and wrote,
"Happy Birthday to the one and only Rumi of our lives."
Angela Madatyan, Serj Tankian and son (Source: Tert)
His fans also wished him on his birthday. On his 5th birthday, Serj posted a picture of adorable Rumi wearing big green goggles and carrying a yellow ball on his hand. He wrote,
"Dear Son,
I pray that your days are long and that your path matches your song. Your smile is worth every sacrifice in this life, your breath now my reason to go on. I love you more than I ever could imagine for any being on this earth. Happy 5th Birthday Dear Rumi :)"
Angela and Serj have the same birthday
Angela Madatyan was born on 21st August 1983 whereas her husband Serj was born on 21st August 1967. Her age is 36 years and her singer husband's age is 52 years old. Their birthday is on the same day.
On 21st August 2017, they celebrated their birthday as Serj wished her on Instagram and wrote,
"To my one and only @madtank May the coming year bring you closer to your vision in life and may we continue to laugh, cry, live and eat as one. Happy Birthday Mimi :)"
Every year they have been celebrating birthdays together.
What is the net worth of Angela Madatyan?
Some sites claim that Angela Madatyan is a designer, hairdresser, and stylist. So, she might have a decent earning.
The estimated net worth of her singer husband Serj Tankian is $20 million. His solo album is Elect the Dead, Imperfect Harmonies, and Harakiri.
With System of a Down, he has worked on albums like System of a Down, Toxicity, Steal This Album!, Mezmerize and Hypnotize. They lived in New Zealand which he called home.
They had a rural property about an hour's drive north of the City of Sails. He sold 12 million copies of his 001 breakthrough album, Toxicity.
Angela Madatyan and Serj Tankian (Source: Getty Images)
Serj never revealed the location of his bolthole due to fear of being hounded by fans, as Killing Joke frontman Jaz Coleman has been at his Great Barrier Island hideaway. He said that New Zealand allowed him space that spurred his creativity. Likewise, he wrote much of his latest solo material in New Zealand and collaborated with Auckland Philharmonia Orchestra.
Also read Anna Strout, wife of Jesse Eisenberg! Her parents, relationship, children, marriage and net worth
Angela's Instagram
Angela is oftentagged by her husband Serj on Instagram. But unfortunately, her Instagram account is private with around 357 followers. As per her Instagram bio, she is an animal lover and loves traveling.
She is quite active on Instagram with more than 2.3k posts. Serj has 1.2 million followers on his Instagram.
Short bio on Serj Tankian
Serj Tankian is an Armenian-American singer, musician, songwriter, and record producer. People mostly recognize him as the lead vocalist, songwriter of the alternative metal band 'System of a Down'. To date, the band has released five albums. Additionally, Tankian has also released five solo albums. Read more bio…