Angelina Jolie Celebrates Daughter Shiloh's 11th Birthday at Disneyland With Kids and Cambodian Friends: 'She Wants to Show Them America'!
Angelina Jolie took her family to the happiest place-Disney Land! Angelina Jolie celebrated daughter Shiloh's 11th birthday at Disneyland with her kids and friends on Friday, May 27, and she made sure to hit plenty of the park's best rides.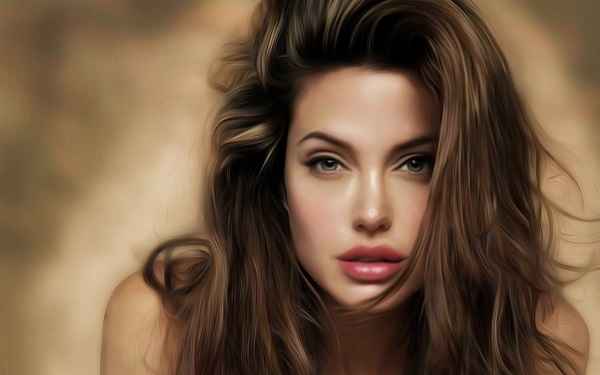 Celebrating Birthday
Angelina Jolie has taken daughter Shiloh Jolie-Pitt on a trip to Disneyland for her birthday.The 41-year-old and her kids were spotted at the Anaheim, California, attraction by fans who posted pics on social media of the family fun day.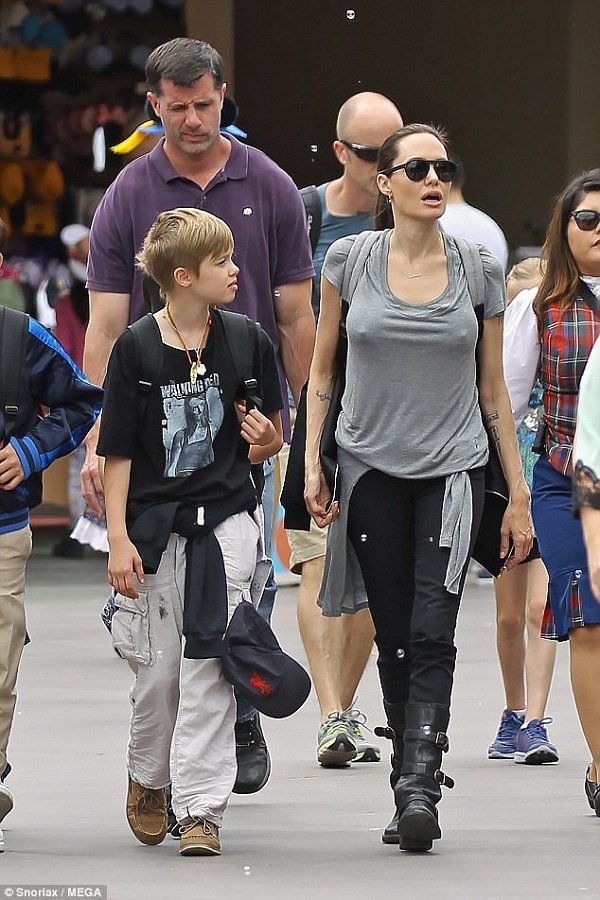 The crew — including Shiloh and her siblings Zahara, 12, Knox and Vivienne, both 8 —was joined by a group of friends from Cambodia. Their Cambodian friends are some of the same child actors who appeared in Jolie's film First They Killed My Father, which airs on Netflix this fall.
"All [Shiloh] wanted for her birthday was to see her friends from Cambodia," says a source close to the family. "She wants to show them America."
Shiloh, whose birthday is on Saturday, May 27, was spotted snacking on cotton candy, while Zahara ate a churro and the group hit rides including Space Mountain, Big Thunder Mountain Railroad, the Mad Tea Party, Alice in Wonderland, It's a Small World, and the Matterhorn. They were also spotted at the Downtown Disney mall afterward.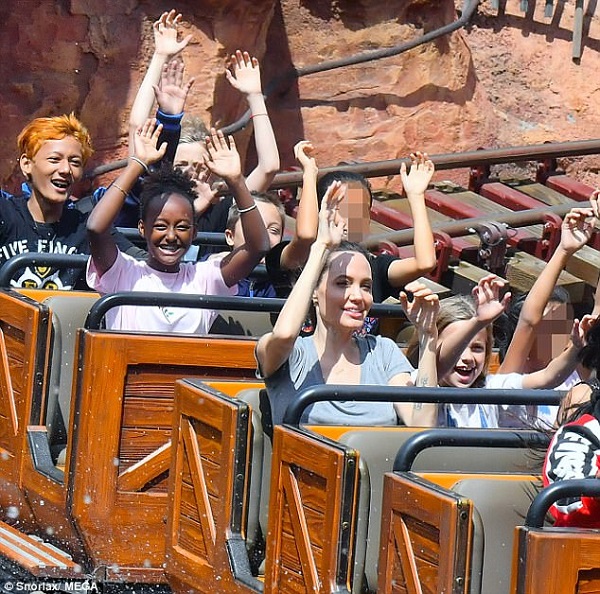 Jolie, who wore black jeans, a gray T-shirt, black boots and carried a backpack, was seen smiling throughout her visit and threw her hands in the air as she rode the Big Thunder Railroad with her kids.
Angelina takes children to Renaissance Pleasure Faire in California; Despite the report, she was not "miserable" at the faire 
Showing the Friends Around
The group was spotted around the park by ecstatic fans on social media throughout the day. At one point, Jolie and the kids were photographed inside the Ridemakerz store in Downtown Disney, which is like a Build-a-Bear for toy race cars.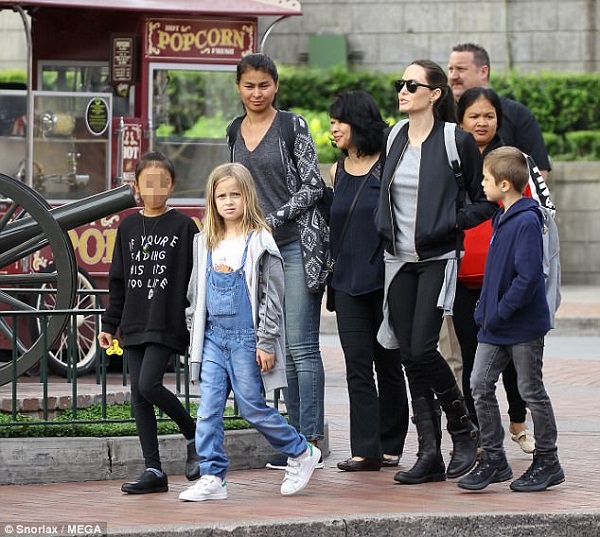 The outing was a fun reunion for her kids and their friends from Cambodia. Speaking to reporters at the Cambodian premiere of First They Killed My Father in February, Jolie said,
"[My] children have close ties to the children here, many of them are their best friends."
Filming the movie was a family affair for the actress, who has had a close connection to the country dating back to when she filmed Tomb Raider there on location 17 years ago. She adopted her oldest child, Maddox, 15, from Cambodia two years later.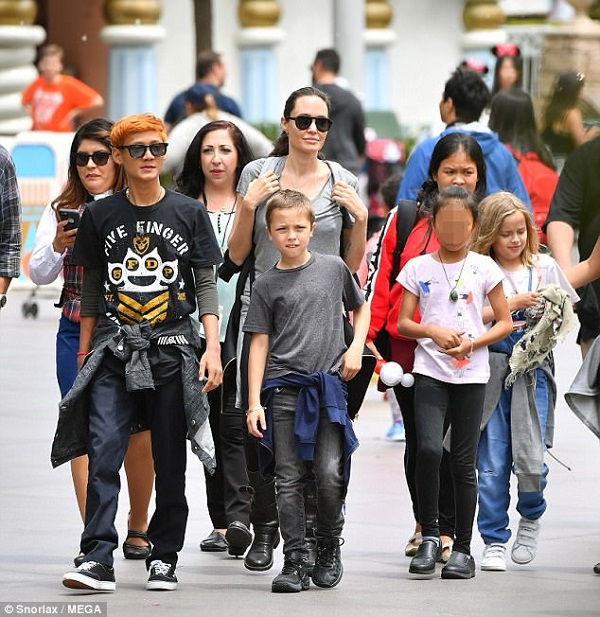 When she returned to film First They Killed My Father, which depicts the devastation inflicted on Cambodia by the Khmer Rouge communist party in the 1970s, she enlisted Maddox and Pax, 13, to work on production, and the rest of the kids — Zahara, 12, Shiloh and twins Knox and Vivienne, 8 — joined the family in country during filming.
At the premiere, Shiloh told the crowd in the Cambodian language of Khmer: "My name is Shiloh and I love Cambodia."
The Oscar winner, who filed for divorce from her husband of two years and longtime partner Brad Pitt last September, has been focusing on their six kids in the wake of the split.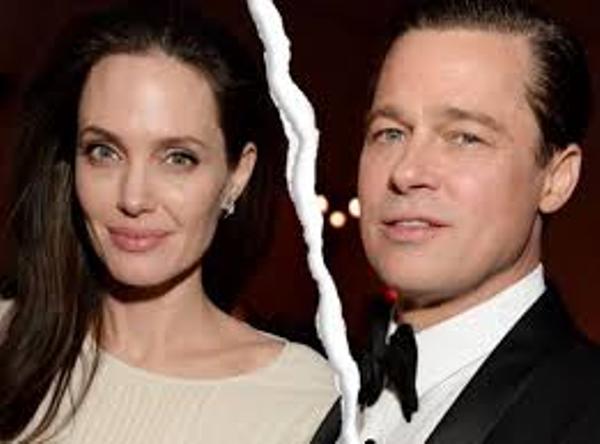 In an interview with the Associated Press earlier this month, Pitt, 53, said that he is spending his time "figuring out the new configuration of our family."
"Kids are everything," the War Machine actor added. "Kids are your life. They're taking all the focus, as they should anyway." 
After the divorce with her ex-husband, Brad Pitt, the news is that Angelina Jolie is marrying again. Is it true?
Short Bio on Angelina Jolie:
Angelina Jolie is an American actress, filmmaker, and humanitarian famous for her tattoos and her acting ability. – See more at…