Announcement of engagement of Aidy Bryant and her longtime boyfriend Conner O'Malley; Couple engaged after the long relationship, thought proposal was joke for the first time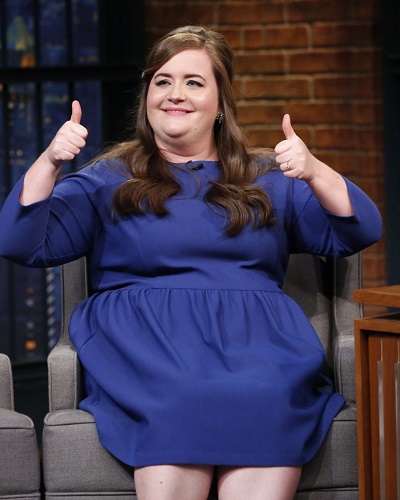 The couple who shared a long-time relationship, are now engaged. The Saturday Night Live star Aidy Bryant officially announced her engagement on Thursday, April 27.
She exchanged the ring with her boyfriend Conner O'Malley. No doubt, the gorgeous girl with a marvelous smile is in a very happy phase of her life right now.
Update: Aidy and Conner married on 28th April 2018. The couple does not have any children yet.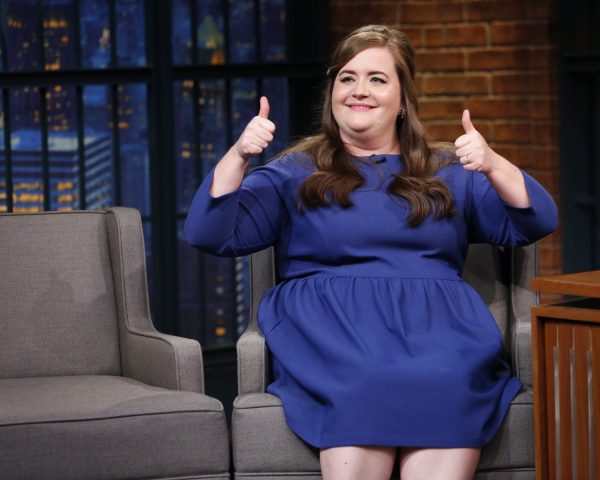 Announcement of engagement of Aidy Bryant and Conner O'Malley
In a recent interview, Aidy Bryant revealed her engagement with her longtime boyfriend Conner O'Malley. She opened up about her engagement on Late Night with Seth Meyers. 
The gorgeous star arrived in an extremely beautiful blue dress for the show. Her excitement about the engagement was obvious in her marvelous smile.
Here is the video of Aidy Bryant where she opened up about her engagement. Click to watch the video.
On the show, she said:
"We've been together a long time; we've been together almost nine years. So, a lot of the shimmer and shine has faded and we're just living every damn day as best we can. We've seen each other through a lot. Like, he used to work as a full-blown garbage man — not a joke, just a garbage man. I used to sweep up hair in a barber shop. I mean, we've, like, been through it."
You may like to read Natasha Liu Bordizzo, the rising star from Australia: Know about her age, early life, childhood, and career in acting and modeling!
When her boyfriend popped the question she thought it was a joke. She said that she also confirmed asking that is a joke or not. Furthermore, she added:
"I had my purse and our mail and all these boxes, and I walked to our door and our dog had a bow tie on. I was like, 'My dog doesn't wear a bow tie! Where is he going tonight?' Basically, the second I shut the door, a man — who I discovered was Conner — frantically came around the corner and was just like, 'Will you marry me?!' No box. No 'I love you.' Just a man in full terror standing very far from a dog in a bow tie, just holding a loose ring going, 'Will you marry me?!'" I was like, 'What?!' I truly couldn't comprehend what was happening, and I kept saying, 'Is this a joke? Are you doing a joke?' And then I said, 'Of course I'll marry you. I love you.' And it was really nice."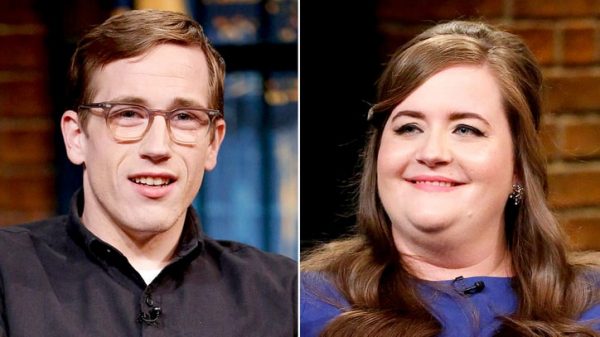 After the surprise, she said that she went up to Conner and asked why he decided about the proposal.
Moreover, about the proposal, she said:
"He was like, 'Well, you always said that you wanted it to happen in our house if it ever happened.' I was like, 'That's true; I wanted it to be private. He was like, 'But I also knew you probably wanted to be wearing a bra and have makeup on, so I knew I had to do it after you just got home from work — otherwise it would never be another moment.'"
Also read Leslie Jones leaves Saturday Night Live! What could be her next gig?
Short bio on Conner O'Malley
Conner O'Malley is an American comedian and screenwriter. He has spent several years writing for Late Night with Seth Meyers, for which he was nominated for a Writers Guild of America Award. His notable acting appearances include Broad City, The Awesomes, and Horace and Pete. More bio…
Short bio on Aidy Bryant
Aidy Bryant is an American actress and comedian. She is best known as a cast member on the American late-night live television sketch comedy and variety show, Saturday Night Live. More bio…