Facts of
Anssumane "Ansu" Fati Vieira
Relationship Statistics of
Anssumane "Ansu" Fati Vieira
| | |
| --- | --- |
| What is Anssumane "Ansu" Fati Vieira marital status ? (single, married, in relation or divorce): | Single |
| Is Anssumane "Ansu" Fati Vieira having any relationship affair ?: | No |
| Is Anssumane "Ansu" Fati Vieira gay ?: | No |
Proud Papa Bori Fati

See How Ansu Plays As recalled by Mr. Bori Fati.

"I was supposed to go to work that night but when I got home, there were people outside my front door and they asked me ''Fati, do you know what you have here?'' And I said that I had no idea. Then they said ''Bring Ansu to the football field tomorrow and you will see how he plays''. When I went, I saw him moving on the pitch, he was just against everyone else."

Mr. Bori Fati is the proud father of 'Ansu'.
Who is Anssumane "Ansu" Fati Vieira?
Anssumane "Ansu" Fati Vieira is a Spanish footballer who represents Spain internationally. At the age of 16, Fati is also the youngest footballer to play the UEFA Champions League.
Presently,  Ansu Fati is a professional left-winger playing for the Spanish Club Barcelona and Barcelona B.
Anssumane Fati Vieira
Anssumane Fati Vieira was born on October 31, 2002, in Bissau, Guinea-Bissau. Vieira spent most of his childhood in Herrera neighborhood training to be a football player as his father Bori recalls.
His father is Bori Fati, also a footballer from Guinea-Bissau. The family relocated to Seville and as an immigrant, he worked the streets in search of work and employment in the streets of Portugal. On the side, he also set up teams that played the lower leagues.
Then on the streets of Marinaleda, he met Mayor Juan Manuel Sánchez Gordillo and accepted the job of his driver. Bori then settled down with his family in the nearby town of Herrera.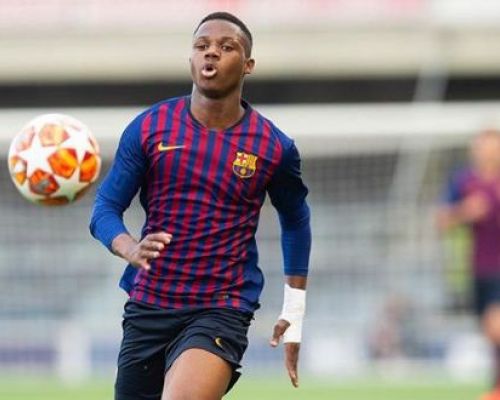 Along with Ansu, Mr. Bori Fati has two other brothers, Braima and Miguel Fati and a cousin in football.
More about brother Braima: Braima Fati was born on August 3, 1998, in Bissau. He plays the position Midfielder -Central Midfield and is represented by the agent Pro Evolution. Braima Joined CD Calahorra B on August 22, 2019, and is on loan from FC Barcelona B till 30th June 2022. He is outfitted by Nike.
More about cousin Braima Baldé from Guinea-Bissau, Portugal, is another footballer and a cousin of Ansu, His position is Right Winger- Forward, and plays for Lüneburger SK Hansa, Portugal from July 9, 2019, to 30 June 2021.
Youngest Footballer Anssumane Fati Vieira
Initially, Vieira represented local Herrera and other youth teams of Sevilla. Then in 2012, a year after Ansu's elder brother, Braima signed up with Sevilla Fútbol Club, Ansu Fati signed up with Barcelona's La Masia in 2012, at the age of ten.
Then on 24th July 2019, Ansu inked up his 1st professional contract with Barcelona for the years 2019-2022.
More about Sevilla Fútbol Club is one of the most revered sporting clubs in Andalusia, Spain. Sevilla plays in Spanish football's top flight, the La Liga.
Ansu National Football Career
25th August 2019, 1st team and La Liga debut and became the youngest player to do so after Vicenç Martínez in 1941.
31st August 2019, 1st professional goal between Barcelona an Osasuna. He also became the third-youngest scored in the history of La Liga.
14th September 2019, score and assist in a single match- a first. It was a home win against Valencia.
17th September 2019, Fati debuted in the Champions League against Borussia Dortmund- and again the youngest after the previous record by Bojan Krkić.and the third-youngest player ever to appear in the competition.
International Football Career
In 2019, the Spanish Government granted Anssumane Fati Vieira Spanish citizenship and included him in the football squad for the 2019 FIFA U-17 World Cup.
Similarly, Ansualso became eligible for a Portuguese passport through his grandparents' birth in Colonial Portuguese Guinea.
Then on 20th September 2019, Ansu renounced his Bissau-Guinean citizenship. thereafter he was deployed to the Spanish under-21 Team on 11th October 2019 and debuted on 15th October 2019 against Montenegro.
To date, Ansu has made 11 appearances and scored 2 goals since he debuted this year for the Season 2019-2020, Division La Liga and Club Barcelona.
Ansu also appeared twice for Spain U21.
Vieira Net Worth, Earnings
Vieira has a market value of €25.00 m. His net worth is $500k US and his earnings as Left Winger is $120k Us.
Anssumane Fati Vieira Stats
Club/Team: FC Barcelona B August 1, 2019- June 30, 2022
Position: Forward #23, Winger
League Level- First Tier
Agent- Player U18
Outfitter- Nike
Ansu has black eyes and hair. He is 5 feet 8 inches tall and weighs 75kg.
Anssumane Fati Vieira- Social Media
Ansu has more than 100k views on his YouTube.You may also want to see the Top 10 Players in 2019.
He has 2.2m views on Instagram, 61k followers on Twitter, and 75k on Facebook.
You may also want to read the life, biographies, single and married status of celebrities and personalities like Keira Walsh
and Raul Ruidiaz.
Photos of Anssumane "Ansu" Fati Vieira