Anthony Bourdain's new paramour, his comments on President Donald Trump and his fondness for street foods: Read on here!
The new precious element in Anthony Bourdain's life
World's super chef Anthony Bourdain was spotted in February 2017 dining with Italian singer and actress Asia Argento at 'Pommidoro' restaurant in Rome, Italy before both returned to their hotel. After this, they went public with their romantic involvement. In the same month, the pair was sighted kissing each other passionately in the streets of Rome. Two months later, they were seen cozying up during a stroll in Rome. In early May 2017, at the Turner Upfronts red carpet in New York City, an ecstatic Anthony Bourdain had admitted to the new flame in his life and said:
"I am happy. I am very happy."
Anthony Bourdain added:
"Argento is someone who is very precious to me."
The latest on this front is that both have taken to social media to express their new found love. Anthony Bourdain uploaded a photograph of him with Asia Argento sitting in a park in Rome. He captioned the snap as:
"Another Green World." 
Asia Argento also posed the romantic snap and wrote:
"#PerfectMoment."
Asia Argento is 19 years younger to Anthony and was in one relationship before and has a daughter out of it. She was also married from 2008 to 2013 to film director Michele Civetta. She has a second daughter out of this marriage. Asia resides with her two children in North Rome. On the other hand, Anthony Bourdain was married to Nancy Putkoski for 20 years. After divorcing her, he married Ottavia Busia but the marriage ended in an amicable divorce in 2016.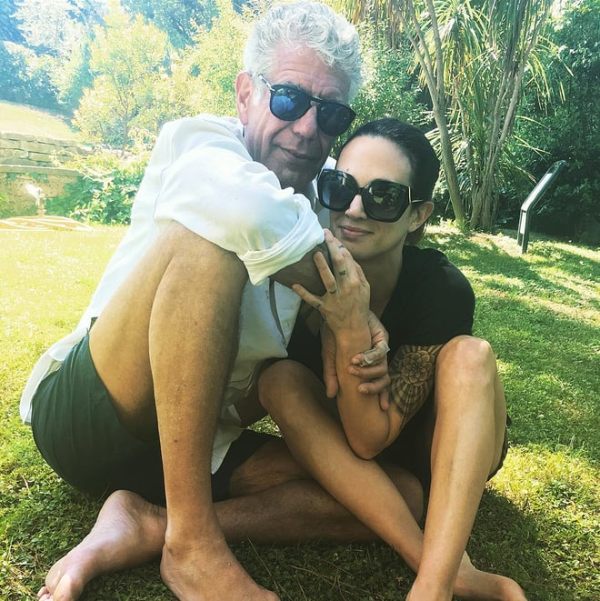 The Presidential remarks
Anthony Bourdain had the honor of sharing a meal with the ex-President of the USA, Barack Obama in Vietnam this year. However, Anthony Bourdain remarked that he is unlikely to do the same with the present US President Donald Trump. Elaborating on his remark, Anthony Bourdain said:
"I can't see the point, he only talks about himself and he's only interested in himself. I can't see that as being scintillating dinner conversation."
Anthony Bourdain continued:
"Plus he eats his steak well done. I think that really settles it."
It is known that Donald Trump would be going for his first foreign trip to Saudi Arabia. It is said that the controversial President would be served his favorite steak with ketchup, lamb, lots of rice and some local traditional dishes. All the animals are supposed to be butchered in 'halal' style.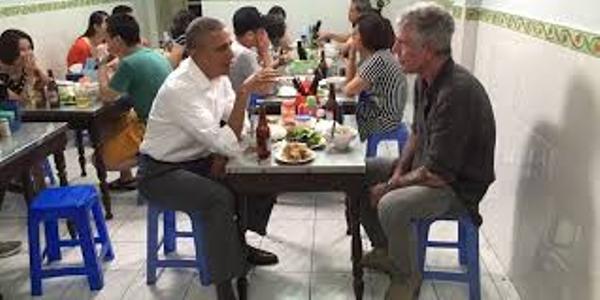 The Wonderland
On his CNN show 'Parts Unknown', Anthony Bourdain turns to exploring New York City. He boards the 7 New York subways to reach Queens (the easternmost and largest borough of New York City). He was fascinated by the street foods of this borough and relishes on them. He felt that the multitude of street carts in Queens makes it vibrant. Anthony Bourdain praised Queens and said:
"Manhattan in my view is a lot less interesting than Queens. This is a wonderland."
Anthony Bourdain sat down with Street Vendor Project attorney Sean Basinski to discuss the problems of these street vendors. Anthony is in favor of a relaxation of rules for street vendors and increasing the number of permits for them. He was aware that the business sector and real estate industry was against such projects for their own ulterior reasons. He, however, feels that street foods are required for a culture and should not be 'cleaned up'. The attorney also mentioned that even with a legal permit some of the vendors have been removed by building managers and are raging a tough battle for their survival. Sean Basinski explains:
"If you get higher rent, nicer buildings, they're not going to want a street cart out in front,"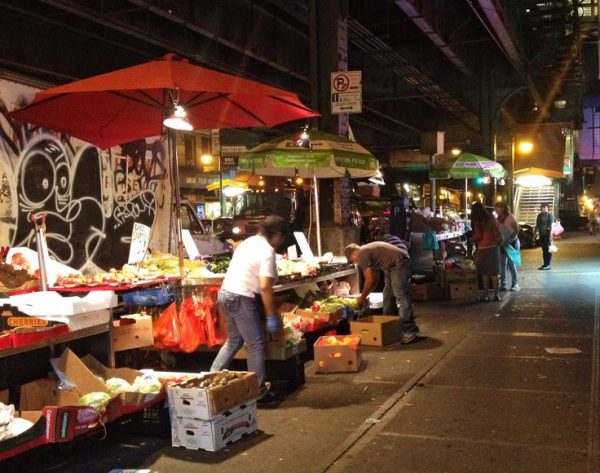 A short Bio on Anthony Bourdain
Tall and handsome Anthony Bourdain is an American renown chef, author, and television personality. He is best known as the host of the Travel Channel's culinary and cultural adventure programs Anthony Bourdain: No Reservations from 2005 to 2012 and The Layover from 2011 to 2013. After onwards, he hosted Anthony Bourdain: Parts Unknown on CNN. More Bio…