Anthony Duclair: Gets the cutest Proposal By His Adorable Fan…and the Answer is Yes?! Reveling all the story of What Happened!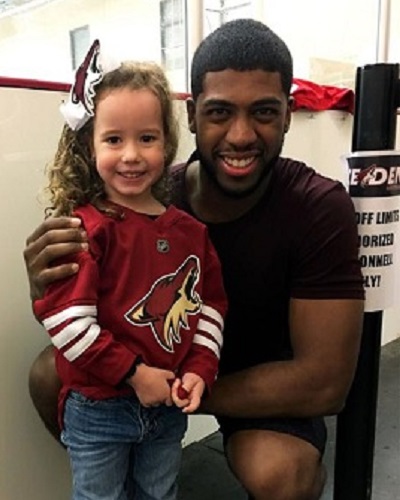 Anthony Duclair is a Canadian ice hockey player currently with the Arizona Coyotes of the National Hockey League. He is famous and loved by all. He was proposed by a fan….Do you wanna know about it? Let's see what was it all about.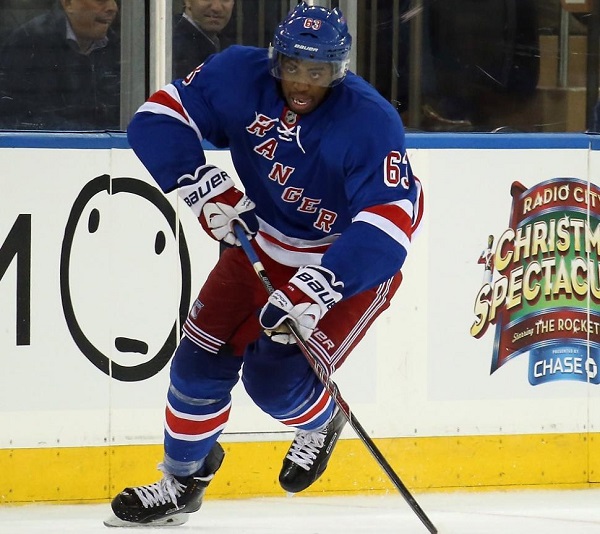 Start of the Story
The Hernandez family from Glendale, Ariz., Jenny, Rafael, 6-year-old Mia and 4-year-old Gracie, are all huge Coyotes fans, but the little girls are the biggest of the bunch(2017). Jenny saw their love for the team as a learning opportunity and has encouraged her daughters to write letters to players which also help with their writing skills.
"For me as a mom to see the progression in my kids' writing, it's really cool, it's really helping them out a lot to practice,"
When the family went to the Coyotes' open practice at the Ice Den in Scottsdale, Gracie had a letter ready to give to Duclair, her favorite player, welcoming him back to the team after his stint with the Tuscon Roadrunners.
"Normally they don't really read them in front of the kids, it's like 'OK, thanks,' which is great," Jenny said
Jenny said. 
"But he was just there and very open and talking to us for a minute and I said 'Oh, you know, you should read the letter.'"
The Letter
In the letter written by Gracie 4 years old wrote-
"I love you. Are you happy to be back? Will you marry me?"
the note said.
Duclair's answer pleased Gracie, who calls Duclair her favorite player.
"Yes, and yes,"
the Coyote told her.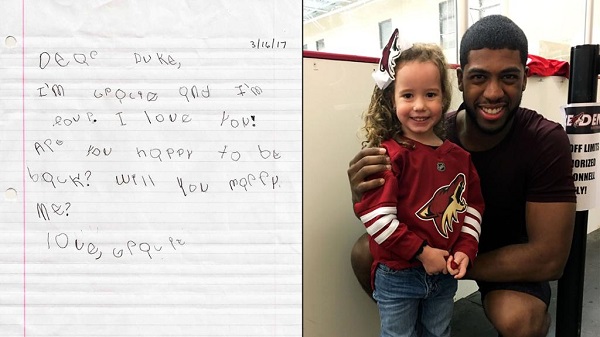 Jenny scrambled to get his phone to capture the moment and caught most of it and was surprised. Duclair shared it on social media after she sent it to him.
"I'm a huge fan too, so I still get excited when they come over and talk to us,
she said.
Other Sister's Dedication towards players
Last season Mia wrote letters to 10 players, Howler the mascot, and coach Dave Tippett and Duclair wrote back.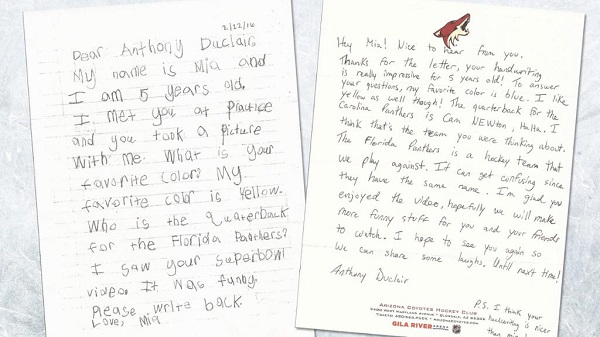 "It's just really cool, He's obviously a phenomenal person to take time out of his busy schedule to do that."
Mia referenced his Super Bowl picks, video from a year ago where teammates Shane Doan and Max Domirazzed him for his inability to pronounce Cam Newton, the Carolina Panthers quarterback and wanted in on the joke too.
You may like to read Russian tennis player, Anna Kournikova: career, relationship, and professional downfall!
Gracie 4-year-old
Gracie, however, now believes 100 percent that she and Duclair are married and she is really happy about it.
Gracie got engaged to her favorite player @aduclair10 today ???? and we couldn't be happier for them! ???? @ArizonaCoyotes pic.twitter.com/V7gTsCjIS8

— Jenny Hernandez (@hernandezcoups) March 16, 2017
"We've been really blessed by how amazing the Coyotes organization is to their fans as a whole,"
Jenny said.
"There's a lot of opportunities for their fans to get involved and a lot of players have sponsored events or done charity things and it's just really wonderful to see a sports organization that's so great to their fans, and we really appreciate it."
Also read Know about Emily Hendry, the wife of NHL ice hockey player Dustin Byfuglien!
Short info on Anthony Duclair
Anthony Duclair is a Canadian ice hockey player currently with the Arizona Coyotes of the National Hockey League (NHL). Duclair was selected by the New York Rangers in the third round (80th overall) of the 2013 NHL Entry Draft. More bio…