Antonio Brown happy with his fiancee Chelsie Kyriss and kids after reconciliation!
Chelsie Kyriss and ex-NFL player Antonio Brown just got engaged and Chelsie has posted a beautiful of herself and her family. This is all after a big drama and fight between the two.
Chelsie Kyriss and Antonio Brown seem happy again
The fighting couple Chelsie Kyriss and ex-NFL player Antonio Brown have reconciled and even had an engagement. Chelsie now uploaded a cute picture of herself with fiance Antonio and two of her three kids with him. They are in front of a real-life Transformer and look really happy in the company of each other. Chelsie is not wearing her engagement ring. But she captioned this photo:
"Hold on to the things that matter…let go of the things that don't!"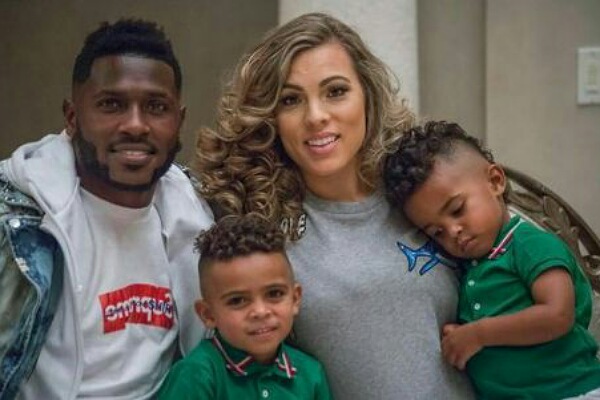 She is enjoying the moment and is not much bothered of what was in the past and what might cone in the future. She implies that she is leaving in the present.
The couple's engagement
Last week, Antonio proposed to Chelsie at his home in Miami in Florida. And the baby mana sad yes. He put up on his social media a video of him hugging Chelsie and rubbing her back. He wrote below it:
"I just proposed @chelsie."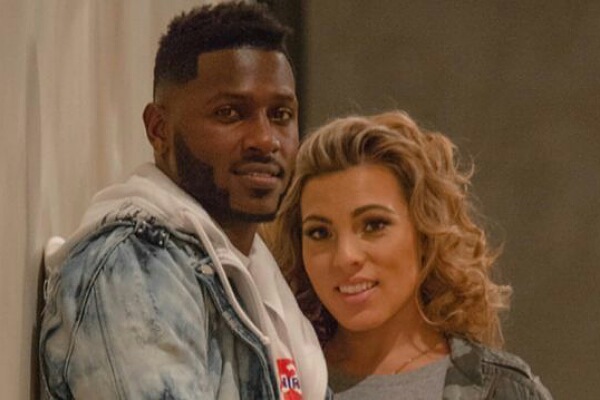 This was a surprise and came after the couple reconciled after his arrest and after their months of relationship issues and fights.
The relationship timeline of the couple
Chelsie and Antonio have been dating on and off for several years now. In between he also had relationships with other women. He had dated model Jena Frumes and also was in a relationship with Stephanie Acevedo. They have three children all sons together. Additionally, Antonio also has, a, son and a daughter from other relationships.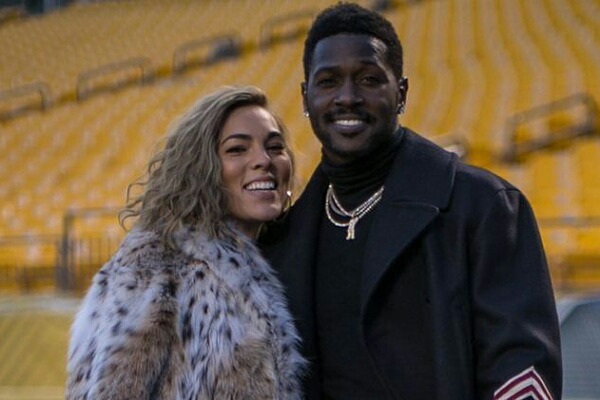 Antonio is a controversial player and had problems with his colleagues as well. He was trying to revive his NFL career and around the same time his relationship with Chelsie got bumpy. The relationship went so sour that Antonio sued Chelsie and tried to get her out of his Florida home. Police had to intervene on multiple occasions. Antonio accused Chelsie of trying to steal his Bentley parked in his driveway.
Chelsie returned this lawsuit with her own against him for paternity, child support, and also custody of their three kids.
The turnaround in the collapsing relationship of Antonio Brown and Chelsie Kyriss
Later, the police arrested Antonio for alleged burglary. It was after his release that he felt remorseful and issued a public apology to Chelsie. He wrote:
"And me being a "God" fearing man first, Truly understand That I owe my wonderful Kids and the mother @chelsie of my wonderful kids, The world Biggest Apology, for my Public out breaks through social media, and for the hurt that I may have took them through while on my Emotional roller Coaster that we all are faced with in Life. #TheGreaterMe."
And since then, things are good between the two.
Short bio on Chelsie Kyriss
Chelsie Kyriss is the girlfriend of American football player Antonio Brown who is the wide receiver for the New English Patriots in the National Football League (NFL). Moreover, she is also a former teacher, Customer Service Representative, Instagram Personality. More info… 
Source: The Blast, Wikipedia