Are Kendall Jenner And Bad Bunny Dating? Their Affair Rumors
Kendall Jenner and Bad Bunny sparked dating rumors after being spotted together on several occasions since last month.
The rumored couple reportedly attended Oscar's after-party together and left in the same car.
---
Kendall Jenner and Bad Bunny seem to have confirmed their romance
Kendall Jenner and Bad Bunny seem to be in a romantic relationship and they have confirmed their status as a couple at one of Hollywood's biggest events.
They were invited to Jay-Z and Beyonce's Oscars after-party in Los Angeles and left together in the same car at the end of the night.
Although they tried to avoid being photographed together, they were spotted by the paparazzi leaving the party in the same car.
Kendall changed her outfit for the second party and was seen wearing a black faux fur coat and no pants, while Bunny looked stylish in a black button-down shirt, cropped gray pants, black leather boots, and silver jewelry.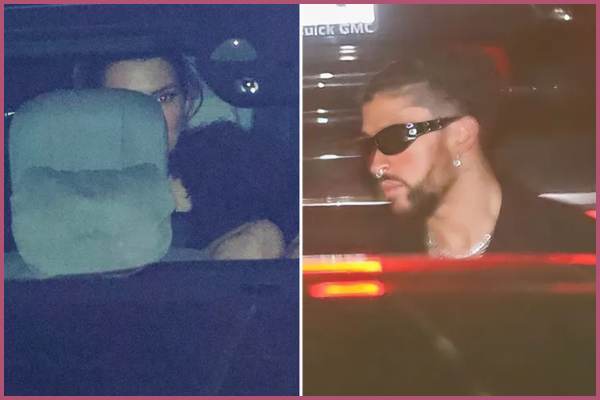 Other celebrities invited to the party included Gigi Hadid and Leonardo DiCaprio, who left separately.
Also, read: Are Kendall Jenner and Bad Bunny Dating? They Were Spotted Hugging and Kissing After Sushi Date!
The couple was first seen together in February
In February, rumors began circulating that Kendall Jenner and Bad Bunny were dating after being seen leaving the same restaurant separately to avoid being seen together.
They had dinner at Wally's, and Kendall's friend Hailey and her husband Justin Bieber were also present, leading some to speculate it may have been a double date.
Kendall wore a brown leather outfit with boots and a handbag, while her alleged date wore beige trousers, a black shirt, and white sneakers.
Earlier that day, Kendall was asked by the paparazzi whether Bunny was a good kisser, but she didn't answer them.
Kendall Jenner and Bad Bunny were also spotted hugging and kissing
Kendall Jenner and Bad Bunny were seen in public together, engaging in affectionate behavior such as kissing and hugging after the Sushi date.
They were joined by friends, including her sister Kylie, and left a restaurant in West Hollywood. Initially, Bunny was behind, but he caught up with the group and was seen hugging Kendall on a balcony before they parted ways with a hug and a gentle kiss.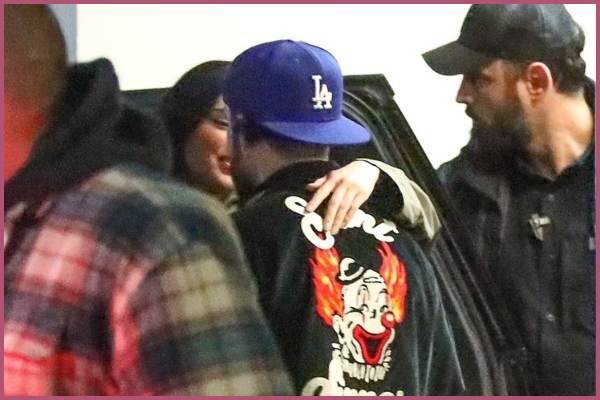 Although the photos did not show the actual kiss, Kendall's hands were wrapped around his neck suggesting that it was romantic.
Jenner and Bad Bunny are "not a serious couple but could be in the future"
A source told Elle that while Bunny and Jenner are not a serious and committed couple currently, they could be one in the future. Kendall is reportedly catching feelings fast according to the source:
"Things are not official between Kendall and Bad Bunny, but they're seeing each other on a regular basis and getting to know each other better. Jenner wasn't really looking to date anybody after her October breakup with her then-boyfriend of two years, Devin Booker."
The source added that the "feelings are starting to grow [after] spending more time" with Bunny. They added:
"It's not super serious, but she likes him and is open to seeing where things go with him. Kendall appreciates how he treats her with respect and he makes her laugh."
They are reportedly taking things slow for now and seeing where things go in the future. The source also said:
"They both really like each other and are just hanging out and having a good time. They get along very well and have mutual friends, so the people around them really like them together. Her family is supportive of their relationship. Everyone is happy that Kendall's happy."
You may also like to read: Fans Blame Bad Bunny after Devin Booker Unfollows His Ex-Girlfriend Kendall Jenner on Instagram!