Arnold Schwarzenegger enjoys a bike ride in Santa Monica with girlfriend Heather Milligan!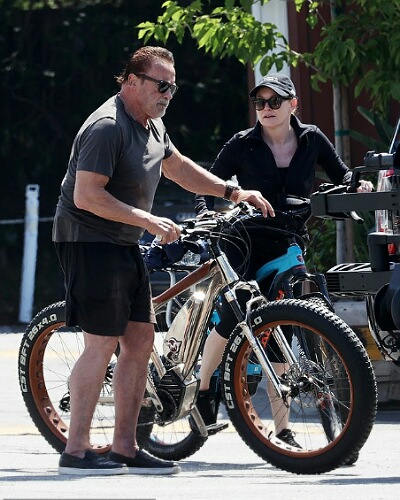 Arnold Schwarzenegger is passionate about fitness and exercises daily. Last Sunday, Arnold was spotted with his girlfriend Heather Milligan, 45 taking a bike Cruise in Santa Monica.
Arnold Schwarzenegger and his romantic bike cruise
Arnold Schwarzenegger, 72 loves to exercise daily to keep himself fit. Last Sunday he and his girlfriend Heather Milligan, 45 were in the Santa Monica area enjoying a leisure bike ride. The place is near his house and he appeared absolutely relaxed. He was wearing a grey T-shirt and black shorts and was showing off his tan.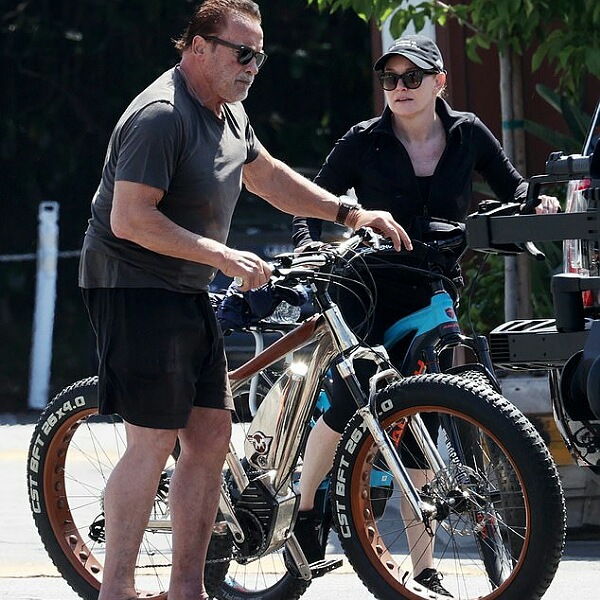 Earlier they had offloaded their two bikes from an SUV and riding it took to their cruise on the leafy streets. Heather who is a physical therapist was wearing cropped leggings and a zip-up sweater. She covered her head in a baseball cap. Arnold's good friend Ralf Moeller was also with the two love birds.
Arnold Schwarzenegger and girlfriend Heather Milligan have been spotted together on several occasions enjoying quality time together. They also have been seen on multiple bike rides near their house.
The relationship between Arnold and Heather
After his split from Maria Shriver, Arnold started dating physical therapist Heather Milligan. Their relationship is almost eight years old. They have a, strong bond between them. Their common love for fitness also was a factor to cement their bond.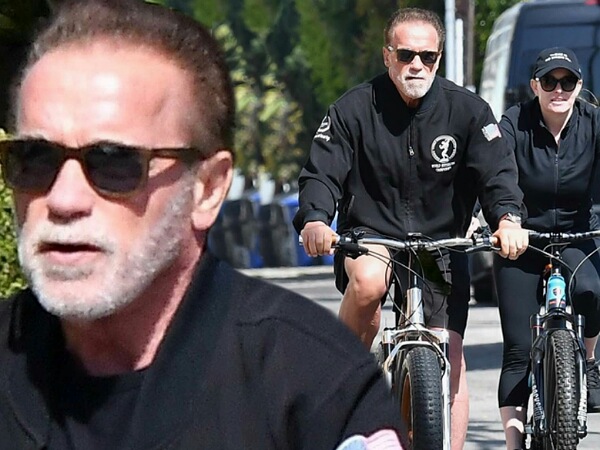 Earlier in his life in 1968, Arnold was dating an English teacher named Barbara Outland. Their relationship lasted until 1971. After that, he was with a hairdresser assistant named Sue Moray. In 1975, he met Maria Shriver at a tennis tournament. They dated for nine years and in 1986 exchanged wedding vows. But he cheated on his wife and had a love child with his housekeeper. Maria, and Arnold split in 2011. He also had a secret affair with actress Brigitte Nielsen at the time he was dating Maria.
Arnold and his daughter Katherine
Arnold will become a grandfather this summer. He is really looking forward to it. His daughter Katherine Schwarzenegger is pregnant with her first child with husband Chris Pratt. And Arnold wants to play with the upcoming child. Appearing on The Tonight Show starring Jimmy Fallon, he said:
"Yeah, can you believe that? I mean, that is really exciting news that Katherine now, you know be pregnant and have a baby – I don't know when exactly. Sometime this summer."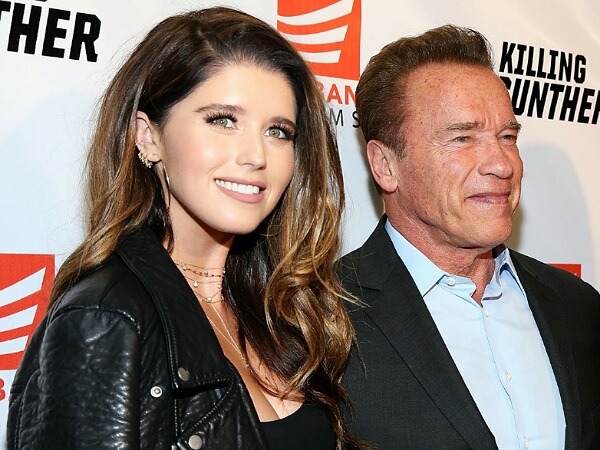 Arnold added:
'And, inevitably, I'm really looking forward to playing around with whatever it is, she or he, and have some fun.'
The couple announced the pregnancy news last month. They did not do it earlier because they wanted to enjoy that time together with the happy news. A source said:
"Chris and Katherine are so happy. They wanted to enjoy this time privately for as long as possible, but now that Katherine is showing more, they're excited to share the news with everyone.'
Chris has a son Jack aged 7 with his ex-wife, Anna Faris.
Click to read more on Joseph Baena-the love son of actor Arnold Schwarzenegger posts tributes to his father on social media!