Ashton Kutcher and Mila Kunis Announce Their Divorce, Reason: Jealousy in their married life, career…
The cutest couple in the Hollywood Town, Ashton Kutcher and Mila Kunis is rumored to be ending their relationship and have announced their separation from each other. The reason for their split is said to be the disloyalty on the part of Ashton towards his wife.
Basically, Ashton was photographed with some mysterious lady and was seen having a great time with her. Then as soon as they saw the pictures, the media made headlines that he is cheating on his wife.
Also, some sources had the headlines, "Mila and Ashton: Divorce announcement" and stated,
 "Tensions have been building for a while, and it seems like they're both miserable."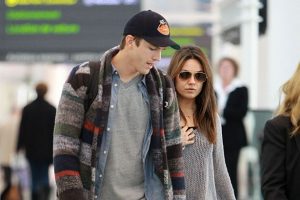 Also, recently the couple joked about their divorce rumors posted by In Touch Weekly which stated,
"It's over."
The following is the video to which the couple reacted to their break up!
Prior, there was also news that Ashton is cheating on his wife with the famous actress, Demi Moore and now again with other lady and she is most probably his The Ranch co-start, Elisha Cuthbert.
Also read Candid Moments Of The Couple!! Together From The Years, Here Is Some Cute Moments Of Ashton Kutcher and Mila Kunis Which Shows Their Relationship
Ashton Kutcher and Mila's Children
The couple has two beautiful children, a daughter named Wyatt Isabelle Kutcher who was born on 1st October 2014 and Dimitri Portwood Kutcher born on 30 November 2016.
The source claims that the star couple is struggling with their career because of which they are not being able to give much time in their relationship.
Also, Ashton and Mila reveal that they are "very goofy parents." Ashton says,
"Do you know what's really funny is I sometimes try to read our daughter's books in the characters' voices, and she's like, 'Dad, can you just use your real voice?' I'll do Peppa pig with an English accent. And then daddy pig, the whole thing. And she's like, 'Dad, just do your regular voice.'"
Where his wife Mila adds,
"I think we're silly at home. We're very goofy parents when it comes to our children, but that don't have skill. I think that's just being idiots. I think we're very comfortable with ourselves acting a fool at home, but maybe that comes from the idea of being comfortable in your own body, and in your own skin, and in your mind and not having a fear of making a fool of yourself."
About Kutcher and Mila's relationship
The couple tied the knot on 4th July 2015. They tied the knot secretly hence their wedding was a secretive wedding and people came to know that they were married after a couple of months of their marriage. To hide their marriage from the media, they chose the thinnest platinum wedding ring.
"I wanted the thinnest possible platinum band. What I mean, you can't see it, but it's super, superthin. I looked at how much Tiffany's [cost] and I was like, 'They're how much? This is astronomical.' So I went on Etsy and I was like, '$90?' I was like, 'Buy now!' $90, everybody! Ashton's was $100, so technically his wedding band was a little bit more expensive than mine."
After all those cheating rumors, Ashton revealed who he was with. He said via his social media profile,
"You should have heard how upset Mila was that I spent the day with our cousin. 'aunt Jodie'."
Update on their relationship
The couple is together and has decided to not divorce. The family goes for an outing together and seem happy. Mila Kunis said recently to E! News:
"I have the world's greatest husband,"
The couple went for a date night and it was for a purpose. They went for the 6th annual Ping Pong 4 Purpose charity event at Dodger Stadium. They played against Clayton and Austin Barnes and showed their sporty character. An eyewitness revealed,
"Mila and Ashton looked like they were having the best date night."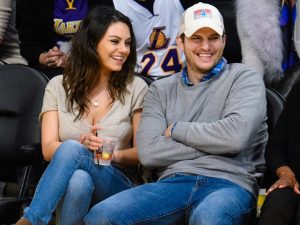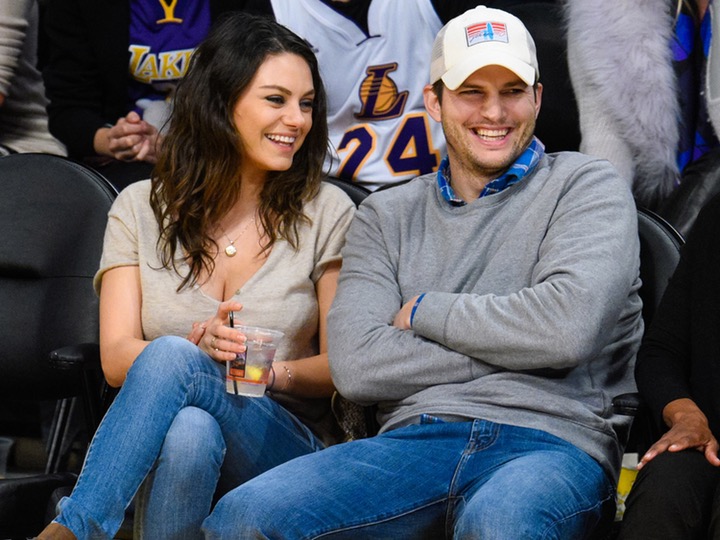 You may like to read Ashton Kutcher revealed his Daughter Affection for Son Dimitri-'Sometimes she just hugs him so hard'!
Ashton and Mila were seen spending some couple time without their children in California in March 2020. They left their children to nanny and caretakers and decided to have some private space with one another.
Ashton and Mila were to sell 7,351 square feet. However, failing to sell, the couple have rented their Beverly Hills mansion
Ashton willing to give up his life for his brother
When he was 13 years old, doctors diagnosed his brother, Michael with cardiomyopathy and said that his brother, an urgent surgery. Ashton loved his brother so much that he was ready to give his life and willing to give Michael his heart. Michael said,
"It's a connection that you can't explain. In all seriousness, we're just very connected. It's an honour or deep appreciation and a deep love for someone who would sacrifice that for you. 'I really can't put words to it."
Adding,
"I said, "every time you look at me, every time you feel sorry for me, in a way, you make me less. You make me less. I am who I am, right? I was put in these situations. Who I am is for a reason. 

I strongly feel that a major part of that reason is to be an advocate and be outspoken and use the platform that I am to advocate for disability, to advocate for organ donation, and I feel I've found my purpose in that."
Ashton has over 4 million followers on his Instagram account.
What was Ashton's Valentine's gift to his wifey, Mila Kunis?
Being a native of Iowa, Ashton gifted his wife a pair of love birds to his wife on Valentine's day. But later, Mila revealed in Ellen DeGeneres Show that they were not lovebirds, instead, they were budgies, a household parakeet that can be purchased for $10 to $20 at most pet stores.
However, Mila defended saying,
"I love my husband so, so, so much and it's the thought that counts, guys. We took them to the bird lady that you recommended and when we brought our little lovebirds in to get their nails trimmed — you know, things that people do with birds — she informed us that we, in fact, did not have lovebirds. So now we have two beautiful little parakeets and one's tail and one blue. But they're not lovebirds, guys."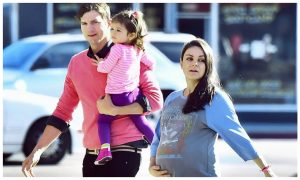 Ashton Kutcher ex-wife Demi Moore and her blasts on ex-husband
Ashton has been linked with many women. On 24th September 2005, he walked down the aisle with actress Demi Moore. However, on 17th November 2011, they announced that they are planning to end their marriage.
As a result, they filed for divorce on 21st December 2012 and their divorce finalized on 27th November 2013. Ashton has been accused of cheating rumors two times. She even claimed that he pressured her into having threesomes.
But Ashton hits her back tweeting,
 "I was about to push the button on a really snarky tweet. Then I saw my son, daughter, and wife and I deleted it."
Mila Kunis not urging Ashton Kutcher to quit drinking
After Ashton's ex-wife, Demi Moore revealed their bitter relationship details on her book, he has been drowning his sorrows. According to an insider, his wife, Mila is disgusted by his drinking problem. And has said that if he doesn't quit being an alcoholic, she has warned him to give divorce.
On top of that, he manipulates her,
 "Ashton keeps telling her that he's just sipping the brewski to decompress. But Mila's horrified by his self-destructive habit and told him to go out for a run or do something that's healthy instead."
However, when asked about this to Mila she said that she has not banned Kutcher to drink as he is not an alcoholic. We hope he comes out of this soon.
How are the husband and wife spending their Quarantine?
Ashton Kutcher and Mila Kunis are spending quality time with their children. Also, they are raising funds to help covid-19 victims teaming up with Oregon's Nocking Point Wines to release "Quarantine Wine."
For this, they made a virtual appearance on Jimmy Fallon's The Tonight Show.
Short bio on Ashton Kutcher
Iowa-born Ashton Kutcher was born as Christopher Ashton Kutcher on February 7, 1978. He possesses American nationality. The talented Ashton is a producer and an actor. Furthermore, he is also an entrepreneur and an investor. Previously, he also modeled in the initial stage of his career. More bio…
Short bio on Mila Kunis
Mila Kunis is an American actress born in the Ukrainian city of Chernivtsi on August 14, 1983. At the age of 7, Kunis immigrated to the United States with her parents, Mark and Elvira, as well as her older brother, Michael, and eventually settled in Los Angeles. More bio…
Read more Ashton Kutcher: his limited silver screen roles, his next project and his appearance on 'The Bachelorette'