Asta- Black Clover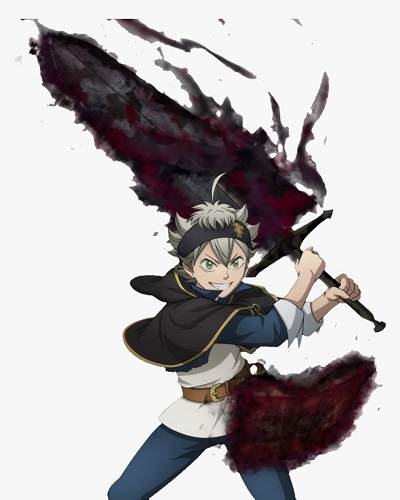 Who is Asta?
Asta is a fictional character in the Japanese Manga and Anime Series, Black Clover. He is the main protagonist of the Anime renowned as the squad member of the Black Bull. 
Also, he happens to be a 3rd Class Junior Magic Knight and temporary Royal Knight. 
Know the Voice Behind Asta
– The Japanese Voice behind the character happens to be the voice actor, Gakuto Kajiwara. Recently, the voice received the 14th Seiyu Awards for providing his voice to the character, Shinra Kusakabe of FireForce. Currently, he is affiliated with Tokyo Actor's Consumer Cooperative Society.
– The voice artist, Dallas Reid voiced the character, Asta. He has been mostly with the Anime series as the additional voice. That includes series like Attack on Titan, Chaos Dragon, and Dragon Ball Super. 
Asta's Birth, Family Background, & Childhood
Asta grew up in the Church of Hage as an orphan. When he was just a baby, his mother, Licita left him outside the church's door. His mother, Licita was killed while saving her foster son, Liebe (devil who currently resides in the Asta's grimoire).
The father of the church, Orsi Orfai raised him as his child along with Yuno (his foster brother). When they were raised together, both of them had a single dream to be the Magic King of the Clover Kingdom.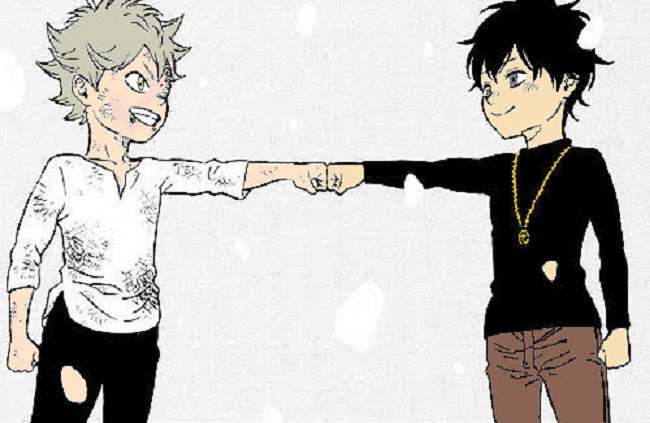 Since childhood, he found Yuno as his biggest competitor and has practiced hard to win over him. However, Yuno found Asta always strong and has always desired to surpass him.
As a child, he was raised as the only child in the entire series with no magical power and abilities at all. However, he has always found a new way to make his path to his dream which is to be the Magic King.
Bloodline of Asta
Asta happens to be the bloodlines of Elf Leader, Licht, and Tetia (Younger sister of First Magic Emperor). When Tetia was pregnant, the entire Elf tribe was under by the human under the influence of the devil.
However, the child of Licht and Tetia survived and passed their bloodline which led to Asta.
Asta's Love Interest
When Asta was just a child, his sister, Lily Aquaria joined the orphanage and raised him. Since then, he adores Lily immensely. Also, he wanted to marry her when he was a child.
Asta & Noelle
The relationship between Asta and Noelle started with jealousy. At first, when they met each other, Noelle thought highly of herself as royalty. However, when they started living their life as a squadmate of the Black Bulls, she started growing her love for Asta.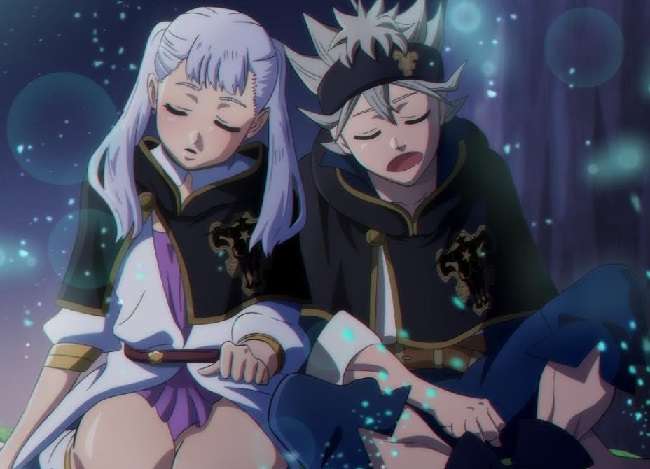 As time passed, she fell in love with him. However, she is never able to express her love to him. To mask her feelings, she has always been strict with him. But in the series, Asta likes and respects her as a squad member only. Also, it is quite uncertain if they will end as a couple.
Asta & Mimosa
Besides Noelle, Mimosa is also in love with Asta. Similar to Noelle, she is also never able to express her inner feeling to Asta. However, she is extremely jealous when Noelle is close to Asta.
| | |
| --- | --- |
| Birthdate | Unknown (left at Orphanage on 4 the October) |
| Age | 15 |
| Birth Place | Clover Kingdom |
| Horoscope | Libra |
| Height/ How Tall | 1.55m (5 feet and 1 inch) |
| Hair Color | Ash Blonde |
| Eye Color | Green |
| Physical Strength | 5/5 |
| Magic Amount, Magic Sensing, Magic Control | 0/5, 0/5, 0/5 |
Asta- Magical Tools, Power & Abilities
Magical Tools
– Grimoire- He is one of the few characters in the series who possesses a five-leaf clover grimoire. He received the grimoire during his fight with Revchi.
The grimoire happens to be filthy and tattered. The elf tribe leader, Licht was the one who possessed the grimoire before. At the time, the grimoire was a four-leaf clover grimoire that turned into a five-leaf grimoire when the devil, Zagred corrupted it. Currently, the devil, Liebe lives in the grimoire.
– Anti Magic Sword- With the help of the grimoire, he can summon anti-magic swords that can nullify any type of magic. Using the sword, he can various ways including Demon-Slayer Sword, Demon-Dweller Sword, and Demon-Slasher Katana.
Magical Power
First, he appeared in the series as a boy with no magical abilities. However, it was discovered that he has a unique ability to nullify any kind of magic.
Abilities
On the entire, he is one of the expert swordsmen who received his training from the Diamond Kingdom's former commander, Fanzell Kruger.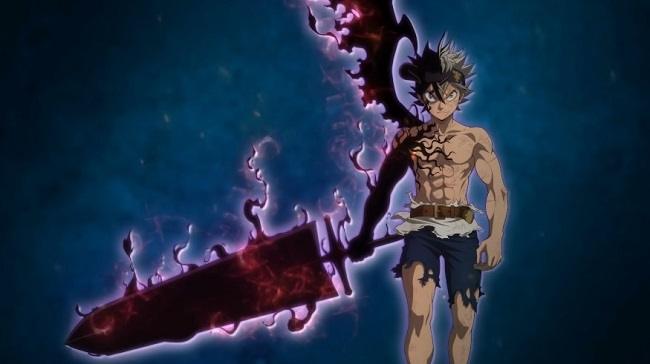 Also, his abilities include enhanced strength, speed, durability, and instinct. Also, he can use Ki to predict the moves of his opponents. Besides that, his unique ability includes the demon possession that grants him access amount of energy.
Body Measurements: Height & Weight
He has green eyes with ash blonde hair. He stands at a height of 5 feet and 1 inch with decent weight. In the series, he appeared as a short young man who is extremely muscular build to be the intense training that he does.
Talking about his outfit, he wears a plain-white tunic V-shaped collar underneath a dark blue jacket. Also, he wears black trousers. As a squad member of Black Bulls, he wears a robe.
Also, read the different facts about the Black Clover's characters; Yami Sukehiro, Vanessa Enoteca, and Nozel Silva.