Audrey Whitby and Joey Bragg are dating in cutest way ever… Continue reading!
What is Love?
Love is the most beautiful thing, and it will a person where he feels that he is in heaven when his partner is around. We have one cute love story to share.
It's about American teen actress Audrey Whitby who has done adorable things with her boyfriend of years Joey Bragg.
Update: In July 2020, they celebrated their seven years anniversary of living together. She also shared on her Instagram handle with the adorable picture and caption,
"Almost 7 years smushin' you."
Let's have a glance at their love story.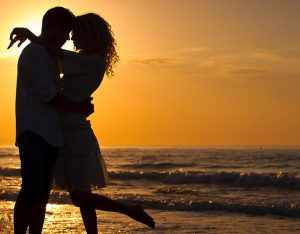 The cute Love story of Joey and Audrey
Joey and Audrey are the relationship goals every couple would wish. Audrey does not forget her partner's birthdays or their anniversary. She shares with the whole world how much he loves her boyfriend by sharing their cutest picture and the caption.
More recently, she took a photo to Instagram which was pretty impressive and fun too.The couples have the very much strong bonding that they can not live without each other. They celebrate every small happiness in such a way that anyone would fall in love with this couple.
She loves to share her boyfriend's childhood picture
Audrey can't get enough of her boyfriend, Joye's childhood pictures. The more she is getting to know him, the more she wants to share with her loved ones how much he means to her. She shared his childhood pictures and they are cute as a button.
You may like to read Andrew Cuomo-the likely pick for attorney general in Joe Biden administration! Who is Andrew dating now?
How did they meet?
The couple met for the first time while doing sketch work for AwesomenessTV on  22nd June 2013. Joey shared that their love story started in a funny way,
"Audrey and I met doing a sketch for AwesomenessTV. For the whole sketch, I was in my underpants, like these tighty whities, and had a parachute tied around my neck as a cape. I walked up to her for the first time and said, 'Hi, my name is Joey, and this is what most of my body looks like.' She was pretty much mine from that day on! Now we've been together for over two-and-a-half years."
Years after cute relation, the pair are sharing memories that they can cherish for years. Hopefully, they will be able to maintain their relationship ahead, and we would like to wish them a blissful life in upcoming days.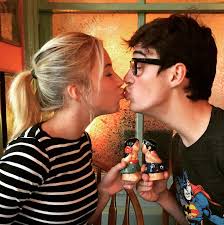 Joey wrote a sweet message to his girlfriend on Instagram
Joey calls her Auds. He shared a cute love letter written to his girlfriend,
"This is my other half. My person. My Rock. My Dwayne "The Love" Johnson. I love her all the [way] to the end of the universe. Can't wait for all the years to come. I love you, Auds."
Short Bio on Audrey Whitby
Audrey Whitby is an American teen actress. She is known for her appearances on Awesomeness TV, and for her recurring roles as Audrey Vale on the Disney Channel Sonny with a Chance sketch comedy. More bio…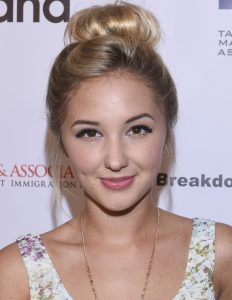 Also read Mary-Kate Olsen is dating but nothing serious yet has come her way after her split from Olivier Sarkozy this April!
Short Bio on Joey Bragg
Young and rising star Joey Bragg is an American actor and comedian. He is best known for his role as Joey Rooney in the Disney Channel sitcom Liv and Maddie. He is also known for his role as Magoo in the 2012 film Fred 3: Camp Fried. He has also successfully established himself as a stand-up comedy. More bio…