Aviation industry set to change post-coronavirus pandemic! New seat arrangements from Aviointeriors!
After the coronavirus pandemic settles, the future of flying is likely to have some great changes in order to prevent infection. There might be plastic shields around seats and backward seats. Aviointeriors has come up with some novel ideas on it. But will airfares also rise?
Aviation industry and aircraft changes
Once it is safe enough to resume air travel after the coronavirus pandemic ebbs, airlines and aviation industry have to see to it that they are able to find ways to minimize spread of infection due to them. Additionally, they have to put in hygienic steps to keep their passengers safe.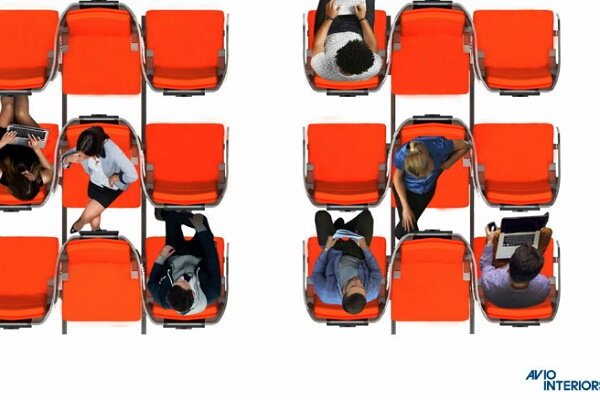 There might be changes in the seating arrangements and way of boarding in order to maintain the minimum safe distance between passengers. Besides, the method of disinfecting the aircraft after demounting of one lot of passengers will become more stringent.
Aviointeriors is an airplane seating company based in Italy. Now, it has come up with two solutions to combat the problems created by coronavirus crisis.
The options in seating from Aviointeriors
The company has rolled out two models of radical economy class seating concept which would have inbuilt physical barriers. In the Janus concept, the middle seat in the row of three seats is backwards-facing. Whereas the seats in the aisle and the window seats would continue to remain forward-looking in the direction of the flight.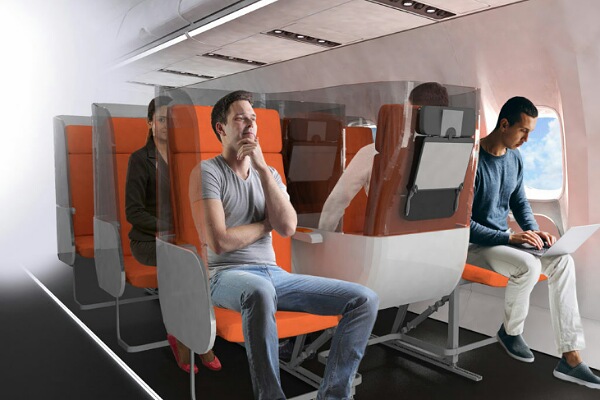 Additionally, each passenger seat would have a wrap-around transparent barrier shield. This plastic cocoon would protect them from germs, infectious air, and also cut down on fights over armrests. The plastic barrier around the aisle seat would especially protect the passenger seated there from people walking up and down the airline aisles. The company says:
"The high shield would prevent breath propagation to occupants of adjacent seats."
Janus is a Roman God and an authority of beginnings, gates, transitions, time, duality, doorways, passages, and endings. He has two face-off looking St the future and the second at the past.
The second novel concept of Aviointeriors
In the second concept of Aviointeriors called Glassafe, there are plastic hoods attached to the existing seats which remain the same. This supposedly would cut down on the spread of germs between passengers seated on adjacent seats.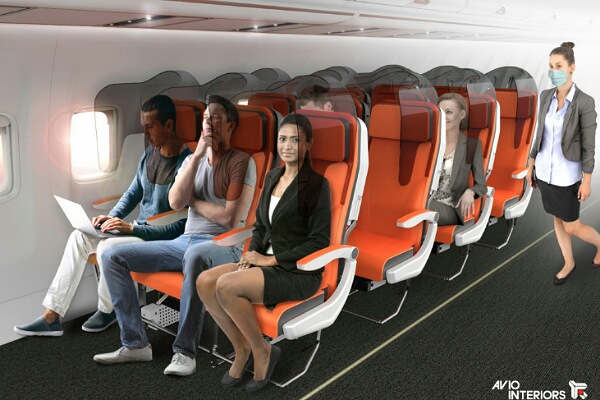 The new ideas of airline seat arrangements released this week bit no airlines has yet opted for it. Aviointeriors is known for such unique seating arrangement ideas. Last year, it came up with Skyrider flying saddle seats for fliers.
Even without these, US  airlines have already started implementing the social distancing in their aircrafts. Delta,  Alaskan,  American, and United have began keeping the middle seats empty. Alaska has added that it will allow, passengers free cancelation if they are unhappy with the seating arrangements. But later when more people start flying, the air fares may rise in order to prevent loss to airlines for the empty seats. Alexandre de Junaic, Director-General of IATA said:
"If social distancing is imposed, cheap travel is over."
Also, read Skyrider 3.0! The new concept of standing seats in short-haul aircrafts! Will there be any takers for it?
Source: SFGate