Avril Lavigne and her red carpet appearance after 2 years! Know where she has been and what she was doing!
Avril Lavigne's red carpet appearance
Canadian Singer Avril Lavigne was recently seen at the red carpet event of the Race To Erase MS Gala at Beverly Hilton, Beverly Hills, in LA, CA. Avril Lavigne is on the board of directors for the Nancy Davis Foundation for Multiple Sclerosis and hence her presence at this major event.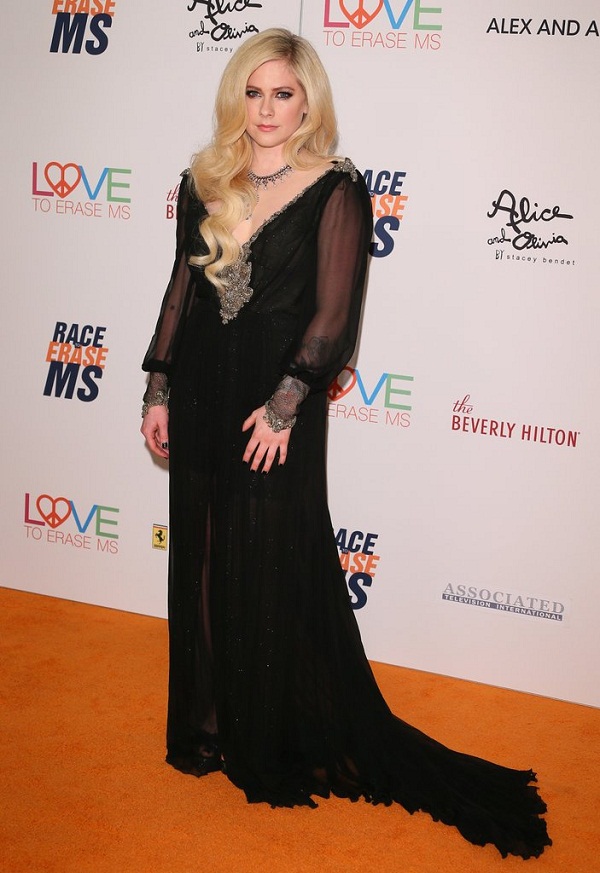 She had worn a flowing floor-length black dress. It had a train, side split, mesh sleeves, and intricate embellishment on the front neck and cuffs. She had a statement necklace and her blonde voluminous hair was tied up back in curls. She posed for the shutterbugs and for the Beverly Hilton.
People were happy to have her back since she was missing for nearly 2 years now.
The reason for her two years' absence
Avril was diagnosed with Lyme disease in 2014 shortly after her 30th birthday. The disease had left her bedridden for months and Avril had even thought that she is going to die. In 2015, she had told People Magazine:
"There were definitely times I couldn't shower for a full week because I could barely stand. It felt like having all your life sucked out of you."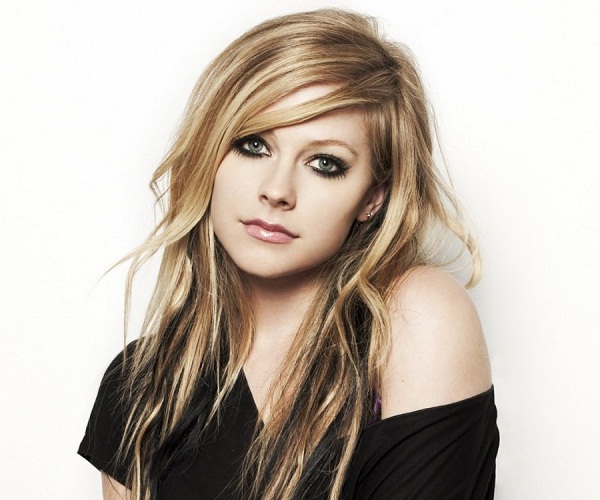 She added:
"I felt like I couldn't breathe, I couldn't talk and I couldn't move. I thought I was dying."
Avril teases about her new music
Avril, fortunately, is better now. She said:
"I'm feeling a lot better,  I have my life back which is amazing."
She is working on her sixth album and it is inspired by her illness. She revealed:
"It's been a long time. For me to be able to be here and I'm making a record right now. It's something I continue to work at every day. And just, like, grateful to be making music."
Her new record would be highly personal. Talking on it further, Avril said:
"I've written a really powerful record, really emotional album sort of reflecting where I am today,"
She would be completing the recording for this album in 2 weeks' time and the album would be released this year. Avril added:
"I mean, I write all of my songs and I always have, and these songs are different," she added. "I'm just sort of writing about what I'm going through now."
She had also talked about this upcoming album in December 2016 when she wrote on her Instagram:
"I wanted to first thank my fans for your patience and support during my time away throughout my battle with Lyme Disease over the past two years, It hasn't just been a hard battle but it's also been enlightening and will reflect in my new music, artistry, life, and personally."
In September 2017, she informed her fans that the album work is on.
The sorrow-filled personal life
Avril has tasted bitterness at her personal life as well. At age 19, she began dating Sum 41 lead vocalist Deryck Whibley. She married him on 15 July 2006 but divorced in 2009. She then dated star Brody Jenner in February 2010 but after 2 years they split.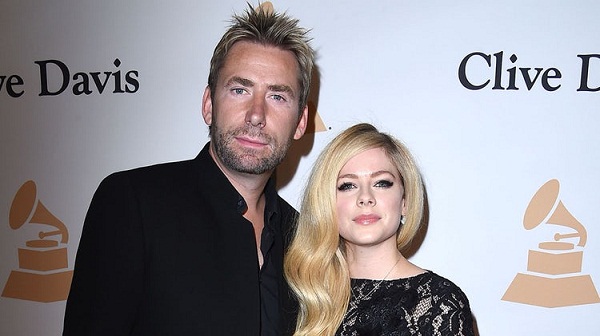 She started a relationship with Canadian rocker Chad Kroeger of the band Nickelback in July 2012 and got engaged in August 2012. On 1 July 2013, they tied the knot. On 2 September 2015, she announced that she has separated from Chad.
Lyme disease
It is an infectious disease caused by bacteria which is spread by tick bites. There is a rash, fever, headache, and feeling of tiredness. More symptoms come in if untreated. Antibiotics and symptomatic care are essential.
Short Bio on Avril Lavigne
Avril Lavigne is a Canadian singer-songwriter and actress. She is widely famous for her debut album, Let Go(2002). She is the youngest female soloist to reach number 1 in the UK. Lavigne has sold more than 40 million albums and over 50 million singles worldwide since her professional debut.
Lavigne is the 2nd-best-selling Canadian female artist of all time, behind Celine Dion. Avril's debut album, Let Go has sold nearly 7 million copies in the United States and over 20 million copies worldwide. She became world famous for her breakthrough single, Complicated, which peaked at number 1 in many countries around the world. As an actress, she had roles in Fast Food Nation (2006), The Flock (2007), and Charming (2017). More Bio…