The award-winning Dobre Brothers! Know the latest developments in the career of YouTube stars, Dobre Brothers!
Dobre Brothers are twins Lucas and Marcus Dobre-Mofid who climbed the ladder of success through the Vine application. They are YouTube personalities and a dancing duo born on 28 January 1999.
About Dobre Brothers and their YouTube Channel
Dobre Brothers have been active in the online career since 2015. They started with the now-closed app Vine. They gained prominence with this app and later migrated to the YouTube channel. The brothers have over 16 million subscribers on their YouTube channel (Lucas and Marcus). They have another channel named Dobre Brothers in which their siblings Cyrus ( born 1993) and Darius ( born 1995) also contribute. It has 7 million subscribers.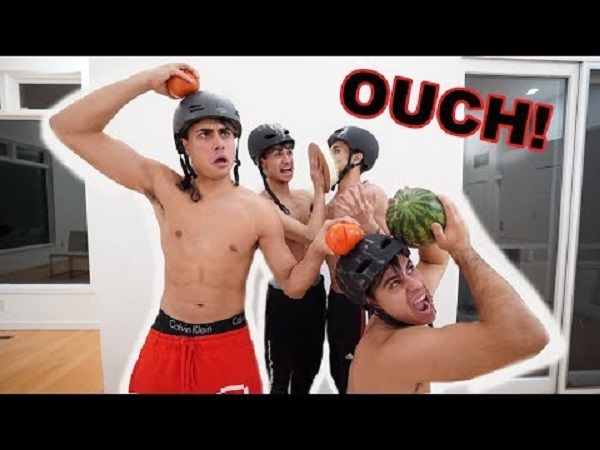 The channel has a wide variety of video content and includes skits, pranks gymnastics, vlogs, and challenges. On Dobre Brothers channel, they post vlogs two times in a week. On their first channel, the total views of their video numbers 3.6 billion, and on the second it is 1.1 billion.
Their Instagram has 506.5k followers and they also have a Facebook account.
The kids' parents are retired Olympic Romanian gymnast Aurelia Dobre, 46 and Iranian gymnast coach Boz Mofid. They co-own Dobre Gymnastics Academy in Maryland at Baltimore.
Dobre Brothers and their recent 'smell this' game
The four brothers took the sniff challenge in the last video. They had to guess the name of the thing in the smell box only with their noses! They could neither see nor feel it! It was called Smell This Game.
They could not rightly smell the apple pie and called it a lemon cookie smell. For a grass, they said cucumber and orange and again were proven wrong. Then there was Tuna and tennis balls which they wrongly claimed to be either a tuna sandwich or tuna and mayo. When bacon and urinal deodorizer blocks were kept in the smell box, they wrongly termed it as chicken and tennis balls or lemon pie and tennis balls.
Dobre Brothers and their Australian tour
The award-winning Dobre Brothers have a massive and loyal fan following. Their crazy challenges entice everyone and the brothers have decent videos and content.
The brothers will soon embark on a tour of Australia this September and October. The highlights would be pranks, skits, gymnastics, stunts, and crazy challenges. There will be dance, music, lols, and to top it all audience participation. Fans can also meet the brothers. There will be three different levels of a VIP experience. The shows would all be live and start on 27 September 2019 in Melbourne. They will then visit Brisbane, Sydney, Adelaide, and then Perth. It would be fun all the way for everyone!!!
Earlier, on mid-June, the brothers had a road live tour starting from the city of New Jersey. Cyrus Dibre had said:
"We're going to be doing a lot of audience engagement- bringing them on stage with us, dancing, singing all of our songs and we're going to be competing against each other in different contests,"
One of their worst pranks was on their parents with mouse traps. Lucas said:
"We put 10,000 mouse traps in their living room and they couldn't walk,"
Source: Wikipedia, EOnline, broadway world