Bachelor in Paradise stars Evan Bass and Carly Waddell are Married! Find out about the Relationship, Lifestyle and Children!!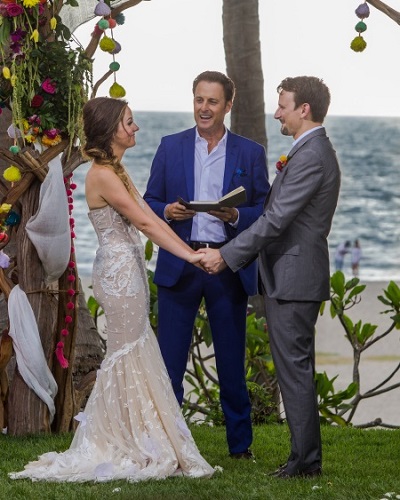 I Do! Bachelor in Paradise stars Evan Bass and Carly Waddell are married. The couple got married at the romantic wedding celebration in Mexico on Saturday, June 17. Check out the Details!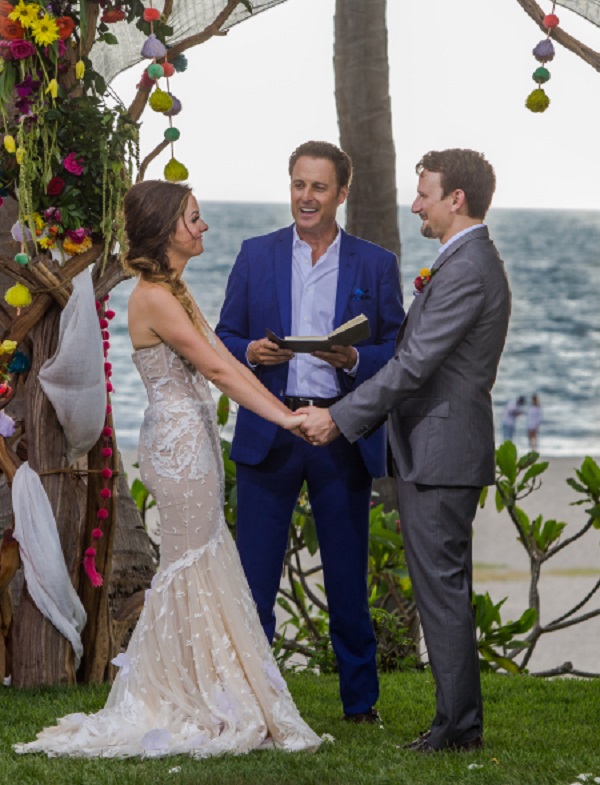 Wedding News!
Bachelor in Paradise season three stars Evan Bass and Carly Waddell are the only couple who stayed together and get married. The couple tied the knot in front of an intimate group of family and friends in Vidanta Nuevo Vallarta resort near Puerto Vallarta, Mexico. The guest list included Bachelor Nation alums like Jade Roper and Tanner Tolbert. Chris Harrison acted as officiant as the pair wed in a beachside ceremony facing the ocean.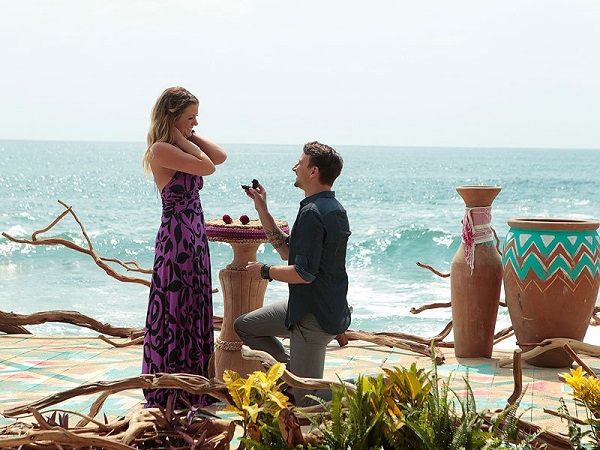 The couple, who met and fell in love on the ABC dating show and got engaged on the season 3 finale last summer, tied the knot in front of family and friends in a ceremony that is set to air on ABC later this year.
Their nuptials were originally meant to air during the new season of Bachelor in Paradise, but those plans were changed when production on the show was shut down last week after allegations of sexual misconduct between contestants Corinne Olympios and DeMario Jackson.
After the duo was back from Mexico, both have hired lawyers and released public statements about the incident that happened on the set of the show. Bass wrote in an op-ed for The Hollywood Reporter on Saturday, June 17, that the controversy broke his heart, and begged ABC not to cancel the dating series.
The single dad of three sons, who lives in Nashville with Waddell, wrote that the show didn't just guide him "to an incredible stepmother" for his children, it brought him "personal redemption."
Also read Pregnant Carly Waddell and Evan Bass are delighted as they are expecting their first child together! Click for more details!
More on their marriage
Having met on the third season of Paradise, the what seemed to be an unlikely couple were immediately drawn to each other. By the end of their journey on the ABC reality show, Bass found himself popping the question to the woman of his dreams.
"Carly and I sat on a beach for weeks talking," Bass wrote on Saturday of how they got to know one another while filming the Bachelor spin-off. "At first I creeped her out, but because of the time allowed to just hang after she friend-zoned me, she came to realize that she not only liked my flavor of creepiness but wanted to marry it as well!"

"Everything happened for a reason," Waddell, 31, previously told PEOPLE. "It's been a long journey for me in Bachelor Nation, but I would do it a thousand times again. Because the next part is going to be bliss."
Living in Nashville with Bass' three sons (Nathan, Liam, and Ensley), the duo pride themselves in the number one thing that has made their love last.
"We have great communication," Waddell said. "It's what we had as friends and it's what keeps us in love."

"I'm not your normal dude that's on these shows," Bass, 34, added. "I'm definitely more emotional. And she accepts me. I love that."
Bachelor executive producer and creator Mike Fleiss tweeted his congratulations to the newlyweds on Saturday, writing, "So happy for Carly and Evan!!!".
Jade Roper and Tanner Tolbert were among the Bachelor in Paradise stars reportedly in attendance at the wedding and Bachelorette alum Robby Hayes also tweeted his best wishes to the couple.
Everything in their Relationship
In April, Carly and Evan sat down with E! News and dished about their relationship and their upcoming wedding.
"I think that relationship wise, we're definitely more in love than we ever were before. I think we fall more for each other every day which is fun," said Carly. "It was always good, [but] it's just that as we got to know each other better and better. We fell for each other even harder. We've never had a bad spell. It's always been consistently good."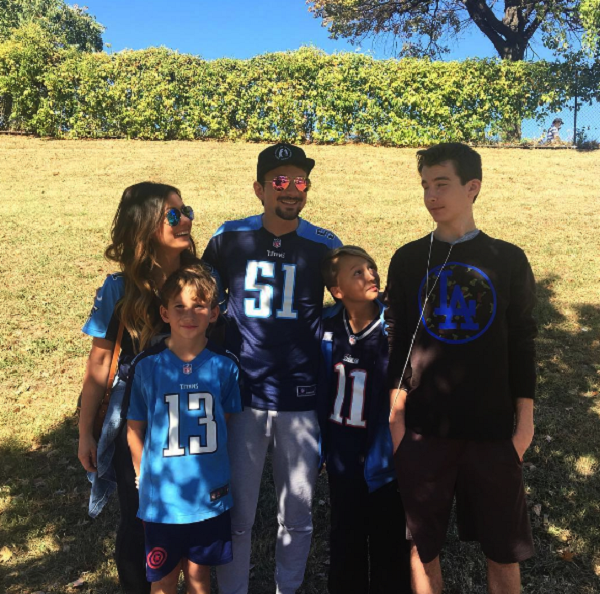 They also can't help but gush over their favorite qualities about each other that they've learned throughout their engagement. "I think he's just very accepting," Carly said. "I have lots of flaws, and he really just accepts them…He's just very nonjudgmental, which is super important in a relationship with anyone, and it's really nice to have with your spouse."

Evan said, "For me, I think it's Carly's openness. I know exactly where she stands at all times about everything…I just think her ability to process her emotions without a filter. He continued, "I really love that she wears her heart on her sleeve and is able to just communicate without fear of anything."
Congratulations to the Newlywed Couple!
Also read Bachelor in Paradise alum Jacqueline Trumbull and Jordan Mauger are confirmed to be dating! All details here!
Short Bio on Evan Bass 
Evan Bass is an American TV personality. He is best known for competing on season 12 of The Bachelorette and season 3 of Bachelor In Paradise. – See more at…
Short bio on Carly Waddell
Texas-born Carly Waddell was born on October 11, 1985. The young and the beautiful Carly possess American nationality and are a TV personality. Multi-talented Carly is also an actress and an aspiring singer. She is a prominent figure among TV audiences. It is because of her appearance on the reality-based dating game show. She appeared multiple times on such shows. First was the 19th season of "The Bachelor", where she competed for Chris Soules' heart. Presently, she is a well-known figure among TV viewers because of her successful 3rd season on "Bachelor in Paradise". – See more at…