Bella Thorne is on a long romantic vacation with her boyfriend Benjamin Mascolo in Cabo in Mexico! Is she engaged?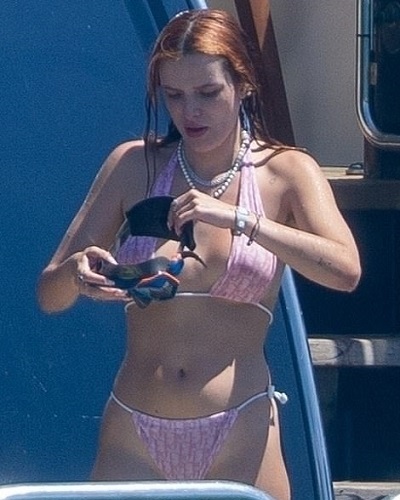 Bisexual Bella Thorne is now romancing Benjamin Mascolo. The couple is in Cabo in Mexico aboard a luxury yacht on a long romantic vacation. She has been putting Instagram on fire with her photos in tiny bikinis. She looks a bombshell and her fans speculated that she is engaged! Has Ben proposed to Bella?
The recent romantic getaway of Bella Thorne and Benjamin Mascolo
It has been almost a week that Bella Thorne and her current boyfriend Benjamin Mascolo are on a romantic trip in Los Cabo in Mexico. Bella has been uploading some gorgeous and marvelous photos of her on a luxury yacht in Mexico. She has been sporting the tiniest bikinis in her photos on her Instagram. Her fans are thrilled for her. On this Sunday 19 July 2020, Bella and Ben continued to have fun on the yacht. Bella was in her designer Dior bikini top which had a triangular design. On it was the print of the brand's logo in pink color. She paired it with matching bottoms which had strings to tie at the sides.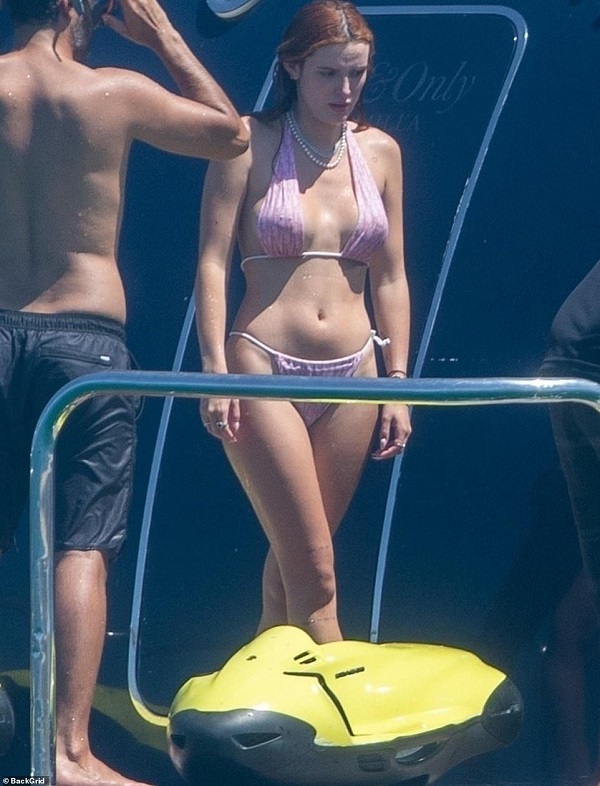 She had messily styled her auburn hair. Additionally, she had little or no makeup on her face. She had worn some rings and necklaces and on her right wrist was the Louis Vuitton monogram scrunchie.
The couple's relationship
Bella and Italian singer Ben began dating around April 2019 after she split from Mod Sun. Later, in June 2019, she posted their snap together on her social media but soon deleted it. She told People magazine:
"Ben is a cutie pie and seeing him on FaceTime all the time makes me smile very big,"

"Clearly, he lives in Italy so it's an interesting thing."
The couple could not meet in between for almost five months due to the coronavirus-induced lockdown and travel restrictions. Therefore, it was only on 7 July 2020 that the couple could reunite. At that time, a happy Bella posted on her Instagram:
'After 5 months reunited & it feels so good.'
Bella had put a question to her fans asking their opinion on where they should go and meet. She wrote:
'where shall we go next ??since ben isn't allowed in America yet… and I can't go to Italy unless I have a work permit there.'
Hence, they decided to catch up at Los Cabos which had reopened to tourists in mid-June.
Are Ben and Bella engaged?
Recently, paparazzi photographed Bella and in the photos she was wearing a ring in her left ring finger. Therefore, media and fans speculated that she has secretly got engaged to her boyfriend Ben. Her engagement rumors started swirling around. She did not confirm or deny the rumors. But last Friday 17 July 2020, her rep revealed that the rumors are fake and that Ben has yet not proposed to Bella. The rep said:
'Bella and Benjamin are very much in love and very happy, but there are no wedding plans in the near future.'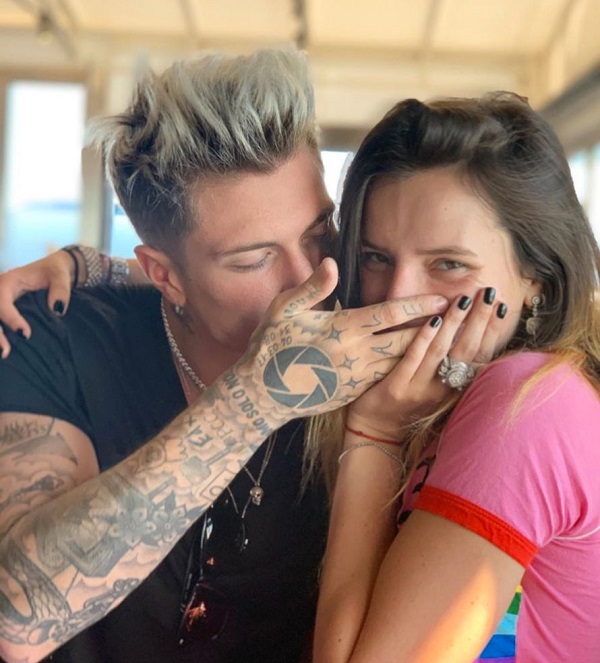 Just last month, Bella's new crime movie Infamous appeared on video-on-demand channel. Her co-star in this movie is iZombie hunk Jake Manley. This was also released in over 30 drive-in theaters. Her TV show Paradise City and the movies Chick Fight and Leave Not One Alive and others are in post-production phase.
You can read the complete biography of Benjamin Mascolo here