Ben Affleck Revealed The Reason Why He Looked Sad at the 2023 Grammy Awards!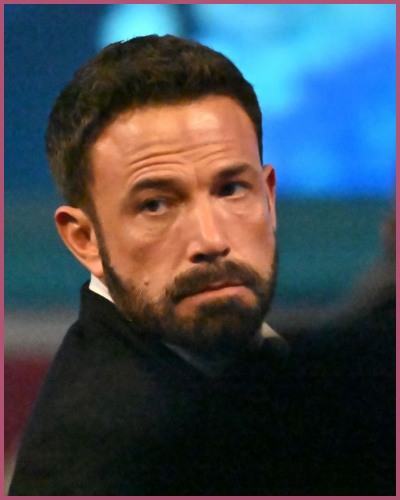 Ben Affleck finally addressed his apparent miserable face at the 2023 Grammy Awards.
The actor claimed that he did not have a bad time at the music's biggest night.
He attended the function for the first time after his marriage to Jennifer Lopez.
---
Ben Affleck denies being miserable at the 2023 Grammy Awards
Ben Affleck denied being miserable at the 2023 Grammy Awards and said that his seemingly unenthusiastic face was because of the show's host Trevor Noah catching him off guard for a skit.
The actor who appeared in a new feature for Hollywood Reporter said on Thursday,
"I saw [Noah approach] and I was like, 'Oh, God,'

"They were framing us in this shot, but I didn't know they were rolling."
Just before the comedy sketch began, cameras showed the Argo director having a conversation with his wife, Jennifer Lopez.
The 50-year-old Gone Girl actor was joking with the On The Floor singer, 53, telling her, "As soon they start rolling, I'm going to slide away from you and leave you sitting next to Trevor."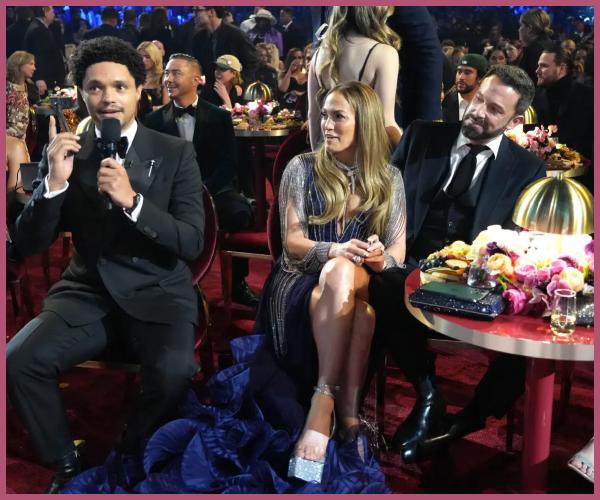 Ben added,
"She goes, 'You better f–king not leave,'" 

 "That's a husband-and-wife thing. I mean, some of it is, I'm like, 'All right, who is this act?'"
In the skit, Noah, 39, pretended he was on the phone with his mom after seeing Sam Smith's controversial performance of Unholy at the ceremony. He said,
"Mom, it wasn't the actual devil. No, they were just dressed as the devil, Mom."
During the fun time, the host could be seen sitting next to JLo,  who was lovingly patting her husband's chest amid a short chat.
After the clip went viral, fans and experts on the internet weighed in on the exchange.
A lip reader thought the singer told Ben, "Look more friendly. Look motivated."
Another body language expert claimed Jennifer's gesture was reproachful and an attempt to control him.
Also, Read Jennifer Lopez: Her Version of Valentine with Ben Affleck in Matching Tattoos!
Ben struggled with alcoholism in the past
Lopez,  on her part, tried to calm everyone down by taking to social media soon after the event saying that she had the best time with her love at the Grammys.
There were sources who revealed that Affleck had a  great time backstage and a video of the Armageddon actor showed him laughing with Queen Latifah.
In the interview with The Hollywood Reporter Ben insisted that he had a great time at the  Grammys although he considered the show his "wife's work event."
He said,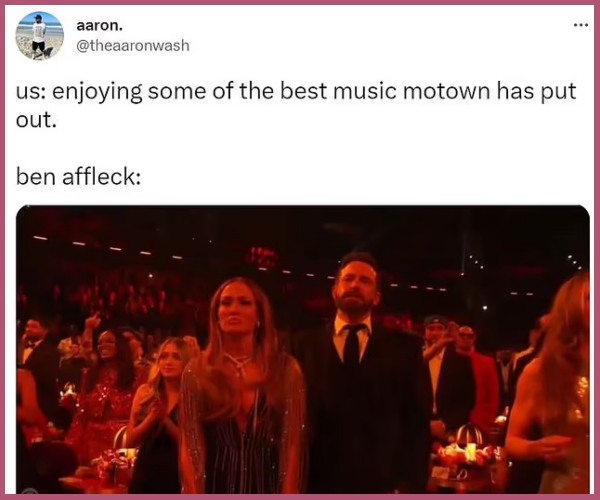 "My wife was going, and I thought, 'Well, there'll be good music. It might be fun,'"

"At movie award shows, it's speeches and, like, sound-mixing webinars. But I thought this would be fun."
Affleck also said that he has gone to Hollywood award shows pissed or drunk many times in the past.
The Deep Water star said,
"Nobody ever once said I'm drunk. [But at the Grammys] they were like, 'He's drunk,'"

"And I thought, that's interesting. That raises a whole other thing about whether or not it's wise to acknowledge addiction because there's a lot of compassion, but there is still a tremendous stigma, which is often quite inhibiting."
Ben who once went to rehab for alcohol addiction concluded,
"I do think it disincentivizes people from making their lives better."
Also, Read Meme Material?! Ben Affleck Becomes a Meme Yet Again Because of His Disinterested Expression at the 2023 Grammy Awards!