The accidental fame! Betty, weather reporter Jeff Lyons' cute cat adored by viewers after she crashes into a live weather reporting session!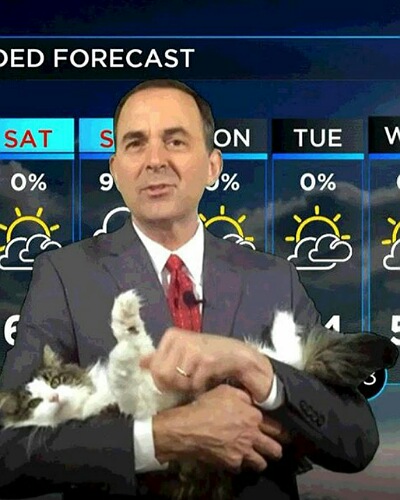 Cats are no doubt wonderful animals. They are cute, fluffy, and mischievous.
But imagine getting fame by accident on-air!
Yes, this is what happened to the beloved pet cat of weather reporter of 14 News channel, Jeff Lyons.
---
He was reporting live from his home during the coronavirus lockdown when his beloved cat, Betty barged into the camera view. But now she has become an internet sensation and also has her segment on the show!
Jeff Lyons and his cat Betty
The animal-loving weatherman, Jeff Lyons is a weather reporter on Channel 14 News. Due to the coronavirus pandemic, newsmen are doing shows and hosting segments from the comfort of their homes.
Similarly, 14 First Alert Chief Meteorologist Jeff Lyons was doing a live segment of weather reporting for his channel from his home. And suddenly his pet cat Betty decided to come into view of the camera.
Was she volunteering to help her boss? It was an accidental entry but his show viewers just loved it.
And now Betty's life has completely changed. She is a regular on the show and has her segment on it.
More about Betty's changed life and new career
Betty is now adored not only by her master Jeff but also by his show viewers and fans. They want her to co-host the show and be present there always with her master. The cute fluffy cat has won the headsets of the channel viewers.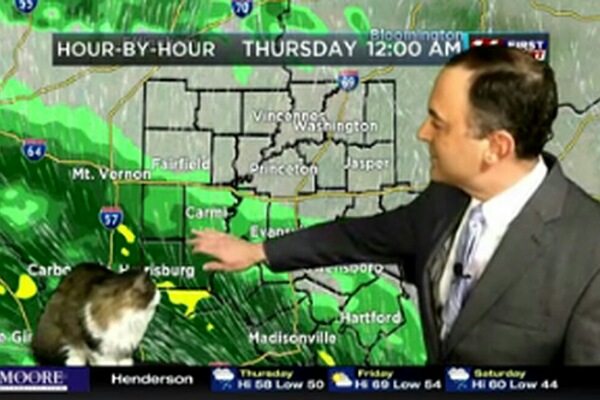 And Kitty not only does TV shows now, but she is also an Internet sensation. She has her own Instagram page with over 4296 followers.
On this Instagram, there are photos and videos of the beautiful kitty. In one of the photos, she is seen sitting quietly on a table beside Jeff Lyons.
And Jeff has captioned this post:
"Behind the scenes of tonight's weather cast! I sure do love the extra special attention!
#bettytheweathercat"
One of the fans commented:
"No pants day bro?"
And another follower put three pink-heart emojis.
About Jeff Lyons
Jeff is the Chief meteorologist at 14 News and is currently based in Evansville, Indiana. He joined the network in the year 1988. And presently, Jeff does hosting of the weather forecast broadcasts at 4, 5, 6, and 10 O'clock.
Jeff completed his training and studies in meteorology at the world-famous Indiana University. He got his National Weather Association seal of approval in the year of 1991.
Additionally, he has the American Meteorological Society seal of approval and certification as a meteorologist which he obtained in 1993.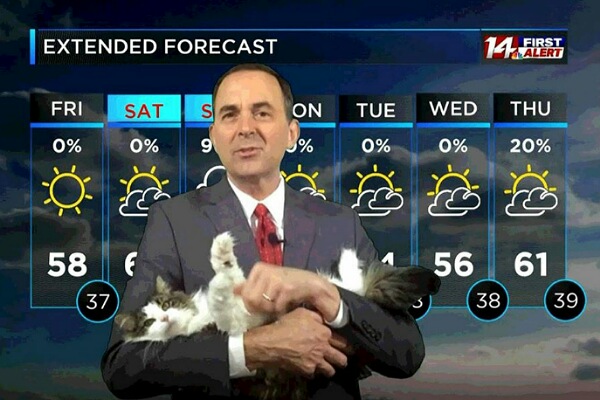 Besides the above, Jeff also appears at over 40 local schools in a year. People of Indiana respect him and he also talks to civic groups about weather casting.
The anchor has three children of his own. Jeff, his wife, and three children are in self-isolation against the dreaded coronavirus.
He said:
"My wife of 31 years and I have 3 kids, Natalie 21, Justin 24 and Patrick 27. All are home at the moment, as they paused university and jobs. We feel fortunate that we have this time together, and pray for those affected by the virus. We live in hope—like everyone–that this will pass soon. "
Also, read Wet wildlife markets! Shenzen bans the consumption of dogs and cats, Will penalizes the violators!
Source: HT