Time for a big reveal- Ashley Graham Reveals the Sex of Her Baby and delivery date on The Ellen DeGeneres Show!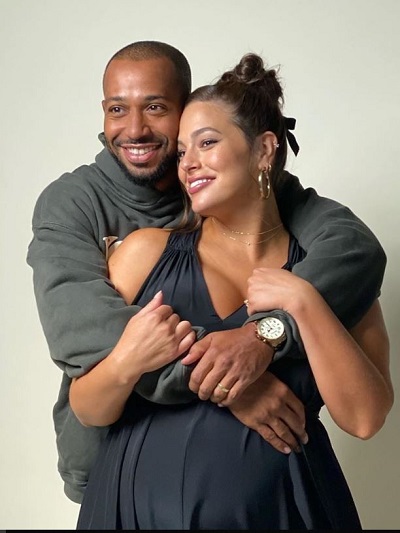 On 19th August, Ashley Graham posted a nude photo on her Instagram account revealing the stretch marks. She announced that she is expecting their first baby.
Ready to be a mommy!
Ashley Graham made her appearance on The Ellen DeGeneres Show this Thursday. She shared about her pregnancy and her last big trip before the baby arrives. She revealed having a busy schedule and having no time for naps. Instead, she works out,
"I literally flew in and I'm like 'oh my God I'm exhausted, I just need to take a little nap,' but I can't because here I am with you, So I just took the three pound weights and I just started doing weights backstage." 
Graham is really open when it comes to sharing awareness about pregnancy. She shares things like stretch marks, food cravings, etc. She beat Lindsey Vonn an Olympic athlete on an indoor SkiErg during a joint workout,
"That's right, I beat Lindsey Vonn on the ski erg TWICE. But she still beat me at literally everything else," she said with a laugh in a video of the workout. "You're still the pro athlete, Lindsey!"
Also read: The American plus-sized model Ashley Graham posted a nude photo on Instagram! Know about her pregnancy and marriage
Revealing big news
On The Ellen Show, Ellen comes up with the pair play a version of "Lightning Round". This is the same game Graham plays on her podcast, Pretty Big Deal. This game is all about guests answering a round of rapid-fire questions.
On her show, Graham asks questions, but here DeGeneres decided to switch roles and puts Graham in the hot seat. DeGeneres began asking a series of trivial questions including
"beside your husband, who do you have a crush on?"

"what has been your most embarrassing wardrobe malfunction?"
During the final seconds of the game, Ellen asked:
"Are you having a boy or a girl?"
Answering Ellen's question, Graham immediately replies:
"I'm having a boy!"
Graham was super excited when she revealed the gender of her first baby. The child is due in January.
"I'm gonna be a mommy to a boy!"
She announced about her pregnancy in an Instagram video uploaded back in August. In that Instagram video, Graham also wished her husband a happy anniversary. The post also showed off her baby bump. Her post was captioned with beautiful words:
"Nine years ago today, I married the love of my life. It has been the best journey with my favorite person in the world! Today, we are feeling so blessed, grateful and excited to celebrate with our GROWING FAMILY! Happy anniversary, @mrjustinervin ❤️ Life is about to get even better. ????"
Also read: Kylie Jenner Recalls Pregnancy days that made her stronger and more independent!
A short bio on Ashley Graham and Ellen DeGeneres:
Ashley Graham is an American Model. She has appeared in Levi's campaign. Graham is a Plus-size model. She has been covered in fashion magazines like Vogue, Glamour, Ellie and Harper's Bazaar. NPR interviewed her about plus-size modeling. more bio…
Ellen DeGeneres is an American comedian, television host, actress, writer, and producer. Ellen was starred in the sitcom Ellen. She has also hosted an Emmy-winning Syndicated TV talk show, The Ellen DeGeneres show. She is best known to young audiences as the voice of the endearing but absent-minded fish Dory in the blockbuster animated hit Finding Nemo. more bio…
References: (people, independent, eonline)