BIP Alum Kevin Wendt and Astrid Loch Postponed Their Wedding Due To OnGoing COVID-19 Pandemic Of 2020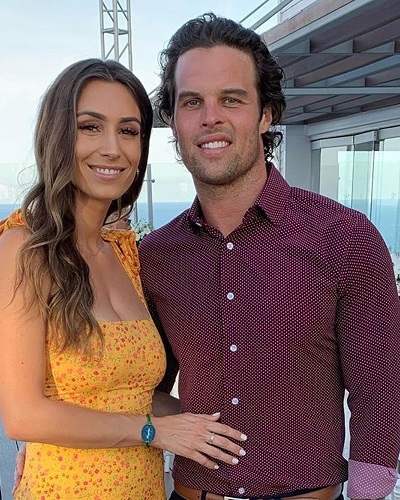 Kevin Wendt and Astrid Loch will not be walking down the aisle in 2020. The couple decided to postpone their wedding due to the ongoing COVID-19 pandemic. They started to rise to fame after their appearance on the famous reality TV show The Bachelors. The BIP Alums met on the show and got engaged last year.
Kevin Wendt and Astrid Loch postponed their wedding
The BIP alum is not getting married in 2020 because of the ongoing pandemic this year. The couple announced they have postponed their wedding to 2021 in their social media. The couple who got engaged a year back revealed it through their individual social media account. The reality star posted a snap of her with her fiance with the news of their postponed wedding. She wrote:
"Well y'all, time to give you guys a wedding update. We've decided to postpone to November 2021 & weirdly enough we're actually okay with it."
Additionally, she mentioned with all of the ongoing pandemics, they noticed many changes in their personal life too. Loch added though they are disappointed, however, it gave them a reminder of why they are getting married. Following her post, Wendt also made a post on his Instagram account revealing they rescheduled their wedding date. The reality star wrote:
 "My fiancée and I going to just keep moving," alongside a photo of the couple bike riding at the beach.  I've had a bit of a social media break lately with lots going on in our lives… sometimes it's needed to recharge. I'm sad to announce we have officially moved the wedding date from November,"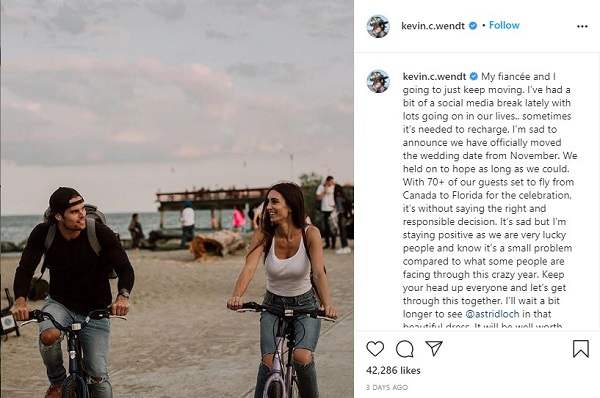 How did Wendt and Loch meet?
Wendt and Loch were together in Bachelor In Paradise, however, the two left the show separately. They could not make it on the show and decided to part their ways. Despite not connecting on the show, they actually met and had a bond outside in the real world. Afterward, Loch mentioned after she left the show, she went to her best friend and mentioned about their connection. She said though they broke-up in the show, she felt how he fit in her life.
On August 28, 2019, Wendt went down to knees to propose the love of his life in Toronto, Canada. He arranged a sunset picnic in a quiet section of Toronto Island. With the arrangement, he also had a ring and hired a couple of photographers waiting in the bushes. They dated for a year before they took the next step in their relationship. After the engagement, Loch stated: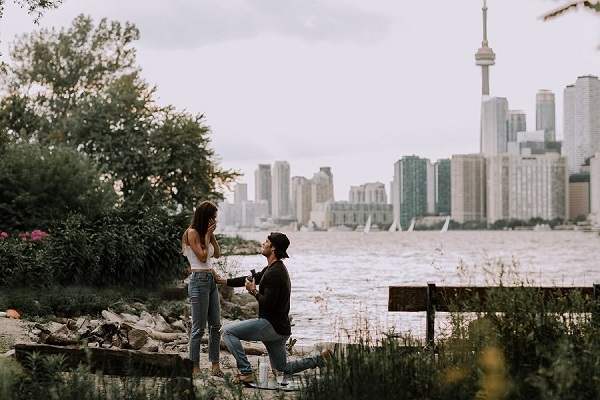 "I don't even think it's fully hit me yet that it's actually happened. I woke up this morning probably an hour beforehand and just stared at the ring and him just to make sure that it was real."
You may also read- Carrie Underwood And Mike Fisher Celebrated Their 10th Wedding Anniversary Together!
More About Kevin Wendt
Kevin Wendt is a Canadian reality television personality who came into limelight for having competed in both The Bachelorette Canada and The Bachelor Winter Games. See more bio…
You may also read- Unusual And Strange Wedding Rituals Around The World You May Have Never Hear About!