'Birdie is here!'-Brie Bella's bundle of joy, the difficult labor and more…: Read on all of that here!
The welcome of the 'Birdie'
World Wrestling Entertainment's Diva Brie Bella welcomed a baby girl on 9th May 2017. She delivered the newborn at 11.58 pm. The delivery was 9 days overdue. This is her first child with her husband Daniel Bryan (real name Bryan Danielson) who also happens to be a WWE superstar. The child weighs 8 pounds 2 ounces and is 21 inches long. The couple has named their child 'Birdie Joe Danielson' in line with their names which start with 'B'. Brie Bella explained:
"Birdie is because my husband and his whole family are 'B's. And he married me, a 'B' too, so his one request was that our kids have 'B' names," 
The middle name Joe is in memory of Brie's grandfather who was called Joe.
An ecstatic mother told El News:
"There is no better feeling in the world than meeting your daughter. I can't even express the overwhelming joy and love that Bryan and I are feeling."
She also took this opportunity to thank all those who had prayed for a safe delivery. She said:
"Now we know what parents mean about the love you feel when you first meet your child. Thank you all for your thoughts and prayers on the safety of Birdie coming into this world."
On her Instagram, Brie Bella wrote:
"The greatest feeling in the world!!! Can't even express the love I feel for her from the moment I saw her I was in love. Thank you all for your love and support. Birdie Joe is her Daddy's mini me!!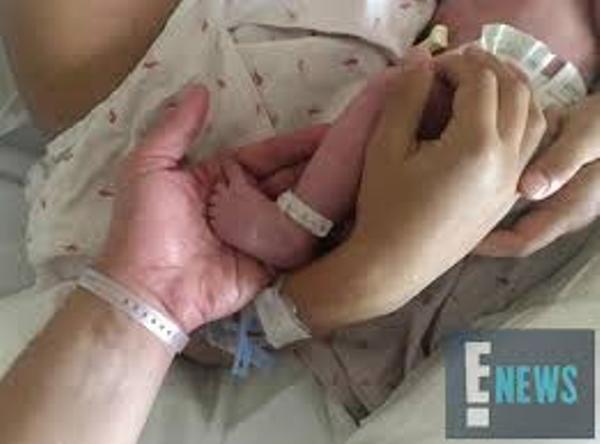 The difficult delivery
The wrestler pro also mentioned that she had a difficult labor process. She recorded from her bed at the hospital in Phoenix, Arizona:
"It was a very crazy process, a very long labor. And I'm so lucky I had Bryan by my side the whole time, and then my sister [Nikki Bella] — who's filming this right now — by my side the whole time, which was amazing. But at the end of something so hard and long, the most precious gift in the world came to us. We couldn't be happier. So thank you for all your love and support."
Praising her great strength, Daniel Bryan exclaimed:
"This woman is a warrior. What she went through on Tuesday … never in my life could I do that. I'm just so thankful for all of you sending your well wishes and your support to us. It's meant a lot."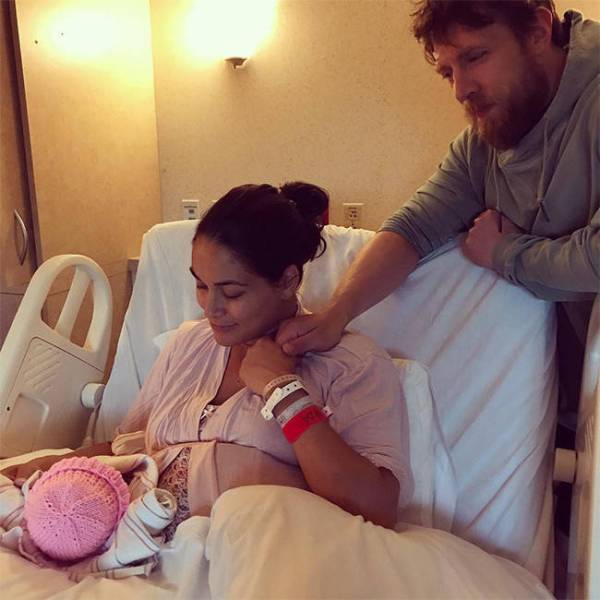 Her childhood and her marriage
Brie Bella was born to Jon Garcia and Kathy Colace. She is the second of twin; her elder sister is Nicole or Nikki Bella who is 16 minutes older to her. Both were keen soccer enthusiasts and played for their school and college. She started with modeling and acting. They first appeared on Fox reality show 'Meet my folks'. The twins were hired by Budweiser to be the World Cup Twins. They soon entered into professional wrestling.
Brie Bella was dating the American guitarist, singer, songwriter, and producer Richie Kotzen. However, she soon started a relationship with Daniel Bryan and in September 2013 the couple announced their engagement. They tied the knot on 11th April 2014. The wedding took place at the beautiful Sedona, Arizona. The semi-retired wrestler told Fox News that she had been trying to conceive since her retirement from the ring. She added that her periods before were usually on time but since the last couple of years, it had got irregular and used to be late by few days to 2 weeks. Brie Bella wondered:
"maybe there's something going on with my body," 
She even adopted a vegetarian diet to rectify the problem if any.
The couple kept trying and eventually she got pregnant the natural way and has now delivered a beautiful baby girl. Our best wishes for the couple and the new addition to their family.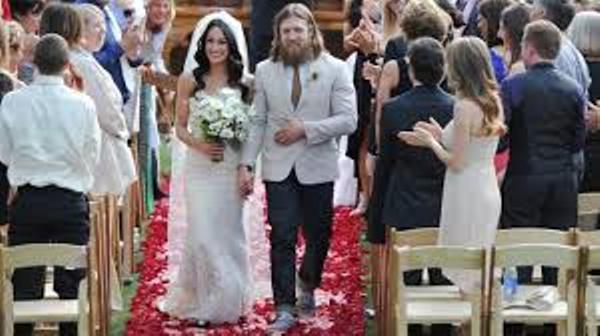 Short bio on Brie Bella
Brie Bella is an American semi-retired professional wrestler, actress, and model. She is best known as one-half of The Bella Sisters, a team of twin sister wrestlers and models. More bio…